BWW Review: Jen Silverman's Weird and Wonderful COLLECTIVE RAGE
Eat your heart out, THE PERSECUTION AND ASSASSINATION OF JEAN-PAUL MARAT AS PERFORMED BY THE INMATES OF THE ASYLUM OF CHARENTON UNDER THE DIRECTION OF THE Marquis de Sade. Paul Weiss' 1963 historical drama, better known as MARAT/SADE, now hands over the crown for play with the longest title to mount a major New York production to Jen Silverman's delightful bit of heartfelt absurdism, Collective Rage: A Play in 5 Betties; IN ESSENCE, A QUEER AND OCCASIONALLY HAZARDOUS EXPLORATION; DO YOU REMEMBER WHEN YOU WERE IN MIDDLE SCHOOL AND YOU READ ABOUT SHACKLETON AND HOW HE EXPLORED THE ANTARTIC? IMAGINE THE ANTARCTIC AS A PUSSY AND IT'S SORT OF LIKE THAT.
At first encounters, the five New Yorkers inhabiting this clever, fast-moving escapade, all named Betty, may seem like familiar, quickly definable types. And perhaps that's not just the audience's perception, but also the way they see themselves. This is a play where people with seemingly healthy self-identities gradually reveal longings to explore beyond what others expect of them, and what they have been conditioned to expect of themselves.
The story is told through Silverman's series of quick, sharply-written vignettes, played by a stellar cast in director Mike Donahue's slickly energized production. Props and pieces drop down from the ceiling of designer Dane Laffrey's set, landing into the hands of well-timed actors, and projection designer Caite Hevner flashes boldly-lettered titles that aggressively announce each scene.
Smartly styled and aridly humored Dana Delaney begins the proceedings as Betty 1, an Upper East Side socialite whose public identity seems to be derived by being married to a man she describes as "very rich. And very powerful. And very boring... And very beige."
He's also cheating on her, but that's a subject to avoid when she's having polite dinner party small talk with her acquaintance, the emotionally frazzled Betty 2 (Adina Verson). Another guest is Sephora employee Betty 3, described by the playwright as "Latina, high-femme, super queer," and played with marvelous take-charge flamboyance by Ana Villafañe.
Betty 3's desire to loudly talk about her sexual exploits are deemed inappropriate by Betty 1, who disapproves of her continual use of the word pussy ("It's indecent.").
So the next scene is introduced as "Betty 3 Has Her Own Dinner Party, In Which All Of Us Talk About Pussy," and in it she encourages the nervously repressed Betty 2 to get more familiar with her own body. ("Place the hand mirror below your vaginal situation. In a pussy-specific area. Two inches from your cooch-ular region. Then look.")
From this moment on, Betty 2 becomes the warmly beating heart of the play, as she enthusiastically reaches beyond comfort zones to find and express herself. Verson's tender, empathetic performance will have audiences laughing, crying and cheering her on every step of the way.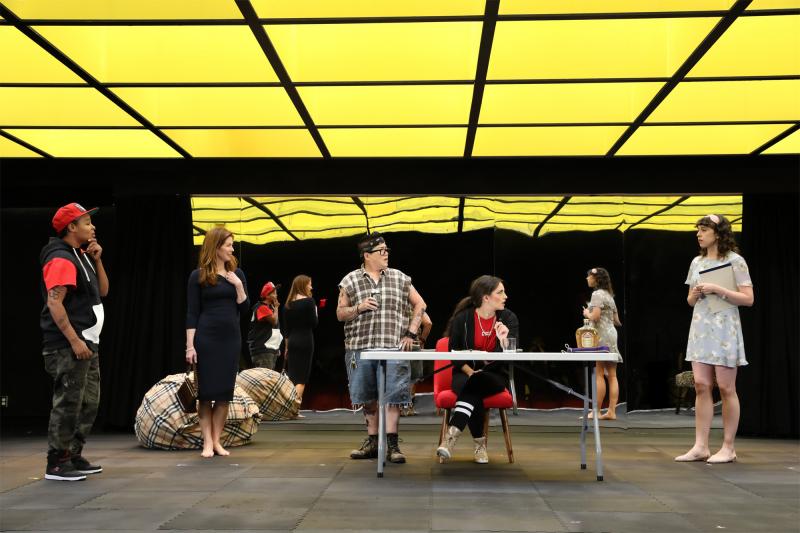 Also at the party is auto mechanic Betty 4 (blunt and funny Lea DeLaria), who has a long-time crush on her childhood friend Betty 3. Betty 4's pal Betty 5 (Chaunté Wayans, nicely grounding the piece with low-key realism), who describes herself as a gender-non-conforming masculine-presenting female-bodied individual who is comfortable with female pronouns, owns a small boxing gym where Betty 1 begins taking private lessons with her as an outlet for her anger. The results of her training are unexpected for both of them.
What brings the five of them together is that Betty 3, inspired by her first experience attending live theatre - she thinks the play was called "Summer's Midnight Dream" - decides to quit her job and dedicate her life to "The Thea-Tuh," starting by "inventing", directing and starring in a play based on the story she witnessed about two lovers, whose names she recalls as Penis and Thursday.
She casts the other four as the wall, the lion, the prologue-speaker and moonshine and, in a scene titled "All of The Betties Have Their First Collective Experience of Rage, Also Known As Rehearsal" allows them to contribute to writing their own parts, providing opportunities for self-expression and self-realization.
COLLECTIVE RAGE is a little weird and a lot of wonderful. And there's ice cream, too. Not for the audience, but after all they go through it's nice to see the Betties get a well-deserved treat.