Review: In GRAND HOTEL, Berlin's Celebration of Decadent Luxury Fails To See The Horrors Ahead
Though the songwriting team of Robert Wright and George Forrest is best remembered by Broadway enthusiasts for adapting the music of Edvard Grieg into SONG OF NORWAY and similarly using the melodies of Alexander Borodin to create their score for KISMET, their greatest success came when director/choreographer Tommy Tune took interest in a musical of theirs that fizzled into obscurity on its way to Broadway, then known as AT THE GRAND.
That 1958 project, which had brief runs in Los Angeles and San Francisco, was inspired by Vicki Baum's 1929 novel set in a luxurious Berlin establishment, published in English as "Grand Hotel." Previously, playwright W.A. Drake had adapted it into a hit Broadway play, and then penned the screenplay for the 1932 Oscar-winning movie version starring Greta Garbo as an aging ballerina struggling through a farewell tour, John Barrymore as a strapped-for-cash Baron desperate to pay up his debt to gangsters, Joan Crawford as a typist with Hollywood dreams and Lionel Barrymore as a dying bookkeeper looking to spend his final days living the good life.
Luther Davis' book for AT THE GRAND revised the setting to contemporary Rome and made numerous changes to the characters, including turning the ballet dancer into an opera star to suit the talents of leading lady Joan Diener.
Thirty years later, with Broadway's hottest director/choreographer at the helm, the three revised their musical to stick closely to Baum's original, with Tune bringing in composer/lyricist Maury Yeston to add new songs and work with Wright and Forrest to tinker with the older ones. Peter Stone was brought in for some uncredited doctoring of the book, and the rechristened GRAND HOTEL was a smash.
Despite the opulence suggested by the title, GRAND HOTEL had a decidedly minimalist design dominated by a large, and largely symbolic, revolving door. Tune wanted plenty of room to suit his concept of continuous action with no intermission, having music, dialog and dance continually blending into one another, mimicking the continual swirl of activity throughout the building.
As a result, the production values of director/choreographer Josh Rhodes' elegant City Center Encores! concert mounting somewhat resemble the original, though the revolving door has been replaced by set designer Allen Moyer with a grand staircase, at the top of which is stationed music director and conductor Rob Berman, whose 25-piece orchestra plays Peter Matz's original orchestrations.
As with the musicals directed and choreographed by fellow geniuses Bob Fosse and Michael Bennett, the visuals supplied by Tune acted as an additional method of authorship, enhancing material that might not be as effective without such a strong directorial hand. The score to GRAND HOTEL is generally a good one, with two Yeston contributions - the beautifully flowing ballad "Love Can't Happen" and the suitably Brechtian opening march "The Grand Parade" - clearly the highlights. But the storytelling can get a little didactic, especially when the hotel's laborers proclaim the sentiment penned by Wright and Forrest, "Some Have, Some Have Not." The book succeeds in the difficult task of presenting numerous characters in intertwining plots that eventually connect, but the people who inhabit the hotel are mostly symbols of the drastic changes occurring between the century's great wars. Live performance gives way to the popularity of talking pictures, royalty and class loses its power and privilege and smart investing replaces working hard as the way to get ahead.
It's a lot to get across in a concert production with a limited amount of rehearsal time, and as the primary mission of Encores! has always been to highlight worthy scores, it's understandable that the dramatic impact doesn't hit quite as hard as it might with more time. But nevertheless, this week's City Center mounting is a lovely showcase for some fine performances.
As bookkeeper Otto Kringelein, Brandon Uranowitz no doubt has the most challenging task of the evening, playing a role that, thanks to a televised Tony Award performance readily available on YouTube, is almost indelibly associated with the adorable naivete of Michael Jeter's original performance. But Uranowitz's subdued, and very well sung, interpretation is right on the mark, with more emphasis on the character enduring not only a fatal illness, but a lifetime of antisemitism. And while he's certainly fun to watch as the focus of the giddy Charleston showstopper, "We'll Take A Glass Together," the greater impact comes when he confronts his former boss (always solid John Dossett) who got rich off of a business decision he advised and never rewarded him monetarily.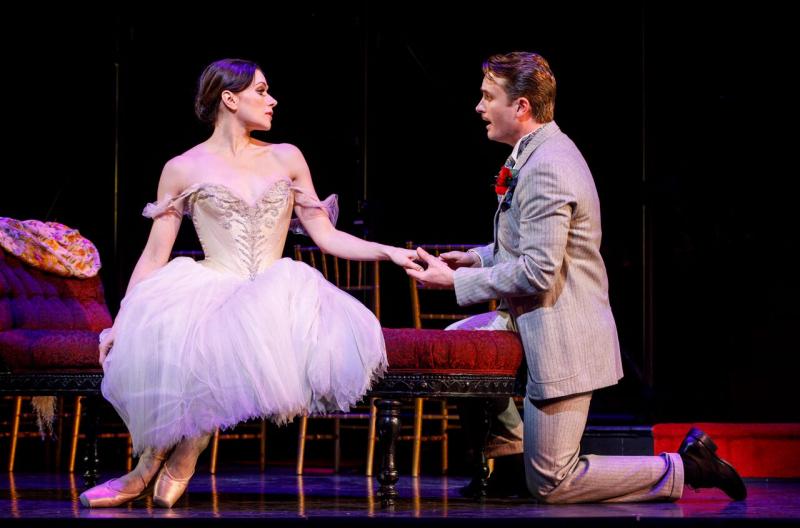 Ten years ago, James Snyder made his Broadway debut as the young rockabilly bad boy who was the title character of CRY-BABY, but his sterling elegance as Baron Felix Von Gaigern exudes abundant charm and a gorgeous high baritone.
As Raffaela, Natascia Diaz has a role designed to be unobtrusive, playing the assistant who is secretly in love with her employer, ballet star Elizaveta Grushinskaya (Irina Dvorovenko). Though she can be a forceful bodyguard when necessary, Diaz's performance quietly conveys unspoken passion just when standing aside and watching, and noble endurance of anguish when she sings.
Helene Yorke is endearing as the stars-in-her-eyes typist Flaemmchen, whose sweetness turns tough when she's given a chance to sail to America in exchange for sexual favors.
William Ryall repeats his original Broadway performance as the drug-addicted doctor who sees through the glamour of the posh hotel to offer his sardonic observations, and tango dancers Junior Cervila and Guadalupe Garcia thrill the crowd with moves that suggest the smoldering elegance of an era too busy celebrating its decadent luxury to see the horror that lies ahead.