BWW Review: Andrea Frierson's ME & ELLA Pays Tribute To Her Legendary Influence
Even if you've never heard a note sung by Ella Fitzgerald (and if that's the case, you should stop reading this review immediately and look up some of her recordings on YouTube) Andrea Frierson's duo-bio solo show, ME & ELLA, can be related to by anyone whose life was influenced by a popular artist they've never met.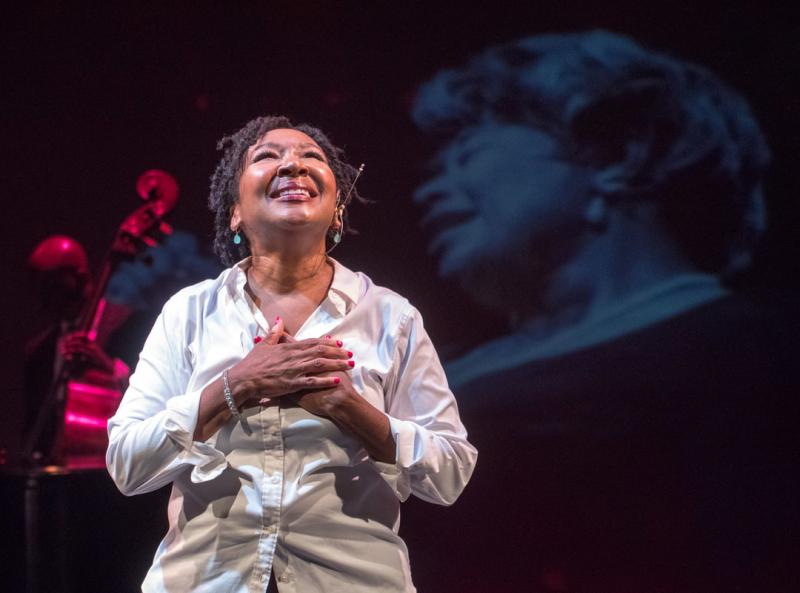 Directed by Murphy Cross and Paul Kreppel and presented by the York Theatre as part of their developmental New2NY series, ME & ELLA is, as far as being a dramatic musical theatre piece goes, still a work in progress, with many script revisions made during its short rehearsal period.
At the moment, the show's strongest feature is the charming presence and the versatile singing talents of its star, and that's enough to make for an enjoyable night out.
Beginning with her debut as replacement in the 1970 production of THE ME NOBODY KNOWS, Frierson's career has included six Broadway appearances, most notably as the original love goddess Erzulie in ONCE ON THIS ISLAND. Television audiences will remember her as a five-week winner on Ed McMahon's "Star Search."
It was a different type of star search that kick-started the career of Ella Fitzgerald. As Frierson explains, she won first prize in a 1934 edition of Amateur Night at the Apollo Theater. But though she was given the $25.00 cash prize, she was denied the promise of a one-week gig at the now legendary showplace because it was felt her appearance didn't meet with the venue's standards. But soon after she was signed as a vocalist for the Chick Webb Orchestra, with whom she recorded her breakout 1938 hit, "A Tisket, A-Tasket."
As the daughter of opera singers, Frierson rebelled against her classical training by developing a passion for swing and be-bob. Although as a little girl she didn't quite comprehend the indignities her parents went through as African-American artists (at a Radio City Music Hall performance of "Old Man River," her father was required to wear corn starch in his hair to achieve a stereotypical look), as an adult she can compare them with the racism that even a nationally known celebrity like Ella Fitzgerald encountered.
And, of course, Frierson sings a great deal of the legend's hits, including "The Devil and the Deep Blue Sea," "In The Wee Small Hours of the Morning," "Get Out Of Town," "S'Wonderful," "I'm Beginning To See The Light," "Goody, Goody" and, of course, "A-Tisket, A-Tasket."
While there's no attempt at impersonation, the star sings with warm, inviting tones and a welcoming presence that reflects her idol's influence.
As Frierson starts dealing with first crushes, the song selection turns to a couple of numbers some may be surprised to discover Fitzgerald recorded: Burt Bacharach and Hal David's "Close To You" and The Beatles' "Got To Get You Into My Life."
But the real change of pace comes when she switches to soprano tones for a sterling rendition of "Porgy, I's Your Woman Now."
The excellent arrangements are by music director Ron Abel, who plays piano and is joined by Rex Benincasa on percussion and Richie Goods on bass.
As it stands, ME & ELLA is a bit more cabaret than theatre, as the duo-stories don't provide the same impact as the musical moments. But when Frierson sings, the evening sparkles.
Related Articles
After 20-odd years singing, dancing and acting in dinner theatres, summer stocks and the ever-popular audience participation murder mysteries (try improvising with audiences after they?ve (read more...)