BWW Morning Brief June 28th, 2017 - LETTERS FROM A NUT at the Geffen and More!
Good morning, BroadwayWorld! Because we know all our readers eat, sleep and breathe Broadway, what could be better than waking up to it? Scroll down for the latest news, and click HERE to learn more about how we've revamped our morning brief for 2017! Want our morning reports delivered via email? Subscribe here!

1)
VIDEO: SWEENEY TODD's Carolee Carmello & Norm Lewis Perform 'A Little Priest' on TODAY
by TV News Desk - June 27, 2017
Today, Tony nominees Norm Lewis and Carolee Carmello and the cast of the Tooting Arts Club production of SWEENEY TODD: THE DEMON BARBER OF FLEET STREET performed on the TODAY.. (more...)
---
2)

Talented Teens Take Center Stage at 2017 Jimmy Awards; See the Winners Here!
by BWW News Desk - June 27, 2017
The ninth annual JIMMY AWARDS were held on Monday, June 26th at the Minskoff Theatre on Broadway. . (more...)
---
3)
Hugh Jackman, Pasek & Paul & More Tease Trailer for GREATEST SHOWMAN
by Movies News Desk - June 27, 2017
Tonight, ET will share a sneak peek at the official trailer for the highly anticipated film THE GREATEST SHOWMAN, starring Hugh Jackman, Zach Efron, Zendaya and Keala Settle. The movie features original music from the Tony winning team of Benj Pasek and Justin Paul. The full trailer is out on Wednesday, June 28th.. (more...)
---
4)

George Takei to Return to ALLEGIANCE for Los Angeles Premiere
by BWW News Desk - June 27, 2017
East West Players (EWP) and Japanese American Cultural & Community Center (JACCC) have announced that stage, television, and film star George Takei will lead the cast in the Los Angeles premiere of the Broadway musical Allegiance, which will be co-produced by EWP and JACCC by special arrangement with Sing Out, Louise! Productions and ATA, with performances at JACCC's Aratani Theatre in Los Angeles from February 21-April 1, 2018. Previews will run from February 21-25, with the Opening Night performance and reception on February 28.. (more...)
---
5)

VIDEO: See Live Wins from the 2017 Jimmy Awards, Hosted by Tony Winner, Ben Platt!
by Stage Tube - June 27, 2017
The ninth annual JIMMY AWARDS were held on Monday, June 26th at the Minskoff Theatre on Broadway. The awards were live streamed on Facebook, check out video of the event here!. (more...)
---
---
Today's Call Sheet:
- Nick Adams stars in ON THE TOWN at The Gateway in Bellport Village...
- And Jerry Seinfeld takes Ted L. Nancy's LETTERS FROM A NUT to the Geffen!
---
BWW Exclusive: Head down the red carpet for this year's Jimmy Awards!
---
Set Your DVR... for Lin-Manuel Miranda and Sutton Foster, stopping by NBC's TODAY!
---
What we're geeking out over: Can't get enough of Barbra Streisand? The Quad Cinemas in Greenwich Village will salute her with a weeklong marathon!
---
What we're watching: YOUNGER Season 4, starring Sutton Foster, premiering tonight on TV Land!
---
Social Butterfly: See what Audra McDonald had to say after the opening of 'LADY DAY' in the West End...
---
Happy Birthday shout-out to Mel Brooks, who turns 91 today!
EGOT winner Mel Brooks last produced and wrote the Broadway stage adaptation of YOUNG FRANKENSTEIN. Before that, he wrote the book, music & lyrics to THE PRODUCERS. He also penned the book for ALL AMERICAN and SHINBONE ALLEY. Brooks was one of the most successful film directors of the 1970s, with THE PRODUCERS, BLAZING SADDLES, YOUNG FRANKENSTEIN, SPACEBALLS, ROBIN HOOD: MEN IN TIGHTS and more.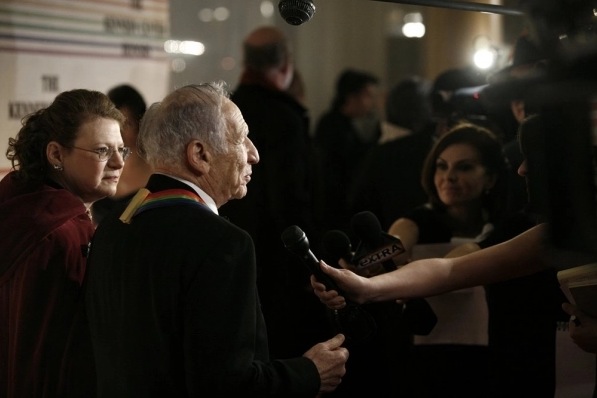 ---
See you bright and early tomorrow, BroadwayWorld!
Related Articles
A Midwest native and Louisville-based journalist, Jessica is a long-time believer in the collaborative power of the performing arts. She has worked as a News (read more...)