BWW Morning Brief July 24th, 2017: CHELSEA & IVANKA and More!
Good morning, BroadwayWorld! Because we know all our readers eat, sleep and breathe Broadway, what could be better than waking up to it? Scroll down for the latest news, and click HERE to learn more about how we've revamped our morning brief for 2017! Want our morning reports delivered via email? Subscribe here!

1)
BWW Exclusive: The Life and Times of HEDWIG AND THE ANGRY INCH
by Kerry Breen - July 23, 2017
The show, which has amassed a cult following and a dedicated set of fans, was a popular production, produced world-wide and throughout the country at various times since its 1998 off-Broadway premiere.. (more...)
---
2)
Social: Backstage at WAITRESS with Caitlin Houlahan
by BWW News Desk - July 23, 2017
Caitlin Houlahan, currently starring as WAITRESS's charmingly neurotic New Dawn Rising, took us behind the scenes with her yesterday on Instagram, see all her great posts below! And be sure to catch her Instagram story before it disappears!. (more...)
---
3)

BWW TV: Tony Winner Billy Porter Bears His Soul at Broadway in Bryant Park!
by BroadwayWorld TV - July 23, 2017
Watch below as special guest Billy Porter performs from his new album- 'Lady Is a Tramp' and 'Edelweiss.'. (more...)
---
4)
BWW Review: Andrea Frierson's ME & ELLA Pays Tribute To Her Legendary Influence
by Michael Dale - July 23, 2017
Even if you've never heard a note sung by Ella Fitzgerald (and if that's the case, you should stop reading this review immediately and look up some of her recordings on YouTube) Andrea Frierson's duo-bio solo show, ME & ELLA, can be related to by anyone whose life was influenced by a popular artist they've never met.. (more...)
---
5)

BWW TV: What Did You Miss at Bryant Park? SPAMILTON!
by BroadwayWorld TV - July 23, 2017
Watch below as SPAMILTON's Tristan J. Shuler, Chris Anthony Giles, Cameron Amandus, Nicole Vanessa Ortiz, Aaron Michael Ray, Fred Barton) perform 'Lin-Manuel as Hamilton,' 'What Did You Miss?,' and 'His Shot.'. (more...)
---
---
Today's Call Sheet:
- A staged reading of THE SECRET LUNCHES OF CHELSEA & IVANKA, starring Melissa Rauch and Zosia Mamet, comes to Joe's Pub!
- Ariana DeBose, Jessica Vosk and more star in WOMEN OF NOTE at NYMF tonight.
- And a new Lewis and Clark musical comedy premieres this evening at NYMF.
---
BWW Exclusive: BWW's Alexa Criscitiello takes on the question of marketing and presenting political theatre...
---
#MotivationalMonday:
"If you can learn to love yourself and all the flaws, you can love other people so much better. And that makes you so happy."
- Kristin Chenoweth
---
Set Your DVR... for Broadway's Laura Benanti who is stopping by the LATE SHOW on CBS tonight!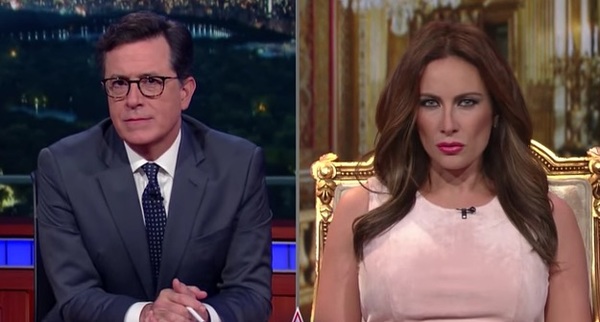 ---
What we're watching: Shoshana Bean's amazing mashup of 'Defying Gravity' and John Mayer's 'Gravity!'
---
Social Butterfly: Go backstage at WAITRESS with Caitlin Houlahan, who took over our Instagram this weekend!
---
And a Happy Birthday shout-out to Kristin Chenoweth, who turns 49 today!
In a career that spans film, television and stage, Kristin Chenoweth originated the role of Glinda the Good Witch in Broadway's smash hit "Wicked". Chenoweth brings her powerful voice to the Palladium for a performance of popular songs from Broadway and the Great American Songbook accompanied by Michael Orland.
A Hollywood Walk of Fame Star recipient in 2015, she received in 2009 an EMMY Award for Best Supporting Actress in a Comedy Series for her role in "Pushing Daises." Previously, she won a TONY Award for "You're A Good Man, Charlie Brown" and was also nominated for her role of Glinda the Good Witch in "Wicked" in 2004.
Known to millions for her role on the worldwide TV hit Glee (for which Chenoweth was nominated for two EMMY Awards and for a People's Choice Award), in 2009, she wrote an upliftingly candid, comedic chronicle of her life so far, "A Little Bit Wicked," which debuted on the New York Times Hardcover Non Fiction Best Seller List.
---
See you bright and early tomorrow, BroadwayWorld!
Related Articles

Danielle, originally from Massachusetts, currently resides in Orlando, FL. She graduated from Liberty University with a BS in Business Administration: Marketing in 2015. Danielle has (read more...)