BWW Interview: Rick Elice Talks JERSEY BOYS at State Theatre NJ 10/13 to 10/15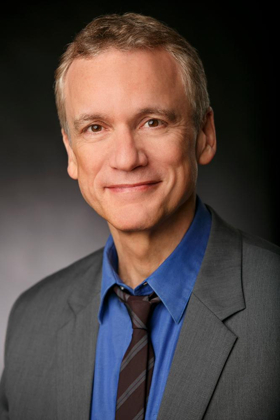 State Theatre New Jersey has an exciting schedule of Broadway shows this season on the New Brunswick stage. Kicking off the line-up is the New Jersey Premiere of Jersey Boys from Friday, October 13 to Sunday, October 15. The Broadway production of Jersey Boys was the recipient 2006 Tony Award for Best Musical, the 2007 Grammy Award for Best Musical Show Album and the 2009 Olivier Award for Best Musical.
Broadwayworld.com had the fascinating opportunity to interview Rick Elice, who co-wrote the book for the show along with Marshall Brickman. Rick is a charming and remarkably creative individual. He shared with us information about his career and Jersey Boys.
Rick has an impressive theatrical career. His play, Peter and the Starcatcher, received nine Tony Award nominations in 2012 that included two for Rick, and won five, more than any play of the season. Also on Broadway, he wrote The Addams Family with Marshall Brickman. Rick is currently writing a musical about Cher, The Cher Show, directed by Jason Moore, and a musical about the British Invasion, Bag of Nails, directed by Jerry Mitchell.
Rick talked about his lifelong love of the theater. "My parents were a believers of the theater. They courted during the '40s and '50s, went to musicals and loved them." Rick saw his first Broadway show, My Fair Lady at the age of three at the Mark Hellinger Theater. And as a teenager, he attended the theater when Harold Prince made obstructed view tickets available for only $2.00. A standout for him was Follies, a show he saw many times.
We asked Rick when he first realized his penchant for writing. "It's not what I ever imagined I would do." He commented, "I accidently backed into writing." Rick graduated from Yale Rep where he developed the craft of acting and received his equity card. "I knew I was never going to be Meryl Streep or Robert DeNiro. I was a good actor, but not great." His career would take an interesting turn when he was performing in The Death of Von Richtofen as Witnessed from Earth, at Joe Papp's Public Theater. On opening night, he met the head of the ad agency, Serino Coyne Inc., who offered him temporary work creating headlines, a job that would, after meeting creative director Nancy Coyne, become a full-time copywriting position. "Nancy and I clicked. She taught me another craft I never thought I would learn." Rick further commented, "Writing 60-second radio and television commercials helped me to economize words, be disciplined in my writing, and develop my creative chops. Nancy taught me how to have ideas, and that an activity and an idea are two very different things."
As we chatted about writing, Rick told us about an interesting conversation that he once had with Tom Stoppard. Rick and his husband, Roger Rees, attended a production of Stoppard's Arcadia at Lincoln Center. After the production, Rick expressed to Stoppard that he was miserably certain he'd never be able to write anything as wonderful as the play he'd just seen, and should probably pack it in. Stoppard commented, "Don't you think there are writers that I feel that way about? The important thing is to just do it. Doesn't matter whether it's great, or even good. Just write. Just keep trying to get the right words in the right order." Stoppard's kindness gave Rick the permission to keep going.
Rick told us what he loves about writing. "I love the form, the puzzle, talking things into existence, and crafting something today that you couldn't craft yesterday. I love the way that it works and doesn't work. There's a great challenge of whether or not you can you have a better idea today than you had yesterday. I didn't expect to be a writer. It's a wonderful privilege and a wonderful life when your avocation can be your profession."
It was fascinating to learn how Jersey Boys evolved. Rick was working in advertising in Los Angeles when he was offered the opportunity to write about the Four Seasons. Collaborating with his friend, Marshall Brickman, Rick told us that the process of writing the book for the musical went very quickly. They first talked to Des McAnuff, the director, in autumn of 2003. By August of 2004, the show was in rehearsal at the La Jolla Playhouse, opening to a rapturous response in October. The Broadway production would begin previews at the August Wilson Theatre a year later, and open on November 6, 2005.
We asked Rick what are some of his biggest impressions of New Jersey. "I used to think of Jersey as the place where you have to drive to a landfill next to a dump next to a turnpike to cheer for a team that's from New York anyway. I should've known better, but like a lot of New York snobs, I had a chip on my shoulder about "the joke state." When I met Frankie Valli and Bob Gaudio, and heard first-hand their great American story, I embraced my wrongness. It was a moment of humility, a life lesson I'll carry with me always."
New Jersey audiences will be able to experience Jersey Boys this fall - Des McAnuff's brilliant production featuring nearly three dozen Four Season hits, and the band's captivating story, written by Marshall Brickman and Rick Elice.
You can follow Rick Elice on Facebook. His book, Finding Roger, about his late husband and celebrated actor/director Roger Rees, is now available for pre-sale on Amazon. Read about it here. /bwwbooks/article/JERSEY-BOYS-Rick-Elice-Pens-Heartbreaking-Memoir-Finding-Roger-20170505.
State Theatre New Jersey will be presenting a great line-up of productions this season including Broadway shows that include Jersey Boys from 10/13 to 10/15 and The Sound of Music from 12/22 to 12/24. In 2018, they will present Cinderella from 2/9 to 2/10; Motown The Musical from 3/23 to 3/25; A Gentleman's Guide to Love and Murder from 4/6 to 4/7; The Wizard of Oz from 5/4 to 5/5; Cabaret from 5/8 to 5/19. The Theater is located at 15 Livingston Avenue, New Brunswick, NJ 08901.
For more information about upcoming shows or to order tickets call 732.246.7469 and visit their web site at www.STNJ.org.
Photo Credit: Joan Marcus
Related Articles