BWW Interview: Jukebox King Jarrod Spector Gets Ready to Hold Court at Feinstein's/54 Below!
Next week at Feinstein's/54 Below, 2014 Tony Nominee Jarrod Spector will premiere a brand new show, Jukebox Life (running November 1-5 & 13), following his celebrated A Little Help From My Friends concert tour and CD.
For six years he played 'Frankie Valli' in Jersey Boys. For three years he played 'Barry Mann' in Beautiful: The Carole King Musical. For countless hours he worked on preliminary productions of other jukebox and biographical shows no one has ever heard of. These experiences have led Jarrod to be called "Mr. Jukebox Musical" (by his mother), but a fitting and eclectic soundtrack of his life began long before that title was bestowed.
Jarrod caught up with BroadwayWorld to chat all about the new show!
---
It's been a couple of years since A Little Help from My Friends. How did this new show evolve?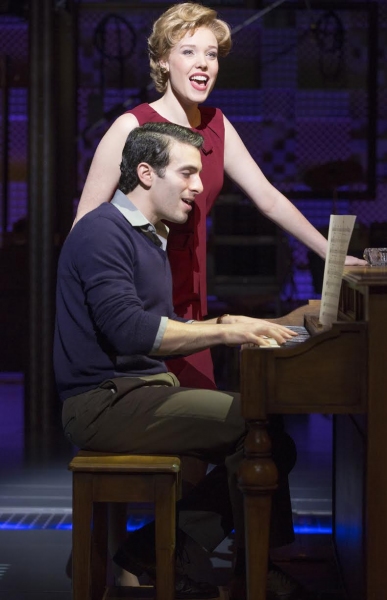 I was leaving Beautiful and it was one of my last nights. I came out of the stage door and there was the usual crowd of people. There was this woman who said, "Oh my god, I saw you eight times in Jersey Boys and I could not miss you in this. What is it like for you to have this incredible jukebox life?" And I guess that's kinda what I've been doing for ten years! I've been in jukebox musicals... god only knows how many in terms of readings and presentations over the course of my career.
With Jersey Boys closing, I've just been thinking retrospectively about how my life and how it has a jukebox musical feel to it. I have these funny little coincidences, like: the first song that Frankie Valli ever knew the lyrics to was "I Can't Give You Anything But Love." He sings it in Jersey Boys. As it happens, it's also the first song that I ever knew the words to. It's little things like that... there has been lots of matching up of song, music and lyrics in my life. So I'm trying to use every iteration of what a jukebox musical is to tell my story.
We're about a week out from the first show. Where's your head right now?
You know, when you're an actor in a show, you do your job. It's your one job. The idea is that learn your lines, you learn your music, and you go to work every day. When you're doing this kind of thing, there is so much self-production that goes into it too. Is there any press for the show? Are people going to come? Is my band ready to go? Are the arrangements ready? Am I honed in on my patter between songs?
Then on top of that, I have all of this multimedia that I'm using. For instance, "I Can't Give You Anything But Love" was the first song that I sang on Ed McMahon's Star Search when I was six years old. So I have clips that will play on the screen and line up with songs and stories and music. Everything will have to come together.
Ah yes- I heard that there might be some vintage videos involved!
I have spent my life fighting them [Laughs]. Every now and again something will pop up on Youtube or someone will tag me in something and I'll say, "Oh my god, why? Why?!" Now I've turned a corner. I think I've just distanced myself enough in years and I'm at a place where I can look at it objectively and smile. But I'm definitely using them as much as I can... or at least as much as I can stomach. I went to my childhood home with my wife, Kelli [Barrett], and we were coming up with which songs worked with my youth. So I gave my dad a list, and man, when I got home there was a huge stack of VHS tapes to go through. It was really something.
I heard that you'll also be singing through some past audition material. Is there an audition song that has done you especially well over the years?
The opposite is mostly true [Laughs]. There was a song that did me very badly. I didn't grow up on musical theatre. My parents loved Bobby Darin. It was that kind of music that I grew up on. It was that, motown, Billy Joel, and my parents loved Barry Manilow. It wasn't until I was in my teens and heard Rent for the first time that I truly fell in love with Broadway. I knew shows... I mean, I was in Les Miserables when I was nine, but I was a kid and I just did what I was told. I wasn't at home listening to tapes of my favorite shows.
Rent came out and I was a young teen and I fell in love with it. So of course I thought it was a great idea to sing "One Song, Glory" for everything that I did from age 15 to god only knows when. I went into this one audition and it was so horribly inappropriate... it was in fact for Fiddler on the Roof [Laughs]. It was the worst song selection...you just can't get further away. I was just so young an stupid.
Hey, at least you can laugh about it now!
Yeah, that song has never done me well. My most successful audition was "Since I Don't Have You" for Jersey Boys. That's how I got my initial callback. I talk about that in my show as well.
As someone who has been doing this since you were a kid, is there any advice that you'd give now to your younger self?
Of course. It's complicated, because when you're young enough that you aren't making your own decisions (for me that was before the age of 12), you do what your parents tell you to do. Kids don't really get up at the age of six and say, "I'm going to an audition!" So I don't know if my advice would really be for me or for my parents. I don't regret where I am now or my upbringing, but I think I would have told myself to practice a little more. When you're a kid you want to jump to "How quickly can I get up on stage?" Rather than taking the extra time to do the most thorough training, and immersing yourself in the artistic side of things rather than the results side. If I could go back and steer myself in a different direction, that's what I'd do. Instead I got older and then went back and retrained and relearned as an adult.
And I of course would have also told myself not to take things so personally. That's not to say that you shouldn't do your best, but don't take it so seriously. When you don't get the job, it's not such a huge thing, especially when you're kid. I would try to give myself some perspective. It's just an audition. It's just a show. It's no big deal.
Looking ahead, what are you most excited about in premiering this new show?
I guess a big part of how it came together was that I asked myself. "What questions do I get asked the most?" One of them is, "What jukebox musical would you want to do next?" I've accepted the fact that if I get hired on Broadway again, there's a reasonable possibility that it will be to play a real life musician [Laughs]. So I'll be putting up a picture of Bruce Springsteen, because I have been told that I look like him, and we do "Born to Run" and I play the guitar. It's not that I'm not looking forward to every song that we do, but that one in particular, I'm looking forward to the most!
For tickets to Jarrod Spector: Jukebox Life, visit: 54below.com
Related Articles