Click Here for More Articles on THE ILLUSIONISTS
BWW Interview - Dana Daniels (aka 'The Charlatan') Talks Broadway's THE ILLUSIONISTS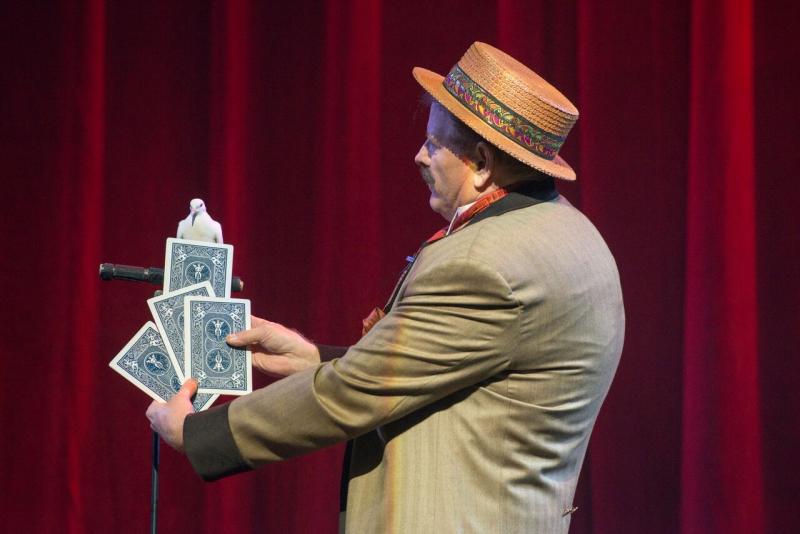 Comedic magician DAna Daniels stars in Broadway's THE ILLUSIONISTS, currently running at New York's Palace Theatre for a strictly limited engagement. The show opened on November 25, 2016 and runs through January 1, 2017. Today, Daniels speaks exclusively with BWW and explains why his ultimate goal for the show is to create astonishment!
THE ILLUSTIONISTS is so much more than a magic show. What can audiences expect to see and experience when they come to the theater?
Well first there is the fact that our show is really a tribute to the magic shows from the turn of the century. It has that look and that feel and of course the costuming, the music and some of the illusions that were performed all those years ago. But then at the same time, we are also performing state of the art, new illusions that are decorated in a way that they look old-fashioned. Also, the Palace Theatre is the perfect venue for this show. The theater opened in 1915 I believe and it housed vaudeville shows for years. So you would have people like the Marx Brothers and Houdini and W.C. Fields and Will Rogers, all performing on this stage. So when you walk into the theater you are just transported back in time, the show and the theater just work beautifully together.
I was curious about your alias, 'The Charlatan.' How did you earn that moniker?
Well, when they approached me about doing this show, every magician has sort of a character name given to him. And it's funny because they wanted to call me 'The Trickster' and when I heard that I went, 'Oh you know what, that doesn't fit for me.' So I wrote down some alternatives, I think I had 'The Huckster', 'The Charlatan' and 'The Schyster' and maybe a few others and they liked 'The Charlatan,' they thought it had a bit more class and was more of a 'turn of the century' sounding name. So we went for that one, and that was the one I kind of liked best too.
What first drew you into the world of magic and illusion?
Well I got started when I was 11-years-old. I was in a car accident where I broke both my legs and I was in the hospital in traction, and then I was in a body cast, and then I had to do therapy after that, so I was in the hospital for several months. And during that time, a magician came up and did a show for all the kids in the hospital, and it was the first time I had ever seen magic done live. Of course I had seen it on TV, but I had never seen it done live. And I remember he had a handkerchief sticking up out of his breast pocket and he never did anything with it during the performance, and when he finished his show, I yelled out, 'What does the handkerchief do?' And he went 'Oh this?', and he took the handkerchief out of his pocket, and he waved it around and he changed it into a cane, and that was it, that's what blew me away. And I told my mom, 'I want to learn how to do that handkerchief to a cane trick, that was amazing!'
So when I was finally released from the hospital, the first stop was a magic shop, about three miles from our house. We went in there and purchased some beginning magic tricks. I remember I explained the silk handkerchief trick to the shop owner and he said, 'That's a little too advanced for someone like you just starting out.' And then they started having magic classes, so we signed up for those, and then I found out about a magic club that was in Long Beach, CA where I grew up called 'The Long Beach Mystics' so I joined them. It was a club pretty much run by kids from 7 to 21 years old, and it was perfect. We had meetings once a month and we would do shows every month and have competitions. And what's kind of amazing about that is that two of the 'Long Beach Mystics' are in THE ILLUSIONISTS now, Mark Kalin, whom I've known since I was 12-years-old, and Rick Thomas, he grew up in Long Beach as well. So it's kind of ironic that we are all together all these years later in this amazing show, fake mustaches and all!
One of the things I loved about your act is that it involved so much comedy and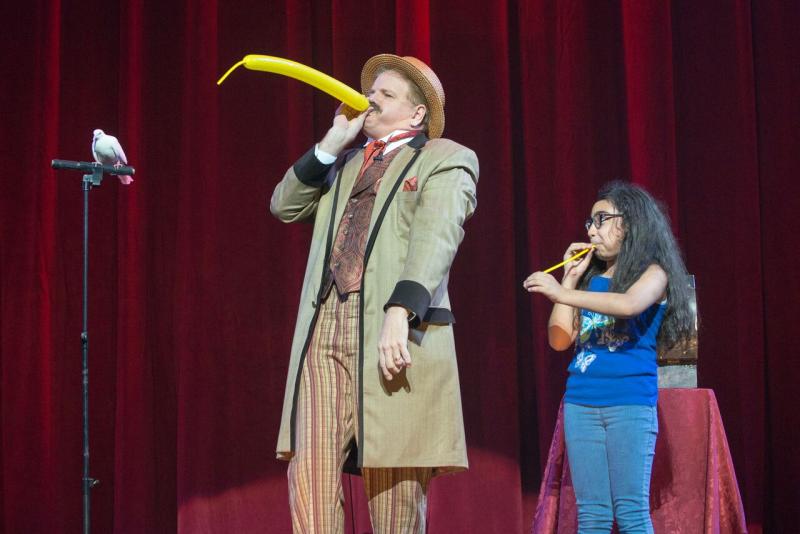 improv. Are those areas that you have studied along with magic?
Yes, I've taken a lot of improv classes and it has proven to be a very valuable tool, and I invite the improv into my show every night. That's why I ask my audience volunteers a lot of questions and try to get something from them that I can use. So yes, the situations that I put ourselves into lends itself to improv and I really enjoy that. In fact, anything different is good for me when I do the act. Every time I perform it's a little bit different just because of all those interactions and that keeps it fresh for me and for the audiences. I've had people come back and see my show over and over again and they say, 'You know we've seen you do that trick several times, but it's always so different every time,' and I think that is because of the humor. Growing up, I did every kind of magic you could think of, I used to do a dog act, I did illusions, but when I started to incorporate comedy, I discovered that was really where my strengths were, so I just went in that direction.
Do you have a favorite trick to perform?
Well I'm rather enjoying the bill in the orange trick that I do right now in the show. And I also have some other routines that I'm not doing in THE ILLUSIONIST show right now. I have one that I do in which I ask members of the audience to get their phones out and call somebody that they know, and the first person who is able to get someone on the phone stands up and hands me their phone. And then I do this whole comedy bit with my bird, Luigi. I tell the person on the phone that the bird is going to implant a card into their mind over the phone, and then I hand the phone back to the person who had given it to me and ask them to ask the person on the phone to name the first card that pops into their minds. And the whole time I have a deck of cards in my hand. So let's say the person choses the Queen of Spades. I fan out the cards, and there is only one card reversed from all the others, and of course, it's the Queen of Spades.
Wow!
Yeah, it's a really strong trick, and it's very funny, so that's one of my favorite routines. But as I said, the orange routine, that I do in THE ILLUSIONISTS is a lot of fun because I've been doing that routine for years but I just recently added a lot of stuff to it, some of the music is new, and actually, the bill going into an orange is new as well. It used to be that the bill came out of an egg, I did it that way for years, so I thought I'd change it up a bit.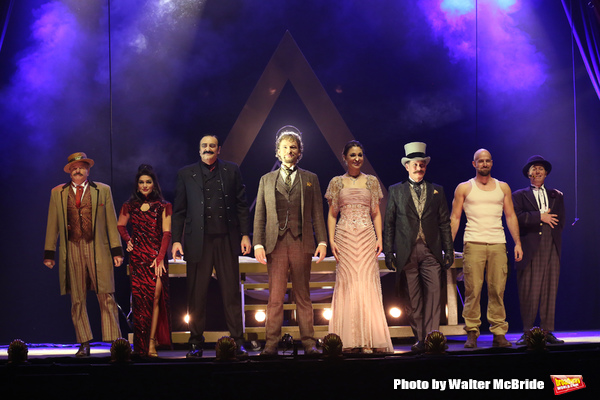 Do you ever get fooled by other magicians' tricks?
Well there are times that I will get fooled but then I eventually figure it out. But I have to say, there are times when I'll see something and I'll go, 'I have no idea!' Even if it's done in a way that I should know how it's done, sometimes I just missed it! And there's plenty of close-up guys out there who are doing some new stuff now that just burns me! I mean I'm going, 'I don't know what they're doing, that's amazing!' And I love that. I love that I still get fooled once in a while because it makes me feel like I'm a kid again watching magic. It gives me that feeling of 'I have to find out how it's done!'
Well hearing that makes the rest of us feel not quite so stupid when we can't figure out any of the secrets!
Well we certainly don't want you to feel stupid, that's not the goal. What we want to do is create astonishment!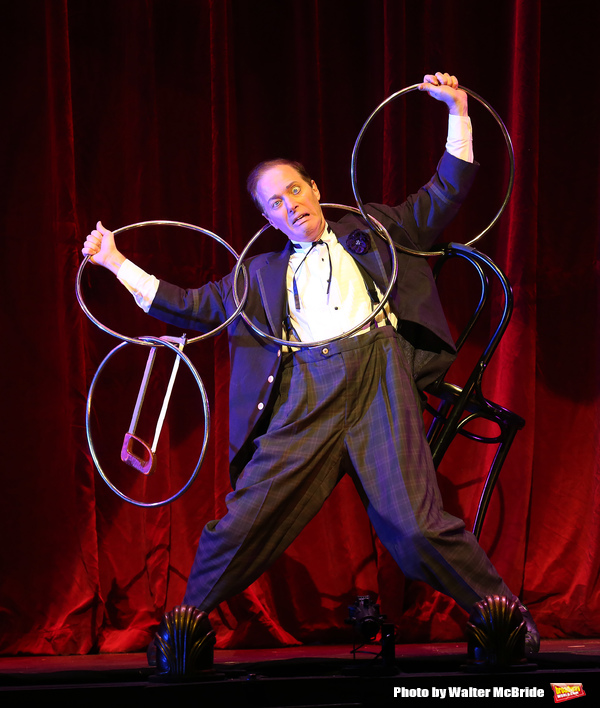 Broadway's THE ILLUSIONISTS -TURN OF THE CENTURY is currently running at New York's Palace Theatre for a strictly limited engagement. The show opened on November 25, 2016 and runs through January 1, 2017.
The Golden Age of magic comes alive on stage as THE ILLUSIONISTS return to Broadway for the third consecutive year. Featuring world class illusionists handpicked from across the globe, Broadway's holiday smash hit, THE ILLUSIONISTS, returns to New York City with a new show designed to transport audience back to the golden age of magic. THE ILLUSIONISTS - TURN OF THE CENTURY is centered in a time when conjurers were the true rock stars of the day. Showcasing the origins of some of the greatest and most dangerous illusions ever built, the show also unveils never-before-seen experiments drawn from a treasure trove of long-forgotten mysteries.
About DAna Daniels: Dana has been recognized by his peers as one of the best comedian magicians working today. His past accolades include: Comedy Magician of the Year (from the Academy of Magical Arts), Two time Stage Magician of the Year (from the Academy of Magical Arts) and the Jimmy Durante Comedy Award
Dana's past television appearances include Stand up Live, Evening at the Improv, CBS Morning Show, The Golden Girls, NBC's Comedy Club, News Radio, Masters of Illusions, Lance Burton's Guerrilla Magic and the best-selling clean comedy DVD series "Thou Shalt Laugh".
Dana has also opened for such stars as Ray Romano, Amy Grant, Vince Gill, Tony Orlando, Randy Travis, Gary Shandling and Charro.
Photos curtesy of The Illusionists

Related Articles