BWW Flashback: Billy Crystal Brings 700 SUNDAYS to Broadway
Crystal's performance in 700 Sundays garnered a Tony, Drama Desk, and Outer Critics Circle Award, as well as four Emmy nominations!
Billy Crystal is officially back on Broadway in Mr. Saturday Night! To celebrate the occasion, we're flashing back to his last appearance on Broadway, in 700 Sundays!
Crystal may be best known as the star of such feature films as When Harry Met Sally..., City Slickers, and Analyze This, as a cast member of NBC's Saturday Night Live, or as a nine-time host of the Academy Awards and three-time host of the Grammy Awards. He is a six-time Emmy winner, the 2007 recipient of the Mark Twain Prize for American Humor, and is a NY Times best-selling author of five books.
Crystal's latest work includes the friendship comedy Standing Up, Falling Down opposite Ben Schwartz, as well as Here Today which Crystal directed, produced, and stars in opposite Tiffany Haddish.
What is 700 Sundays?
An autobiographical journey, 700 Sundays is an original two-act play in which Crystal plays numerous characters who have influenced who he is today, dealing with his youth, growing up in the jazz world of Manhattan, his teenage years and, finally, adulthood. It is about family and fate, loving and loss.
History of 700 Sundays
700 Sundays began as an autobiography written by Crystal. The title refers to the number of Sundays shared by Billy and his father, Jack Crystal, who died when Billy was 15.
The stage adaptation was originally produced in 2004 at La Jolla Playhouse, before coming to Broadway's Broadhurst Theatre in December 2004. "700 Sundays" won the 2005 Tony Award for Special Theatrical Event, as well as 2005 Drama Desk and the Outer Critics Circle awards.
In the show's opening week on Broadway, 700 Sundays broke the house record for highest weekly gross at the Broadhurst Theatre and then continued to top its own record every week. With a cumulative gross of over $21 million, 700 Sundays set a record for the highest weekly grossing non-musical in Broadway history at that time ($1,061,689 for the week ending 5/22/05) and was one of the top ten grossing shows every single week of its run, despite playing only six performances per week.
Following the original Broadway production, Crystal played sold-out limited engagements of 700 Sundays in Toronto, Boston, Chicago, San Francisco and Los Angeles. Billy then took 700 Sundays to Melbourne and Sydney, Australia, where both engagements sold out upon announcement and won the 2007 Helpmann Award for Best Special Event. In 2009, Billy brought the show back to the United States with engagements in six major cities: Washington, DC; Philadelphia; Dallas; Palm Beach; Miami; and Atlanta.
In 2013, a 54-performance revival was staged at the Imperial Theatre. HBO filmed two performances from this run, and the filmed version debuted on HBO on April 19, 2014 and received four Emmy nominations.
Check out clips from the filmed production below!
Mr. Saturday Night
Now, Billy Crystal is making his Broadway return in Mr. Saturday Night, the stage adaptation of the 1992 film of the same name, in which Crystal also starred.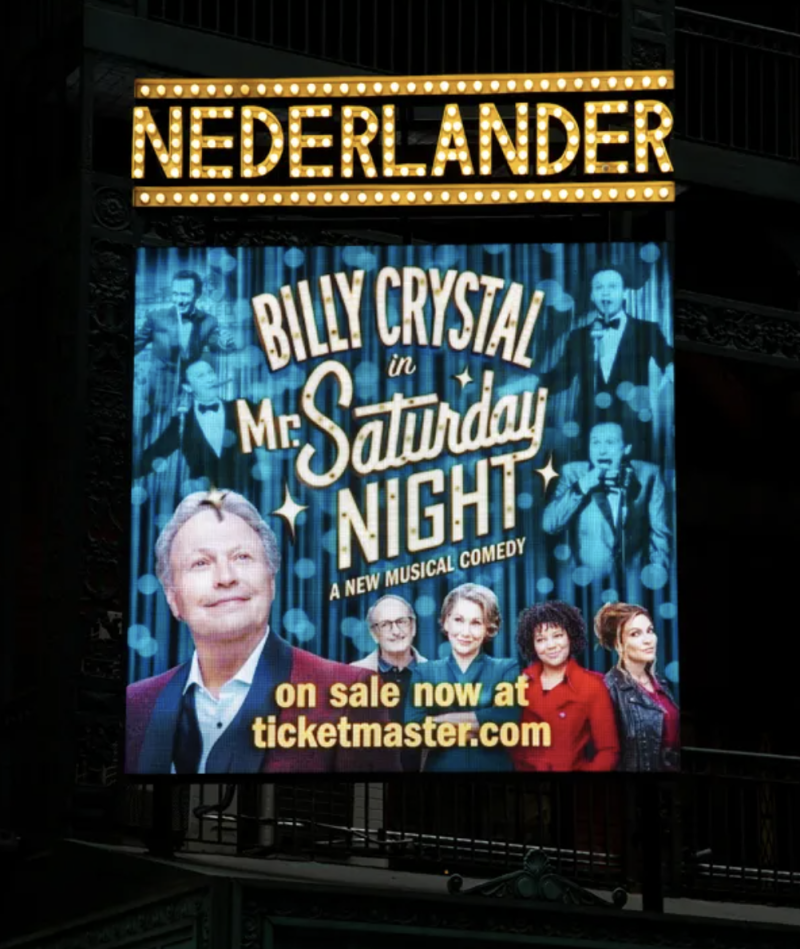 Mr. Saturday Night is the story of Buddy Young Jr., an outrageous and outspoken comedian who found fame, if not fortune, in the early days of television. Now, some 40 years after his TV career flamed out, Buddy seeks one more shot at the spotlight, and while he's at it, one last shot at fixing the family he fractured along the way.
The book for the stage musical is written by Billy Crystal, Lowell Ganz and Babaloo Mandel. The score for Mr. Saturday Night features music by three-time Tony Award winner Jason Robert Brown (Parade, The Bridges of Madison County) and lyrics by Tony Award nominee Amanda Green (Hands on a Hardbody). Tony Award winner John Rando (Urinetown, On The Town) will direct. The production will feature choreography by Ellenore Scott (upcoming revival of Funny Girl).
Mr. Saturday Night officially began previews on March 29, 2022, and will officially open tonight, April 27, 2022 at the Nederlander Theatre (208 West 41st Street).