BWW Exclusive: Lilla Crawford, Joshua Colley & More Dish on Fame, Fans, and Life as a Child Actor (Part 1)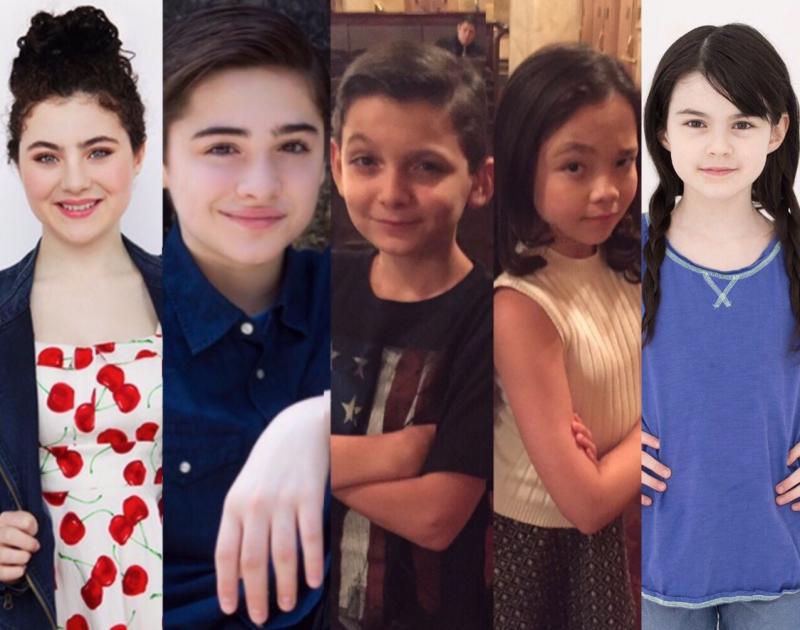 Lin-Manuel Miranda better watch his back!
With a slew of film projects on the rise, an impressive track record for film composition, and of course, his cyclonic year spent turning Broadway upside down with his self-penned gargantuan mega-hit, there's no doubt the "non-stop" HAMILTON mastermind is more than deserving of the unofficial moniker: "the busiest person in show business." But yet, it doesn't feel right to say he should be the only one bestowed with such an honor. Not after hearing from our team of in-demand child actors, who each prove to be just as worthy of the title themselves.
In recent years, these young performers have taken the industry by storm, carving their niche in the theatre community through collective appearances in a slew of acclaimed Broadway shows, television series, much-lauded charity performances, voiceovers, demo recordings, and more. (Okay, to be fair, Miranda has done all that, too, but still...)
Regardless, with their top-notch performances and impressive air of maturity, these superstar kids have more than earned their place among the ranks of their superiors.
In this comprehensive, two-part (!!!) BWW feature, our eclectic panel of child actors - including Lilla Crawford, Joshua Colley, Luca Padovan and Isabella Russo (with additional commentary from Savvy Crawford) - sound off on their most memorable career experiences, fan encounters, maintaining balance between work and school commitments and the ever-important subject of putting children in the spotlight. Their collective answers, of course, prove the inevitable: They may not be old enough to hold a drivers' license, but they're certainly worthy contenders for the "busiest person in show business" title.
---
"WE'VE ALL GOT A LITTLE MORE HOMEWORK TO DO"
"Is it a problem that I can't think of any friends I have that I haven't met through work?" Crawford asks, to that point. Her eyes dart toward the sky as she tallies up the numbers in her head.
For a brief instant, the bubbly 15-year-old is lost in thought, fully immersed in her moment of quiet - a welcome respite, she'll later say, from the usual bustle of bouncing from one obligation to the next.
"I can't even tell you how I do it," she says, with a girlish giggle. "I'm literally always working."
Indeed she is. When involved in a project, this versatile triple-threat, best known to audiences for her turn as America's most iconic redhead (and red hood!), skillfully juggles a grueling itinerary, complete with school onsite from 8-10am (with remaining classes to be completed online), rehearsal from 11-4pm, and, as per Actor's Equity guidelines for all performers yet to finish high school, additional tutoring from 4-7pm.
Such an arduous schedule can take its toll on the young performer. "Anyone who tells you it's easy is lying," she continues. "It's really, really hard."
Still, Crawford insists she wouldn't have it any other way. For one, it's simply because she's living her dream ("From day one, I've literally never wanted to do anything else!" she laughs); for another, she recognizes the workload, while challenging, produces invaluable benefits. "This crazy thing of me having to balance school [with] acting has been such a great life lesson," she says, detailing that it's instilled her with a heightened sense of time management and overall responsibility, as well as a maturity that sets her lightyears apart from other kids her age. "I'm almost like a mini-adult."
But, insistent on dispelling the rumors that "child actors are not smart," this dedicated sophomore student makes it clear that school comes first - no matter how bright those Broadway lights may shine.
Fortunately (or unfortunately), so do her tutors: "We are actually pulled off of set, or out of the rehearsal room, to tutor - we have to tutor for three hours every day - and some of the tutors are really strict about what kind of work we get done," Crawford explains.
No question she handles it all with aplomb (in fact, she arrived at our meeting having just received the news that she made honor roll!!) even when the going gets tough... as it did during a particularly climactic point in rehearsals for this past summer's NEW YORK SPECTACULAR.
"Tech week and finals week were in the same week!" she exclaims, emphatically slamming her hands down on the table. Though it obviously all turned out okay in the end, she admits she found the brutal combination of 12-hour rehearsal days and vigorously reviewing geometry notes to be "horribly stressful."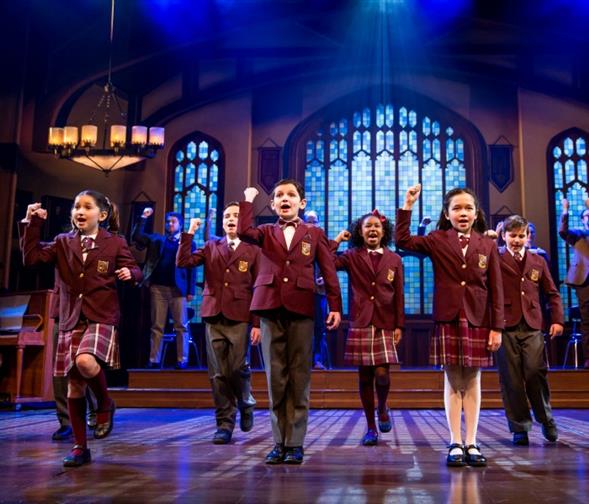 Padovan, who attends regular school full-time in addition to performing as sassy stylist Billy in SCHOOL OF ROCK eight times a week ("Except for Wednesdays," he points out; "I'm exempt 'cause we have a matinee") can relate to such a hectic schedule. "Every chance I get, I'm always catching up on schoolwork and studying," he says, "like in the car on the way to the theatre. It can get hard at times."
Nevertheless, both he and Crawford are all smiles, acknowledging in all aspects of their life and career, the good outweighs the bad. "It's all part of the deal of being a kid on Broadway," says Crawford, with a laugh, "and at the end of the day, it's so worth it."
Meanwhile, Colley, late of Broadway's NEWSIES and LES MISERABLES, and fresh off of York Theatre Company's YAGM CHARLIE BROWN, and Russo (appearing as feisty Summer Hathaway alongside Padovan in SCHOOL OF ROCK) are both homeschooled... and they agree that such a form has its benefits.
"What's nice about homeschool is that we have so many different ways to learn," Colley says, detailing his typical curriculum of Math, Science, English and Social Studies. A motivated student, now in his freshman year of high school, Colley cites educational field trips and use of the Internet as his favorite alternatives to the traditional classroom setting.
"I love it!" says Russo, whose decade-long "mobile" education program - spent traveling the country as her father, Christopher Russo, appeared in the first national tour of WICKED throughout its entire ten-year run - afforded her unparalleled hands-on experience in 49 of the 50 states. (For the record, she's missing Alaska).
Of course, in terms of acting and availability, the flexible schedule is an invaluable element: "If you have a show to do or you have an audition, you can go out and do those things," says Colley. "Obviously, school's the main priority, but you can work school around your schedule. It's really helpful."
"THINGS ARE GOOD (YES, THEY ARE), LIFE'S A BIG COOKIE JAR"
But even though their demanding schedules and academic responsibilities may weigh them down at times, the kids recognize they're far from living a "hard-knock life," and agree that some of the Broadway perks just simply can't be beat.
For example, "your first Broadway bow is the coolest thing ever," says Colley. "[When the audience] gives you a standing ovation, it's literally breathtaking. It's amazing. That's when I knew something special was about to start [for me]."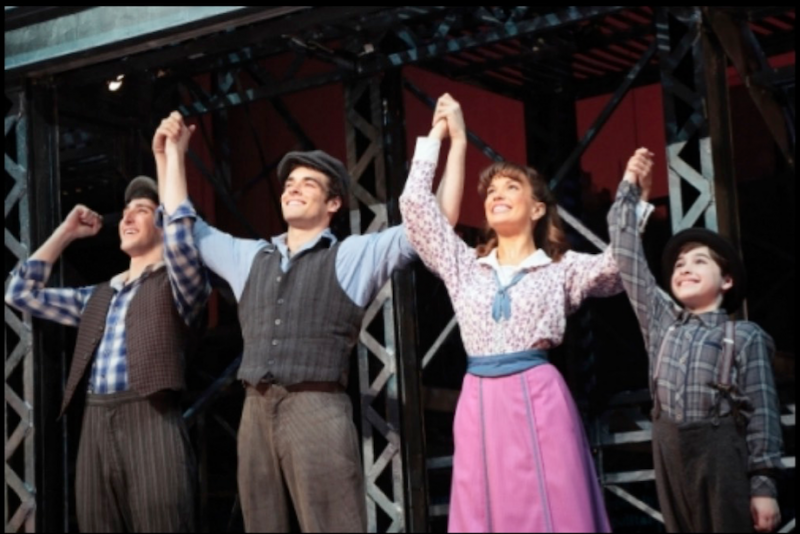 "The whole crowd just stood up and they were screaming and so enthusiastic!" adds Russo, speaking of her first, official Broadway bow on SCHOOL OF ROCK's opening night last December. "It really has an effect on you. And the after party was just crazy! That was a lot of fun."
"Fancy dresses are so much fun," says Crawford, speaking of the perk that makes her feel most glam. "I find so much joy when I have a stylist and we have a red carpet [event, and] she brings in 15 dresses and we have to try on all of them and pick out which one's the best. It's like playing dress up! It's so much fun!"
Colley also enjoys the swanky celebrations and special events. An active participant in charitable benefit galas, he's delivered memorable performances at Broadway's Easter Bonnet Competition (where he actually met Crawford, after duking it out with her in a NEWSIES vs. ANNIE sing-off sketch), Gypsy of the Year, and of course, at this past year's Miscast Gala (which, thanks to a certain Tina Fey, led to a subsequent, much-lauded appearance on NBC's MAYA AND MARTY).
"It was one of the most fun experiences of my life," adds Padovan, on the subject, who appeared alongside Colley and Douglas Baldeo (KINKY BOOTS) in the Miscast act, a gender-bending performance of HAMILTON's "The Schuyler Sisters." "I felt so honored that Bernie [Telsey, casting director extraordinaire] asked me to do it. It was such a blast!"
No doubt Colley agrees - adding that it was fun to be associated, however ancillary, with all of the HAMILTON hype. He, of course, feels the same way about all of the aforementioned events with which he's performed and been involved.
But it's his stint as Flounder in THE LITTLE MERMAID, which he performed this past summer at the Hollywood Bowl, that he says has left the biggest impression, understandably, due to its high dose of star power.
"It felt crazy," he says, of performing alongside such high-profile celebs as Sara Bareilles, Darren Criss, Rebel Wilson and John Stamos. "I even had my own song and everything... it was just amazing! And it was so weird and wonderful to be considered [as an equal] around all these incredible people!"
---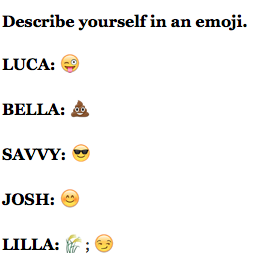 ---
DANCING (AND SINGING!) WITH THE STARS
But lest you think palling around with the WAITRESS scribe, or receiving acting pointers from Robert DeNiro, who co-directed him in A BRONX TALE at Paper Mill Playhouse, has made him any less numb to celebrity encounters, Colley assures you that you couldn't be more wrong.
"I get starstruck ALL OF THE TIME!" he screams. "It's just crazy 'cause I've looked up to these people for so long! And to actually meet them and then have them admire the work that you've done... it's really cool."
Padovan and Russo are in a similar state of disbelief, as they regale me with tales from Tony night - an experience which they both agree was "incredibly surreal."
"You're walking down the hallway and there's the HAMILTON cast, there's Neil Patrick Harris, there's Oprah," shares Padovan, counting each of the notable names on his fingers.
"And Barbra Streisand was in the front row!" Russo adds, giddily clapping her hands together in excitement. "Like... whaat?!"
Having worked alongside such Hollywood heavyweights as Jane Lynch, Mia Michaels, and Meryl Streep, Crawford consistently reminds herself that "they're just people" to keep from fanning out.
Even so, all bets were off when she entered the recording studio to lay down "What the World Needs Now is Love" with Broadway for Orlando, and found herself sandwiched between two legendary Broadway icons. "To my right is Carole King, to my left is Bernadette Peters, and then there's me?! Whaat?!" she squeals, reflecting upon the experience (and subsequently erupting in a giggle fit). "My inner fangirl was totally freaking out!"
Equally thrilling for the pint-sized performers are the special celebrity visitors that occasionally filter through the backstage area. Specifically at SCHOOL OF ROCK, these famous faces have included original film Dewey, Jack Black; Slash, of Guns N' Roses; and of course, the "Reigning Queen of Rock 'n' Roll" herself, Stevie Nicks.
"We got to meet her after the show," recalls Padovan, of the night the Fleetwood Mac frontwoman performed "Rhiannon" onstage with the kids after curtain call. "She's the sweetest person you'll ever meet."
Russo, meanwhile, is unable to comment altogether, the sheer memory of meeting Ms. Nicks having rendered her speechless. Mouth wide open and palms slapped against the sides of her face, she releases her breath, emitting a high-pitched squeal that pretty much speaks for itself.
There's only one way we can respond to that: "Whoo, baby, whoo!"
"SUDDENLY, I'M RESPECTABLE, STARIN' RIGHT AT YA, LOUSY WITH STATURE"
Make no mistake - this group genuinely understands how "incredibly lucky" they are to be involved in these charitable events, and to be associated with this phenomenal community, each expressing how humbled they are just to be considered as equally worthy as the luminaries with which they're performing.
But there are other elements that took (or rather, still take) some adjustment. One example? Their fanbases.
"I don't find the idea of being a fan to be weird, but I do find it weird that I have fans," Crawford confesses.
"People stop me on the street, saying, 'Oh, my God! Can I get your autograph? Can I get your picture?" adds Russo, describing her experience connecting with fans. "I'm still not used to it."
And why, do you ask, might that be so? Perhaps it's because, as Padovan insists: "We're not really that different from anyone else!"
Colley, too, remains similarly in awe: "I don't even realize how many fans I have. It's crazy how much, and how many, people look up to me."
The fact that they're a source of inspiration to other kids becomes all the more significant when one considers it wasn't too long ago that they were frequenting stage doors and ogling over stars themselves ... and you can bet they draw on those experiences - positive or negative - when relating to their own fans.
"My fans are the best!" Colley exclaims. "They message me on Instagram all the time saying how much I inspire them. It's so cool and it means so much to be able to do that for other kids."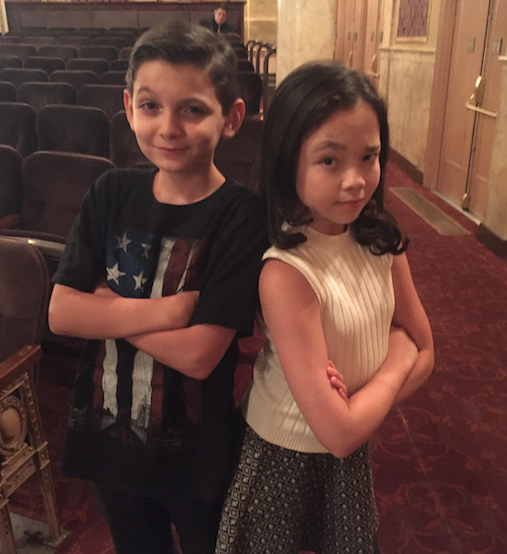 "People tell us all the time, 'You're our inspiration! We love you!'" says Padovan, extending thanks to his and Russo's Periscope viewers, who consistently flood their feed with messages of positivity.
"SCHOOL OF ROCK's my life! It keeps me going! I listen to it every day!" Russo pipes in, quoting a recent comment overheard at the stage door. "It's really amazing and incredible to think that we have that much of an effect on people. ... Knowing that we inspire people [in that way] gives us the energy to do this show eight times a week!"
Crawford, on the other hand, recalls a particularly traumatic stage door incident from her pre-Broadway days, wherein she learned what not to do when interacting with fans. After an enjoyable night out at the theatre, she anxiously stood in the cold for an hour, waiting to get a certain actor's signature for her program. When said actor finally emerged, he took one look at her outstretched arms, and immediately dashed for his SUV ("I was crying so hard," she says, upon reflection. "It crushed me.") No doubt Crawford remembers that behavior when she leaves the stage door herself... and as a result, she makes it a point to ensure no fan is left behind - no matter how young or old they are, and no matter how long it takes.
"I never miss the chance to go out and sign and take pictures," she says, proudly. "Unless there is something terribly wrong with me" - like a bout of the flu, which she notes did overcome her once during an ANNIE performance - "I will always be out signing... because I'm a fan [of certain people] as well, and I know how it feels [to have your favorite performer skip out on you]."
Citing the flu incident as a cautionary tale, Crawford quips: "If you see me in something and I don't come out of the stage door, you should be worried about me." And, of course, true to form, laughter ensues.
For more on the lives and careers of these child superstars, click here.
---
If it were published today, what would you title your autobiography?
LUCA: "I don't know... but something about being on Broadway."
BELLA: "Life and Times of a Broadway Kid"
SAVVY: "I can't give up my [title] just yet... it's not copyrighted!"
JOSH: "Just Josh"
LILLA: "HELP! I'm an Old Man Trapped Inside of a 15-Year-Old Girl!"
---
Banner Photo Credits: (L-R) Iva Kozeli; Stephanie Hedges Photography; Matt Smith; Jade
"Non-Stop" Video Credit: Atlantic Records
"Hamilton Gets Miscast" Video Credit: MCC Theater
"Newsies vs. Annie - Easter Bonnet" Video Credit: Broadway Cares/Equity Fights AIDS
---
Matt Smith is a writer and theatre enthusiast based in New York. For more information or further inquiry, including additional writing samples, please visit mattsmiththeatre.com.

Related Articles
Matt Smith is a writer and theatre enthusiast based in New York. For more information, including additional writing samples, he encourages you to visit www.mattsmiththeatre.com. (read more...)