BWW Exclusive: Lilla Crawford, Joshua Colley & More Dish on Fame, Fans, and Life as a Child Actor (Part 2)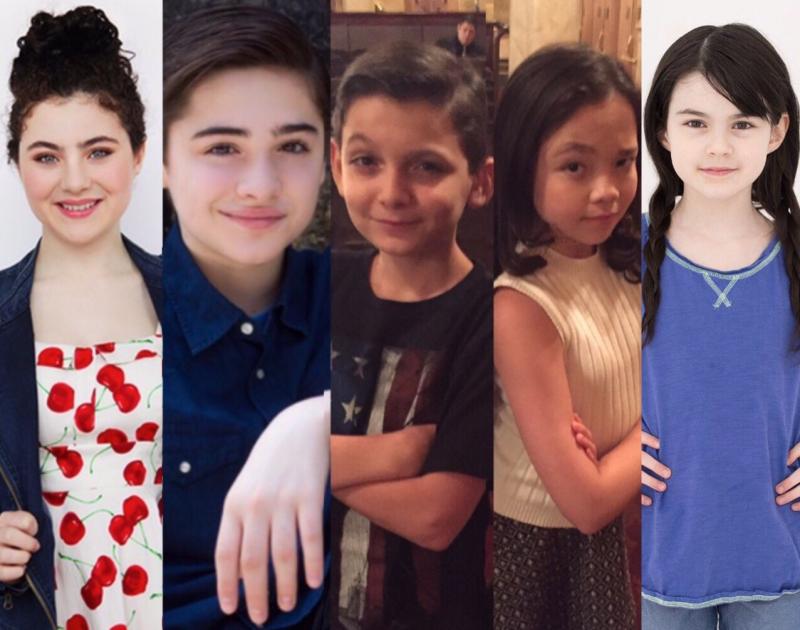 In this comprehensive, two-part (!!!) BWW feature (the first of which can be viewed here), our eclectic panel of child actors - including Lilla Crawford, Joshua Colley, Luca Padovan and Isabella Russo (with additional commentary from Savvy Crawford) - sound off on their most memorable career experiences, fan encounters, maintaining balance between work and school commitments and the ever-important subject of putting children in the spotlight.
---
"(WORLD, WATCH OUT) IT'S TIME TO PLAY"
But don't forget... they are still young kids, and while a free moment may be hard to come by, these busy bees will take that moment when they can get it, using their downtime to indulge in their favorite activities, which for Padovan, includes reading comic books - "I love superheroes, super villains... all that kind of stuff," he says, with a laugh - and for Russo, includes riding horses, a passion she's been pursuing for about a year. (All, of course, in addition to those infamous Starbucks runs!)
A self-proclaimed "theatre maniac," Crawford confesses that when she's not treading the boards herself - or glued to THE BACHELOR - she's frequenting other Main Stem shows with her friends ("I just can't get enough!" she exclaims).
Though she laughs that some may find the behavior atypical of a "normal 15-year-old," she says she ultimately pays it no mind, adding, perhaps to answer her own earlier question, she appreciates the fact that she's surrounded by people with like-minded interests - people who "would rather see a Broadway show than go to Forever 21" - and who can relate to a child actor's daily grind.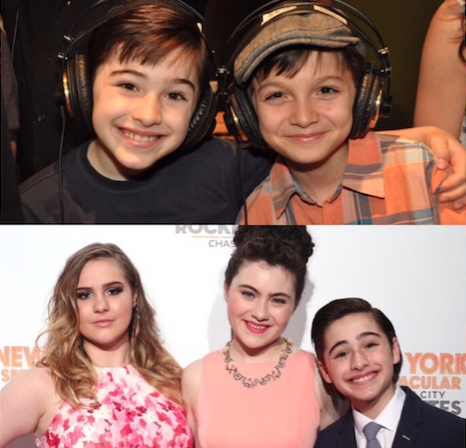 "They're basically the only friends I have," says Colley, discussing his strong ties to his Broadway buddies. "They're around me all the time, and they're doing the same things I'm doing. We all have something in common, and that really helps."
Producers capitalize on the bond between these kids as well and seek out creative ways to keep the group as tight-knit as possible. In addition to bunching them together at "kid-centric" public events, like Kid's Night on Broadway and the annual Jimmy Awards for high school students, they also arrange joint press events, park hangouts, and even a "Broadway kid-exclusive" Halloween party. "It's really fun," says Crawford, of the bash, which is held annually at the Minskoff Theatre, home of THE LION KING, and serves as an alternative to traditional trick-or-treating, which the kids miss out on due to their show schedule. "I've done it twice [during my time in BILLY ELLIOT and ANNIE]. It's a great way for the kids to bond and enjoy time with each other outside of work."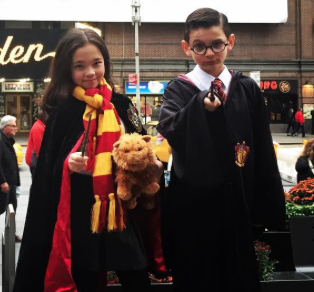 Padovan and Russo can attest to Crawford's statement; they both attended this year's spooky celebration... dressed (naturally) as Harry and Hermione, respectively.
"SO MUCH OF ME IS MADE OF WHAT I LEARNED FROM YOU"
While these non-work related social gatherings are no doubt a highlight of the "Broadway kid" experience, it's not to say these kids don't enjoy the time spent with each other during work hours. In fact, for Colley, it's actually the high point. "It's so inspiring to see the other kids doing the same things you're doing," he says, noting, "I learn a lot from watching other child actors perform, and things that they do stick with me," be it a technical choice like "the way they use their vibrato," or a creative one, like a particular characterization.
But it's not just fellow children from which these youngsters can learn. The adults obviously bring a lot to the table as well - and these kids are primed and ready to absorb it all.
Russo, for one, can't say enough about how influential leading man Alex Brightman has been throughout her time with the show, stating she's learned a lot about "proper actor behavior" through observing him and listening to him speak. "[He once said], if he ever felt tired or just wasn't feeling 100%, he remembered that somewhere in the audience, there's a family of four, who paid the same amount of money that they would [pay] for a vacation to come see us perform for two hours... and they deserve a performance that's 100%. Every audience deserves a performance that's 100%. That's always stuck with me."
Padovan, too, sings the praises of his esteemed co-star. "He's not your basic Broadway big guy. He's his own person... his own self. I hope that I can be like him when I grow up."
"They're so kind and so humble," Colley says, of his adult co-workers, "and seeing that makes me more humble."
Additionally, describing a given rehearsal room as a "room of universal friendship," Crawford states that there's typically no divide between the children and the adults.
"They don't really care that you're a kid," adds Colley. "They treat you the same way they would another adult. They're always so nice and so respectful of the kids' talent."
"We have guardians backstage, obviously," adds Russo, while Padovan nods in agreement, "but the adult actors don't baby us at all. [We're] such a team, so just being together and performing on stage and connecting with each other on the same level is just great."
The older kids also credit these adults with sparking their interests in putting pen to paper behind the scenes. Inspired by Tina Fey, and other women who write, direct and produce for themselves, Crawford's been pitching her own script ideas to network executives, while Colley's hard at work on material for an original musical, which he hopes to complete within the next year.
Wow! Talk about seizing the day!
"I KNOW THINGS NOW (MANY VALUABLE THINGS)"
Acknowledging her time in ANNIE "was like being on a rocket that wouldn't stop," Crawford concedes to feeling too wrapped up in "a new adventure every day" to fully comprehend the idea that her life was changing before her eyes. "Now, I look back at it [and think], 'Wow! I actually achieved that,' but in the moment, it was just a lot [happening] at once." Likening her journey to that of Little Red's, she explains, at the young(er) age of 12, "you [generally] just think of [performing] as this super-cool thing that you get to do every night with all of your friends onstage." With age and maturity, "it does get a little more serious, as I'm starting to find out. You're a little more aware of what's actually going on."
Likewise, Colley attributes self-growth to his ability to enjoy continued success throughout his budding career. "As I've gotten older, I've definitely gotten more experience, which definitely helps [in terms of growth]," he says, on the subject. From NEWSIES to LES MIZ to A BRONX TALE, ELF, and CHARLIE BROWN, "my singing has gotten better, and my acting has gotten better. ... When I was younger, I saw things [within my characters] very simplistically, but," like Crawford, "as I'm getting older, I'm starting to see things with a more advanced eye."
Meanwhile, the younger kids - still, in a way, coming up through the ranks - discuss the advantages of creating an original role.
"While it's a little bit more challenging being in an original cast, 'cause things are always changing, and some scenes are getting cut [in rehearsals leading up to opening night, with this SOR process]," explains Padovan, who burst onto the Broadway scene in 2014 as a replacement Les in NEWSIES, "I really felt like I could create my character from scratch and create [Billy] the way that I felt he was, rather than in NEWSIES, where the show was up and running, and everything was just ready for [me] to step in. [There,] I had these parameters I couldn't mess with, because the character was already decided [and established]."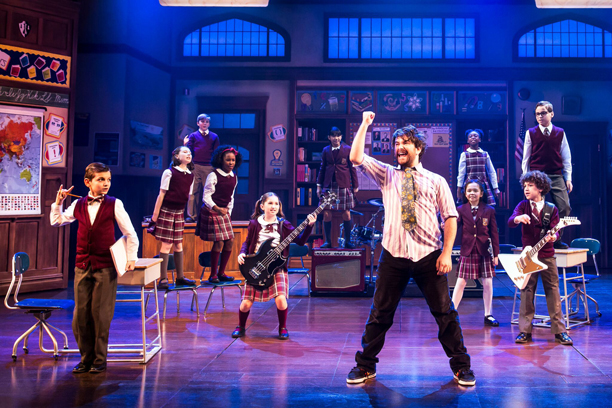 Russo concurs: "It's so much fun to create an original character. Obviously, we had some reference from the movie, but I didn't really want that to influence me too much. So, I started from scratch. It was a lot of fun developing the character and figuring everything out." Considering she's making her Broadway debut with the show (and leaving quite a lasting mark in her role, at that), to say she's enjoyed the process would be an understatement: "I've learned basically everything [about theatre life] from [performing in] this show." As she gears up to graduate from Horace Green on November 6th, she adds, of her SOR experience, "It's been fantastic! I hope to do it all again soon."
---
Describe another interviewee in three words.
LUCA, about Bella: "The. Best. Ever."
BELLA, about Luca: "Best. Friend. Forever."
SAVVY, about Lilla: "Awesome, funny and cool (because she's cool beans!)"
JOSH, about Lilla: "Fun, kind, talented."
LILLA, about Josh: "Mega-talented powerhouse... and super-nice."
---
#SAVVYSAYS SUPPORT CHILD ACTORS
There's no question Lilla's made a name for herself within the theatrical community in recent years, putting her stamp on a slew of iconic "feisty and sassy" young women throughout her career. But she's not the only Crawford looking to establish herself, as younger sister Savvy is quickly rising to fame with a blossoming screen and stage career of her own.
While some are steadfast in their belief that the future for child actors is looking... well... grim, Savvy isn't shy in taking the opposite view - she says it's "such an exciting time [for] child actors," if producers play their cards right - making sure her voice is heard just as loud and clear.
"Being a child actor is great," relays the energetic pre-teen. "[As a kid], you can be so much more free to explore and learn new things, and come up with new ideas." Of her prospects in the business, she adds, optimistically, "There are so many new shows, movies, and videos [with roles for kids, and] they're going to need kids to play all of those parts."
You can bet Savvy knows firsthand how imperative these "kid roles" can be to any given project that requires them, considering she's made notable guest appearances on such acclaimed series' as CBS' MIKE AND MOLLY, in addition to her distinguished role as mini-Madonna in the mononymous singer's "B*tch, I'm Madonna" music video.
But now, she's playing in the big leagues - the younger Crawford will appear as Young Amélie, in the show of the same name, when it opens at Los Angeles' Ahmanson Theatre next month - and to say she's elated would be an understatement. "I have always loved working with the cast and crew of AMELIE," Savvy comments, of her experience, which began with the show's CA premiere run at Berkeley Repertory Theatre last Fall. "You might think being the only kid in the cast would make me nervous, but I love it because I'm part of the team, and I'm treated in such a way that my age doesn't matter."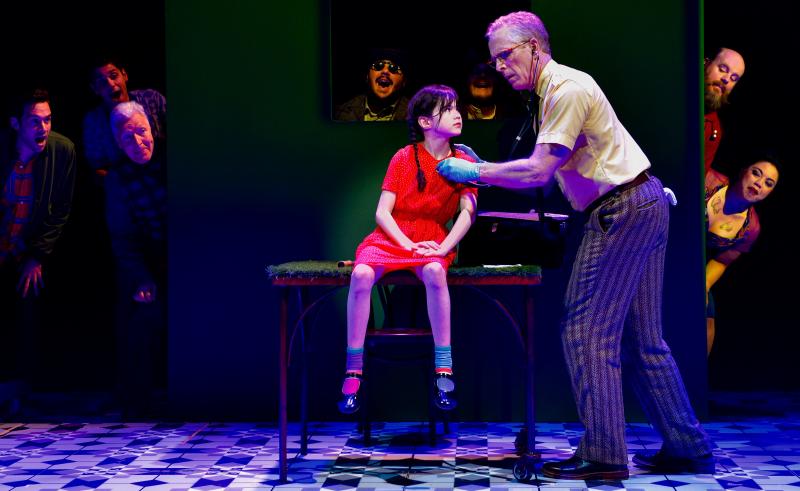 Hobnobbing with such high-profile stage faves as Phillipa Soo and Adam Chanler-Berat certainly doesn't hurt either. Says Savvy, "Everyone [in the cast] is so inspiring. I have learned a lot from them."
Catch Savvy in AMELIE at Los Angeles' Ahmanson Theatre from December 4, 2016 to January 15, 2017.
"I'M JUST A BROADWAY BABY"
Though Crawford and Colley have ventured into film and television (the latter voicing characters on Nick Jr.'s PETER RABBIT and TEAM UMIZOOMI, and the former taking the reins as the title character in her own upcoming animated Nick Jr. series), the two maintain that their heart will always be in theatre.
"I just love live theatre so much," Crawford says, pausing to seriously ponder the question: "What if my mom never [initially] took me to see a Broadway show?" (Considering it set the starlet on the path to success, she answers, quickly and decisively: "That would have been horrible!")
"It gives me a place [where] I feel like I belong," she continues, "and that I have a purpose in life... and I'm thankful for that."
Expressing how "nothing else matters when you're onstage... [you feel like] the world's in the palm of your hand," Crawford adds, despite the occasional string of small screen projects (or, say, a role in a highly anticipated, Golden Globe-nominated star-studded phenomenon), "theatre will always be my home, and that'll always be something that I'll come back to."
Likewise, Padovan and Russo, who've both dabbled in the TV world, are equally content with living out their Broadway dreams. "I always felt like I could be myself onstage. I don't have to be afraid to say anything or be afraid of how I'm perceived," says Padovan. "Theatre brings out the 'real me.'"
"I really enjoy being able to be a different person for two hours every night," shares Russo. "I can have whatever backstory I want. The live aspect is great, too. You can't get that on film."
Colley strikes an equally passionate note on the subject. "I think performing was what I was born to do," he says. "It just feels natural to me."
It's not hard to understand why - his parents are both professional actors themselves and have run a Florida-based children's theatre company for the last 18 years. Because of that, he explains, "My house is always filled with music, and some [aspect] of the performing arts."
Needless to say, it's left quite the impression, and Colley has no problem in making that known: "I love it all! The sets, the lighting, the sound of the orchestra, and of course, all the incredible actors that I get to work with. I really wouldn't want to be doing anything else."
---
What song is sure to be on the set list at your eventual solo concert?
LUCA: "Bella and I would duet. [We'd sing] 'Smooth Criminal,' by Michael Jackson."
BELLA: "And a Broadway musical duet for sure."
SAVVY: "No," by Adele
JOSH: "Hallelujah"
LILLA: "I know everyone's expecting me to say 'Maybe' or 'Tomorrow,' but I think I'd do a pop song. I'd want to give [the audience] something new."
---
"EVEN IF YOU'RE LITTLE, YOU CAN DO A LOT"
No doubt these young superstars have made a lasting impression on co-workers and fans alike, with their A+ performances transforming the way child actors have been viewed and perceived in recent years. But the question remains - and it's one that's especially pertinent when looking at the current theatrical landscape: will it last?
With the recent closings of FINDING NEVERLAND, FUN HOME, and LES MISERABLES, and MATILDA's imminent end on the horizon - all of which prominently feature (and employ!!) child actors - it, unfortunately, doesn't seem likely, and Crawford admits to feeling the heat, stating, rather straightforwardly: "I'm afraid that it's possible that we will start to see a decline of children acting on Broadway in the near future."
In other words, while she acknowledges shows with the occasional child actor will always exist and filter through a given season, Crawford's succumbed to the fact that a season permeated with child actors - one, to quote the incomparable NPH, which "looks like Chuck E. Cheese" - is, sadly, a thing of the past. Casting directors of late have discovered "it's cheaper to hire an 18-year-old that looks like a kid [to] play a kid, and that's usually what'll happen," she laments.
Colley suggests that producers might be reticent to hire children because "there's a lot you have to do to have them in your show," in terms of hiring guardians, wranglers, and the ever-important tutors, but being a seasoned child actor himself, he argues "they're really underestimated [and] just too talented" to be counted out.
Having child actors onstage can also be beneficial for the older audience members... whether they know it or not.
"I think it's important for an adult to see a story told from a child's perspective," Crawford states, referencing the carefree nature of characters like Annie, Billy Elliot and Matilda, who, unfazed by the burdens of adulthood, innocently sing of looking toward tomorrow, expressing yourself without judgment, and standing up to bullies - all without a care in the world.
Consumed with work and other "grown-up" responsibilities, Crawford feels that "adults tend to lose that [youthful] sense of play and fun." The way she sees it, these shows can reignite that excitement, and remind them that "it's never too late to stop being a kid."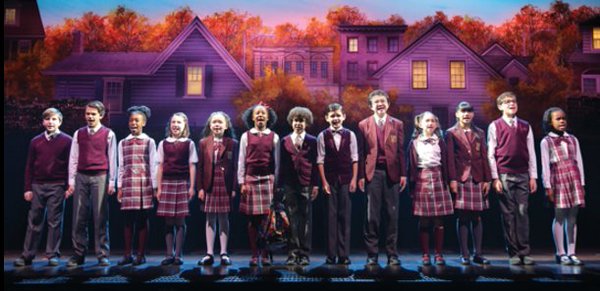 According to Padovan, shows that feature kids "are more relatable" to young audience members. "With shows that are just adults [in a cast], kids may get lost and [feel like] they don't get the story, but when there are kids in a show, especially in a leading role, [they] can really connect with them."
"A kid's perspective is fresh," adds Colley, speaking in terms of his relationship to fellow adult performers. While some may see an 11-year-old actor as inexperienced, Colley claims the child can, in fact, use that greenness to their advantage. With their unjaded outlook and refreshing sense of embracing each day as something new, child actors "may be able to bring something new to the table, and actually teach the adults a thing or two. ... Kids have a lot of power in that way."
Fiscal even at 15, Crawford also asserts that the inclusion of child actors may actually increase revenue and keep theatre alive. "Kid-friendly shows, like MATILDA, BILLY ELLIOT, and ANNIE, bring in a younger audience. Children are the future," and in introducing them to theatre - especially at a young age - "we'll secure the future of Broadway," and keep that engine running.
Child actors may also serve as a source of inspiration to young audience members, opening the door for a whole new wave of child actors to come in and start the cycle anew.
"[For] kids who want to be on Broadway, or in the performing arts some day, I think it's really important [for them] to see other kids doing it," says Russo. "Then, they can be inspired to follow in their footsteps, and [think] like, 'Oh, if they can do it, I can do it!'"
Crawford, too, stresses the importance of this early exposure, explaining that most diehard theatre buffs she knows - professionals and fans alike - caught the bug when they were little, "sitting in their house watching the Tonys surrounded by all their favorite Broadway cast albums."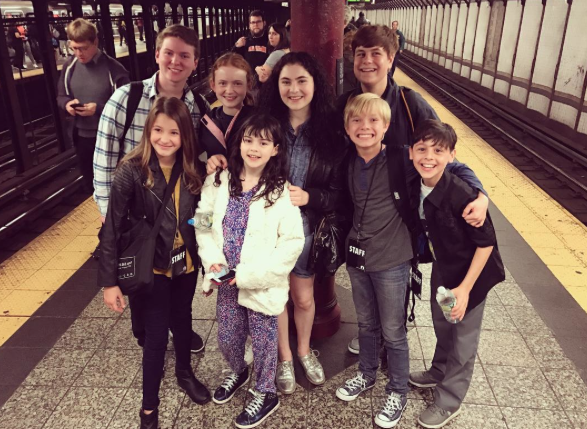 That's certainly true of how it happened for her - and it's the reason she holds her status as an active community member in such high regard. "Broadway inspired me to become [who I am today]," she says, "and it makes it even more special that I'm now part of the Broadway community, because [now] I can do for other kids what Broadway did for me, and pass it along. It's pretty awesome."
So, essentially, whether or not there'll be an uptick in "kid-centric" shows on Broadway in the near future is an idea that remains to be seen. But if the new crop of child performers is anything like these fab five, there's no reason why Broadway producers shouldn't at least give it a shot - as this group has undoubtedly left more than their mark on stage, with their stellar performances helping to make the Great White Way a brighter, more vibrant, and more visible New York destination. All good things in our book! So now, there's only one question left to ask: Mr. Producer... any thoughts?
---
What's the best advice you could give to an aspiring performer?
LUCA: "Embrace the nerves. Don't push them away."
BELLA: "Never stop believing in yourself. If you have a dream to be on Broadway, go for it. It's never too early to start."
SAVVY: "Every time you don't get a role, don't get upset over it. If you stick with it, and work hard, eventually, you'll [land] that one perfect role that will change your life in a way you never expected."
JOSH: "Just be yourself. [Casting directors] want to see you. And be prepared. Practice makes perfect."
LILLA: "There's no set rule, really. You need to just go for it. Get off of your butt and go do it. Never give up. Keep working at it, and you'll get there."
---
FOR MORE FROM OUR PANEL....
Follow Lilla on Twitter and Instagram.
Follow Josh on Twitter and Instagram.
Follow Luca on Twitter and Instagram.
Follow Bella on Twitter and Instagram.
Follow Savvy on Twitter, Instagram, and Musical.ly (@RambunctiousSavvy).
---
Starbucks Instagram Link courtesy of Luca Padovan
"Seize the Day" Video Credit: Ghostlight Records
"Smooth Criminal" Video Credit: Broadway Sessions
"Hallelujah" Video Link courtesy of Joshua Colley
---
Matt Smith is a writer and theatre enthusiast based in New York. For more information or further inquiry, including additional writing samples, please visit mattsmiththeatre.com.