Click Here for More Articles on National Theater Institute
BWW Exclusive: August Wilson in Waterford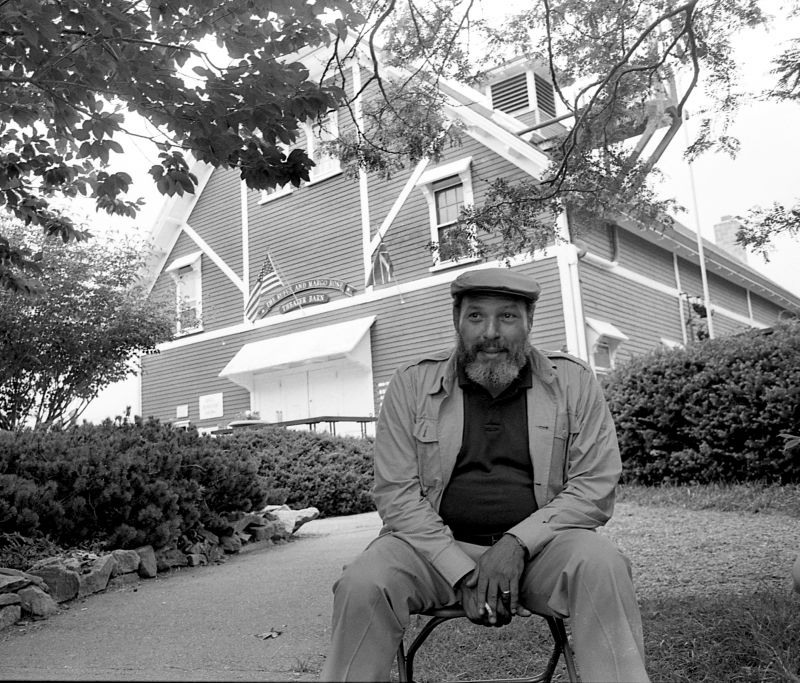 Tony- and Pulitzer-winning playwright August Wilson developed six plays the Eugene O'Neill Theater Center: Ma Rainey's Black Bottom, Fences, Seven Guitars, Joe Turner's Come and Gone, The Piano Lesson, and Two Trains Running. In celebration of the PBS American Masters documentary "August Wilson: The Ground on Which I Stand", RISK AGAIN! shares excerpts from The O'Neill: Transformation of Modern American Theater:
"Few would deny that August Wilson belongs in the front rank of such figures as Eugene O'Neill, Thornton Wilder, Arthur Miller, Tennessee Williams, and Edward Albee. The plays that make up his Century Cycle -- all but one of which take place in Pittsburgh's Hill District -- offer a sweeping account of the journey of African-Americans over ten decades, one play set in each decade. Wilson consistently credited the National Playwrights Conference (NPC) with giving him the opportunity to find his place. The O'Neill also introduced him to the person he needed to develop his gifts to their fullest [NPC Artistic Director Lloyd Richards]. Critic John Lahr speaks for many when he says, 'I think Lloyd's collaboration with August is, along with [Elia] Kazan's with Tennessee [Williams], the great collaboration of the twentieth century.'"
"Wilson's submission for 1982 was just one of several hundred that arrived in envelopes without recommendations. Jean Passanante remembers when Ma Rainey's Black Bottom began to separate itself from the rest of the pack. 'Every play would get one reading by a freelance reader, and then if it got a certain rating, it would go on to a second reader, and then, if the second reader liked it, it would be brought to Lloyd's attention, and he would determine that it would be sent to the selection committee. Probably about thirty or forty went to that selection committee. There was some debate about the play. It wasn't a shoo-in. My sense was that it was possible that it hadn't been read completely by some of the people because it looked like a telephone book -- it was huge, and the typeface was very small.'
Set in Chicago in the 1920s, the play presents Ma Rainey, a real-life blues singer, and (invented) members of a band assembled for a recording session. The session is disrupted by Ma Rainey's extravagant behavior and tensions among the musicians. Much of the script is made up of the musicians trading stories of their backgrounds, describing the roads that brought them to the studio, and articulating their hopes. At the play's end, a young trumpet player named Levee explodes in rage and stabs a fellow player to death.
At any rate, this is a summary of the finished play. The manuscript the selection committee evaluated was huge and somewhat shapeless. Michael Feingold recalls the discussion about it. 'Lloyd was a little cautious at first. August's plays, with very few exceptions, aren't linear. And Lloyd came from a traditional mode of drama where you started at the beginning and went to the end.'
'Lloyd reserved a discretionary slot,' says Passanante. 'If there was something that was controversial, he gave himself the privilege of putting it through. But that was not the case with Ma Rainey; it was definitely voted in by the majority. But I don't remember any particular buzz about it at the very beginning.'
In a 1991 interview published on the website of the Academy of Achievement, Richards looked back on the selection of Ma Rainey. '[Wilson was] a poet who was in the process of teaching himself to become a playwright at the suggestion of some friends. He was rejected by us five times. . . . He even tells the story that once he didn't believe that we had really read his play, so he submitted the same play the next year, and it was also rejected. He thought, maybe these people have a point. . . . [T]he important part of that is the fact that August Wilson did not arrive full blown. He was a person who did not, in getting rejected, turn around and say, "Aw, there is something wrong with you," the rejector. He ultimately accepted the fact that he was in process, and there may have been something wrong with what he was doing, and he had to learn more and he had to do more. He did, and he finally got to that point where his work was accepted for work. Finally, that was when he came to the Playwrights Conference and our relationship began.'
"[...at the first table read of Ma Rainey's Black Bottom] Passanante says, 'There were a lot of sort of eyeball-rolling jokes among the directors and me about how much time this was going to take. The guy didn't open his mouth. He seemed very, very nervous. He smoked a lot of cigarettes and he held back a little. And the play seemed like it was going to be eight hours long. We were all worried that we were settling in for a long nap'
'No one fell asleep,' says William Partlan. 'He read with his head down,' designer (and current NTI design faculty) Skip Mercier remembers. 'He never made eye contact with anybody.' Amy Saltz elaborates, 'There was a podium with a desk. Most people would sit behind it and read. August couldn't sit still. He would be walking around, and this language would just sweep over the room.'
Passanante says, 'He almost was in a trance when he was reading it, kind of rocking back and forth on his feet, being all the characters. For everybody in the room it was utter captivation. People were rapt. "Oh my God, that play is brilliant."And everybody knew it.Whatever playwright was supposed to read next said, 'Oh great, now I get to read my play.' But I think from that moment on everybody knew we were dealing with something really profound.'
Saltz remarks, 'At the end of the pre-Conference weekend, the playwrights got O'Neill jackets. This particularly affected him. Getting his -- he felt like he was recognized, that he had arrived . . . that he was a playwright.'
When he returned for the full Conference, Wilson quickly came to appreciate what the O'Neill had to offer him. 'August had started his own theater and he had had some theatrical experience, but I think he felt that this was a whole new ballgame,' says Partlan, referring to Black Horizons on the Hill, a small company Wilson had helped found in Pittsburgh. The 'whole new ballgame' was a different standard of professionalism. The value of the O'Neill was not just that it helped him find his play, but also that he began to learn how to be a playwright with claims to craftsmanship."
Read more about how August developed his voice at the O'Neill, what John Patrick Shanley thought about the ending of Fences, the legendary relationship between August Wilson and Lloyd Richards as well as hundreds of other stories from 50 years of theatrical history in The O'Neill: Transformation of Modern American Theater by Jeffrey Sweet published by Yale University Press in 2014.
WATCH: PBS' American Masters -- August Wilson: The Ground on Which I Stand - This first documentary about the Tony- and Pulitzer-winning playwright August Wilson (1945 - 2005) includes new interviews with film and stage luminaries and his family, scenes from his award-winning plays, and footage of his work in development at the O'Neill's National Playwrights Conference. See a clip below!
Find your place and work with theatrical luminaries by studying at the launchpad of American theater. Learn more about the acclaimed semester-long, credit-earning training intensives by visiting www.NationalTheaterInstitute.org and Facebook, Twitter, Instagram, and YouTube (@NTIRiskFailRisk). The application deadline for summer and fall programs is March 20. Early applications are encouraged!
Related Articles
With a singular schedule and an unmatched breadth of training, the National Theater Institute's six semester-long programs offer students a springboard to the professional world (read more...)