Click Here to Visit the College Center

BWW Blog: The Road to Go Back Mentally and Physically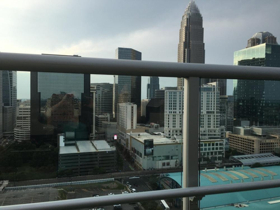 Hey guys! It's Lea.
Wait. Did I really say that? For real?
Yup. I did.
I know what you are thinking. What? Did you post your last blog in May?
I did but it was for the last semester. But you know what? I loved writing these blogs for you so much that I wanted to come back. So, here I am writing during my last few days of summer break. (This blog is being written from the computer in my basement where there is work being done. So just imagine me writing a portion of this with a lot of stuff happening like painting and dusting in the back with a lot of fumes in the air I'm breathing.)
So, school is starting up. For me, I went back August 27th. So, I thought I'd give you a little summer update. The real blog begins after my first few days. I'm a little sad that summer break is over but psyched/scared to start the new school year. I think this break was definitely needed after a very hard, stressful, but fun spring semester. I was clearly burned out. I needed fun. Things ended up not going as I had hoped it would happen. I spent most of June trying to be an adult and apply for jobs and internships (since I needed one for my journalism minor) and got rejected. So, I thought I would take this summer to recoup, regroup and rejuvenate for the fall. So, to be healthy and have my body ready, I decided to go with dance classes.
More on the dance classes later, but I bet you want to know about the shows I have seen. First show, Spongebob Squarepants. Really out of the blue and we have been trying that lotto for a long time to no avail. Finally, we won the day before the Tony Awards. It was so much fun. I was laughing so hard and loving every minute of it. Since I watch Spongebob on TV, it was easy to relate to the lines used in both the TV and Broadway show. In addition, I was familiar with almost all the characters. My mom who never watched a Spongebob Squarepants cartoon really enjoyed it too. I was probably the one person in my row laughing so hard from the jokes I recognize from the TV show. It was crazy at the stage door. I was talking to a few people and getting selfies with the cast members who came out. Not all came out because they had to be at rehearsal at 7AM tomorrow. Kelvin Moon Loh who is a part of the ensemble and played Perch Perkins got the stage door crowd to do an Instagram video wishing them the best on the Tony Awards. I had the "Best Day Ever" at Spongebob. I hope to see it again. If you can, go see it before they close on September 16.
The other show was actually two readings of one act plays that starred two people I know from the Drama Department at school. It was from A.S.K. Theatre and they presented "I Will Block U" and "I'm So Dead" which was the third part of the Millennial Plays (The Millennial Plays III). All of the proceeds from that night and the other night were going to Puerto Rico. "I Will Block U" was about the end of the world, trying to get to safety. Two pairs of people are hoping a superhero will come save them. "I'm So Dead" is about a woman who discovers she is dead but is stuck in a region that she can't pass through unless she tells her R.A. how she got there (how she died) (There are probably a ton of spoilers I would spill out but I am not going to because I don't know if anyone else might get to see the readings so I am holding off for their future sake). It was fun seeing a new section of the city (near Penn Station) that I have never seen, reuniting with people, laughing until wee hours of the morning. We went to a little bar not too far away (I don't drink but had water in a very fancy glass) to celebrate. As a New Yorker, I have never experienced New York in the very wee hours of the morning which included seeing mice in the streets and cockroaches on the walls of the subway freaking me out, screaming my head off (sorry sleeping New Yorkers) and having to hold my arms near myself because well... guess. Don't worry I was going home with a group. I did not get home till 2:30AM.
Another exciting event was my first bus trip by myself to New Jersey to see my cousin graduate high school and begin the next journey of his life. We are planning to meet up before he moves into his dorm or meet at his dorm. I turned another year older (aka celebrated my birthday and my parents surprised me with tickets for a show. My friends know what it is but for you readers. I am going to have you guess what show I got.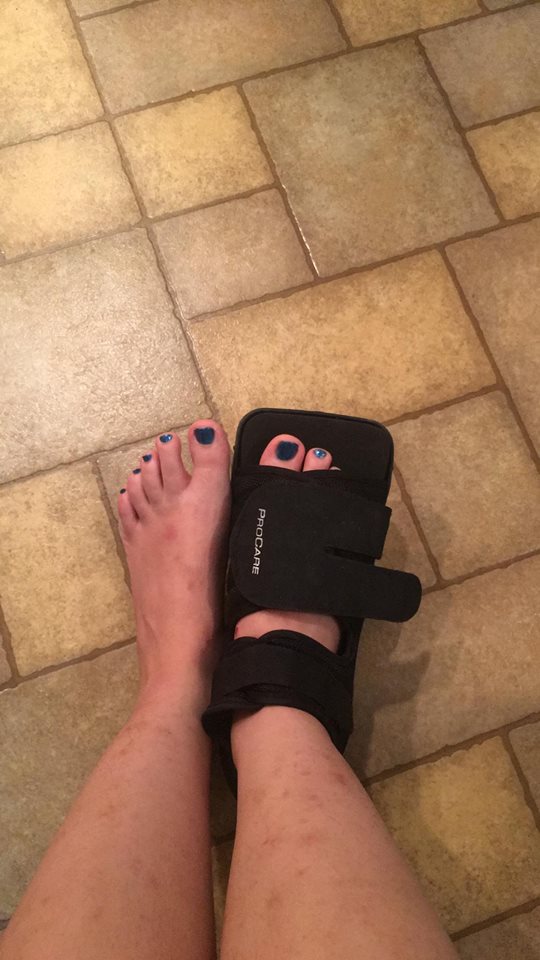 I had these plans to go to see more shows, see friends, go to new places, etc. However, something happened (I was not sure to bring this up but I thought I share it because it affected me and I'm curious how others handled this). A couple weeks into my summer break, I walked in high heeled boots that I am not used to and I increased the pain by going to a dance class. I noticed my foot was hurting a lot more than normal. I waited until after my birthday to do something. The first doctor I went to put my foot in a boot and gave me a cane and said I sprained it and to take medication. I have a picture to accompany of what my foot looked like. The next doctor let me off the boot and cane but advised me to wear comfortable shoes and gave me permission to go travel for a vacation that was planned.
However, both doctors said I had to stop dancing until it gets better which was hard because I dance a lot. All of my time, I never (knock on wood) had a very serious physical injury except a bruised toenail, that prevented me from doing any physical activity. I'm sure there are dancers, athletes, etc. who can understand what I felt. I just felt lost because it was painful to walk. Most of all, I felt ashamed at myself for not knowing my injury was really serious. I have been trying everything to make it go away so I can go back and dance. The one thing I seem to be missing is patience. That is why I did not do much. I did not go see as many shows as I wanted to. I wanted to hang out with friends but didn't go through with it as I did not want to worsen my injury. If people asked what I did over the summer my usual answer would be "It was something" because I don't want to talk about happened. I just thought "I'm ok, I can suck it up and pretend it does not hurt". Being home allowed me to focus on other projects like cleaning my basement, and working on projects that I never finished like my blog which I have not updated since 2012 because of personal reasons. Fun Fact: I had to create a new website because I lost the password to my first one (https://567andwrite.blogspot.com/). I found other projects that I did not finish but for creative purposes I will not say anything more....for now.
I slowly started seeing friends in person and it was more exciting when one of my best friends since high school (with whom I share a backstage tradition of facetiming before a show) came to New York and I surprised her by telling her I was coming to Charlotte for vacation. Charlotte was great. The pace was different from New York. Nobody was honking their horns all the time. There was so much greenery and everybody was genuinely nice. They say "Hi, how are you" even though you don't know them. Very different from New York where people say hi only if you know them. Mom looked at real estate over there (don't worry. I'm not moving). My friend and I got to see Charlotte in its beauty, we shopped, we ate (of course we are in the south so I had to get Chicken and Waffles). My mom and I love to plan our vacations around shows so we saw The Dinner Detective. Think of it like The Mystery of Edwin Drood, only without songs, set in the present, and with food served. Wonder if New York has any of these interactive dinner detective shows? Anyone? The day after we left The Lion King tour stopped there. We went to this amazing restaurant called Fahrenheit, which is a restaurant on the 23rd floor with the most amazing views of Charlotte. Highly, highly recommend.
Fun Fact: On our plane going to Charlotte, I saw someone carrying a script for the musical Finding Neverland. My mom and I approached him and we met an actor, Benjamin Henley who is going to be an ensemble member and an onstage swing in the new national tour of Finding Neverland which is starting in Hershey, Pennsylvania. Big Finding Neverland fan here!
As of now: I'm slowly healing and getting ready to get into the swing of things as sprains take longer according to my doctor (I mean it took my cousin longer to recover from a sprain in soccer). Look out for the blog of the first week of classes, and audition prep. That's coming up and I want you guys here on this new year with me. See you on the next blog! Can you believe it! We are back, people!
Picture included the skyline from Fahrenheit in Charlotte. Honestly the most awesome skyline to have while having dinner.

Related Articles
Lea Passione is currently studying drama and journalism at Queens College. Living so close to the city is what awakened her passion of theatre. She (read more...)