Click Here to Visit the College Center
BWW Blog: The Return of the Radio Play
How are theatre creators adapting to the virtual world?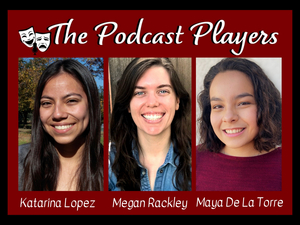 The coronavirus pandemic has brought great pain to the theatrical community. Emerging artists have found themselves without many opportunities to continue doing the work they love. For three artists, this provided an opportunity to create their own work. Katarina "Kat" Lopez, Maya De La Torre, and Megan Rackley are the force behind The Podcast Players, an up-and-coming theatrical company which strives to create accessible theatre for all. I had the privilege of sitting down with the founders to discuss the development of their company, the impact their college experience had on their process, and how others can produce their own work during this time.
Their story began at California Lutheran University (CLU), a private liberal arts college with an exceptional theatre department. Megan is a recent graduate of the theatre department, and Maya and Kat will graduate this Spring. All three women felt their education at CLU is what gave them the confidence to create a company of their own. The BA program at the university gives students the opportunity to become well rounded in many aspects of theatre. Lopez feels the program "gave us a chance to embrace all of theatre and become skilled in different things other than our specializations... it's what helped us get a really strong foundation to build our theatre company."
Rackley had the idea to establish a theatre company after deciding she wanted to produce an adaptation of Agatha Christie's And Then There Were None. Having worked with De La Torre and Lopez in college, she reached out to them and found they were on board with her vision. After committing to the project, they reached out to artists they knew to begin forming a team. "All of the people who worked on the show met each other in college and in different programs through the college," said Lopez. Rackley was delighted to find that "everyone bought in 110% so quickly... it just felt right." Lopez noted that "there wasn't any doubt from anyone or fears of it not being successful."
When it came to producing their first show, using the format of a radio play seemed to be the best choice. While many theatrical companies have opted to use Zoom as their platform, The Podcast Players wanted to return to America's theatrical roots. "I remember in high school we learned about 'War of the Worlds;' it felt like the roots of theatre as it started to explore a digital space. This is theatre, it's not new in any way, but we haven't returned to it in a long time," Rackley expressed.
De La Torre liked the idea of producing radio shows because she feels "it gives the illusion that all of the actors are in the same room... there is a certain element of 'suspension of disbelief' that I think is more prevalent in a radio play." Lopez was drawn to the intimate nature of radio plays. "Doing a radio show really takes us to an elevated level of theatre where we feel like we're there... it adds a different level to the personal feeling of theatre that we all know and love, but just in a more accessible way."
After the successful release of their first production, A Mysterious Affair at Soldier Island, The Podcast Players are excited to continue doing the work they love. As an artist myself, I wanted to know what advice they have for fellow theatre creators who want to produce their own work during this time. Here is what they said:
Lopez: "Enjoy the process, take risks, and trust yourself. For me personally, I've always wanted to make my own content because as a Latina woman, I don't see enough of myself on screen and in theatre. Everyone should make their own content. If you're not given a seat at the table, make your own table, and make it better. It sucks that we have to do that, but I very much enjoy our little table that we have going on here."
Rackley: "Don't worry about whether you're doing it right, trust your gut, and don't be afraid to ask for help. There are more people out there who want to make art and help you succeed than you think. You can make those opportunities for yourself."
De La Torre: "As someone who is terrified of failing, it is important to know that there will be moments where you will mess up, and that's okay... you'll one day look back and won't be ashamed of those mistakes but be proud of them... it's a learning process. Just do it."
If you are interested in learning more about the company, be sure to follow @thepodcastplayers on Instagram and Facebook. All 6 Episodes of "A Mysterious Affair at Soldier Island" are now streaming, and can be accessed here. For all other content regarding this remarkable company, visit here.