BMI Lehman Engel Present Musical Theatre Workshop Showcase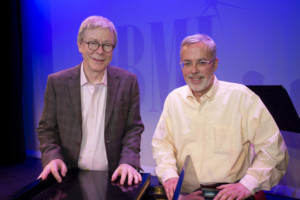 Last night, the BMI Lehman Engel Musical Theatre Workshop held a special performance of memorable songs created during this year's workshop at the quaint Marjorie S. Deane Little Theater in New York City. This esteemed workshop has been cultivating rising talent since 1961 and fostered some of the brilliant minds behind a variety of notable award-winning shows such as Avenue Q, The Book of Mormon, A Chorus Line, Raisin and Nine.

Thanks to Pat Cook, Senior Director of Jazz & Musical Theatre at BMI, and Fredrick Freyer, Workshop Administrator, emerging composers, lyricists, and librettists debuted their never-before-heard works to an eager audience. Among these lyricists were Phoebe Kreutz (Holy Crap: The Worst Parts of the Bible), Janine McGuire and Arri Lawton Simon (Borders), Jessica Fleitman (The Average Sized Mermaid), Jae Broderick (Speechless), Oliver Houser (XY), Erin Murray Quinlan (God Save Queen Pam), Christian Duhamel (The Uncivil Ones), Jae Broderick (The Santa Clause), Laura Kleinbaum (#Mars), Tia DeShazor (The Rocket Thrower), Benjamin Velez (Borderline), Sam Wessels (George), Jack Coen (Joe Jenkins Before The Galactic High-Court of Consciousness), and Sami Horneff (The Pirate Princess). The showcase consisted of 17 original compositions ranging from heartwarming ballads to comedic bits.
For more information on this renowned workshop and its history, click here.
Celebrating over 78 years of service to songwriters, composers, music publishers and businesses, Broadcast Music, Inc. (BMI) is a global leader in music rights management, serving as an advocate for the value of music. BMI represents the public performance rights in 14 million musical works created and owned by more than 900,000 songwriters, composers, and music publishers. The Company negotiates music license agreements and distributes the fees it generates as royalties to its affiliated writers and publishers when their songs are performed in public. In 1939, BMI created a groundbreaking open-door policy becoming the only performing rights organization to welcome and represent the creators of blues, jazz, country, and American roots music. Today, the musical compositions in BMI's repertoire, from chart toppers to perennial favorites, span all genres of music and are consistently among the most-performed hits of the year.
For additional information and the latest BMI news, visit bmi.com, follow us on Twitter @BMI or stay connected through Broadcast Music, Inc.'s Facebook page. Sign up for BMI's The Weekly and receive our e-newsletter every week to stay up to date on all things music.
Related Articles
More Hot Stories For You