BANDSTAND Will Return To Cinemas in November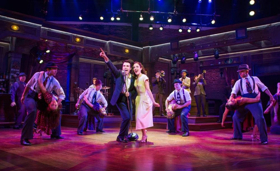 Due to the success of the initial theatrical release, Fathom Events is bringing "BANDSTAND: The Broadway Musical on Screen" back to cinemas nationwide on November 15 and 19 in celebration of Veterans Day. The high-octane performance of Richard Oberacker and Robert Taylor's Broadway musical, directed and choreographed by three-time Tony Award winner Andy Blankenbuehler (Hamilton), will once again have audiences dancing in their movie theater seats. In addition to the feature content, audiences will enjoy behind-the-scenes footage of the production.
Tickets for "BANDSTAND: The Broadway Musical on Screen" are available at www.FathomEvents.com or participating theater box offices.
Presented by Fathom Events and Sing Out, Louise! Productions, this special two-night event will play in more than 400 U.S. cinemas on Thursday, November 15 and Monday, November 19 at 7:00 p.m. local time (both dates), through Fathom's Digital Broadcast Network (DBN). For a complete list of theater locations, visit the Fathom Events website (theaters and participants are subject to change).
America's soldiers come home from war in 1945 to ticker-tape parades and overjoyed families, while Private First Class Donny Novitski (Corey Cott), singer and songwriter, returns to rebuild his life with only the shirt on his back and a dream in his heart. When NBC announces a national competition to find the nation's next great musical superstars, inspiration strikes. Donny joins forces with a motley group of fellow veterans, each an astonishing musician, and young war widow Julia Trojan (Tony Award nominee Laura Osnes), an aspiring jazz singer. Together, they form a band unlike any the nation has ever seen. Along the way, they discover the power of music to face the impossible, find their voice and finally feel like they have a place to call home.
"BANDSTAND: The Broadway Musical on Screen" is presented in special partnership with the military non-profit TAPS, which cares for the families of America's fallen heroes. The Broadway musical was also the first live entertainment production ever to be "6 Certified" by Got Your 6, for its accurate portrayal of the veteran experience.
"Bandstand's heartwarming message and phenomenal performances captivated audiences this summer, so we're thrilled to bring the musical back to cinemas in honor of Veterans Day," said Fathom Events CEO Ray Nutt. "Audiences across the country will have another opportunity to experience this inspiring and dazzling musical from the comfort of their neighborhood movie theater."
"We are excited to collaborate with Fathom Events to once again feature this world-class musical in cinemas nationwide," said producer Tom Smedes. "We were blown away by the response to the film this summer, and hope it continues to resonate with audiences and, most especially, veterans."