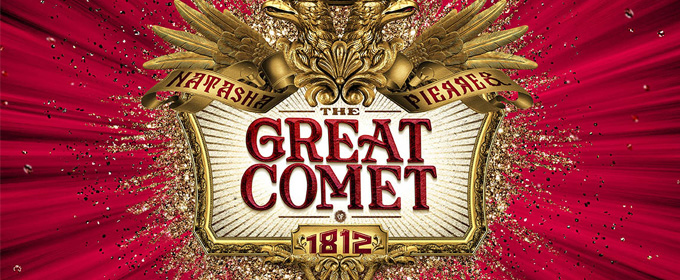 Click Here for More Articles on NATASHA, PIERRE AND THE GREAT COMET OF 1812
UPDATED: Ars Nova to File Suit Over GREAT COMET Billing
A potential legal battle that has been brewing for weeks at the Broadway engagement of Natasha, Pierre, and the Great Comet of 1812 has come to a head this evening. The team of Ars Nova, the non-for-profit theatre company responsible for developing the piece, has announced plans to file suit against the show's producer, Howard Kagan, for a breach of contract involving a dispute over billing.
An email sent out tonight by Ars Nova reads:
"Dear Ars Nova Community,
As you've probably heard, Ars Nova is involved in a contractual dispute regarding our billing in the Playbill for Natasha, Pierre and the Great Comet of 1812 on Broadway, as reported in The New York Times. As a member of the Ars Nova community we value your ongoing support of this organization and want to make sure you have an understanding of the situation at hand.
In 2011, Ars Nova commissioned Dave Malloy to create Natasha, Pierre and the Great Comet of 1812, an ambitious idea that would quickly become the largest project Ars Nova had ever supported at the time. Those couple of years on 54th street were completely magical. Dave's vision for the production was epic and along with the insanely talented creative team, led by Rachel Chavkin, a concept was born and refined over numerous developmental steps, leading to the Ars Nova World Premiere in October 2012. The production was an instant sensation.
Producer Howard Kagan took an interest in extending the life of the show. From the start, Howard understood the intrinsic qualities of the production we had created here and articulated the importance of retaining those qualities in any future life for the show. He expressed his great interest in preserving the successful concept, design and staging of the Ars Nova production rather than shifting the show into a more traditional proscenium staging. We dreamed of the possibilities of next steps together and in true Ars Nova fashion, Howard made every effort to make our artists' dreams come true.
It has truly taken a village to get The Great Comet to land on Broadway. If you were to remove the contributions of any one partner along the way, we couldn't be in previews on Broadway today. And yet with no explanation, the proper recognition of our contribution has been taken away. We believe that the show currently on Broadway started at Ars Nova. That it grew and grew and grew until it was a big, beautiful, Broadway musical. That narrative - that the show people are seeing on Broadway is, in it's core, the show that started at Ars Nova, is extremely valuable to Ars Nova's past, present and future, and is communicated to the tens of thousands of people seeing The Great Comet on Broadway each week only through our title page billing.
With seemingly no other alternatives to seek remedy for this lost value, our Board voted unanimously last night to file suit for breach of contract to compel the commercial producers of The Great Comet to honor their contractual obligation to bill the show as "The Ars Nova Production Of". We are devastated that it has come to this, but steadfast in our belief that the billing we are owed is both valuable, and deserved.
It is for this reason that we are so grateful to you all for standing with us while we fight for the credit we deserve. Ars Nova's remarkable Board of Directors have looked the face of adversity in the eye and carried us through. We've heard from donors and industry leaders here at home and across the country who have offered to help in any way they can. We've also heard from experienced commercial producers who have ongoing, respectful relationships with not-for-profit theaters and have voiced their support for our position.
And most powerfully, we've heard daily cries of support from Ars Nova artists and the New York arts community at large. This is particularly meaningful because you are the reason we even exist as an organization. We pride ourselves on being there to support you at your most vulnerable moments, to lift you to your best selves, to help you take risks and let your voices be heard, loudly. We call each other family and here in our moment of need, you have stood up for our shared values and spoken out on our behalf. Our tongues have been tied (by lawyers!) but our ears have been listening as you have carried us through day after day of fighting for what is right. Because we believe we will all benefit from the outcome. We are so proud and grateful for this community. We have all shown our tremendous character.
We also have so much appreciation for the entire Comet team of artists and producers who have worked so hard to get Dave and Rachel's vision this far. We all hope the spotlight can be back solely on the extraordinary artists working so hard at the Imperial as soon as possible. We hope you'll continue your swell of support by being great ambassadors for Ars Nova's Broadway debut! Show your love by supporting The Great Comet however you can.
Love,
Jason, Renee and the Gang at Ars Nova"
UPDATE: A newly released statement by the show's representatives reads:
"The producers of The Great Comet have always had - and continue to have - gratitude, respect, and admiration for the great work done at Ars Nova, especially the immense achievement of commissioning, developing, and world premiering The Great Comet, this new musical we all love so much. We and our representatives have been speaking to Ars Nova for the past week about our ongoing dispute over billing, and together we have made great progress toward resolving this matter and we expect to continue to do so with Ars Nova in ongoing private discussions. We were disappointed to hear from The New York Times this afternoon that someone at Ars Nova has said they have chosen not to continue this negotiation. We cannot confirm this, as our understanding is that we are still in discussions. We continue to work toward a swift resolution of this matter for the sake of everyone involved in the show, and we hope that those discussions can continue privately."
The new musical NATASHA, PIERRE & THE GREAT COMET OF 1812 features the Broadway debuts of 24 cast and creative team members, including Josh Groban* as 'Pierre' and Denée Benton* as 'Natasha.' Created by Dave Malloy* (Ghost Quartet, Preludes) and directed by Rachel Chavkin* (Hadestown, Artistic Director of The TEAM) - also making their Broadway debuts - THE GREAT COMET will blaze into Broadway's Imperial Theatre (249 West 45th Street) beginning October 18, with opening night set for Monday, November 14, 2016.
THE GREAT COMET is a theatrical experience like no other. Malloy's inspired adaptation of a 70-page slice of War and Peace puts audiences just inches away from Tolstoy's brash young lovers, as they light up Moscow in an epic tale of romance and passion.