Actors Rachel Botchan And Rachel Pickup Weigh In On Upcoming Reading Of New Michael Raver Play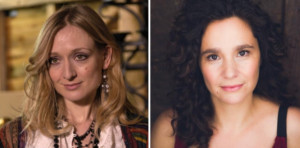 Actors Rachel Botchan and Rachel Pickup are set to perform a reading of Michael Raver's stirring new play, Quiet Electricity as part of Emerging Artists Theatre's New Work Series on March 6th at Tada Theatre. Melissa Rain Anderson directs.
"Michael's dialogue flows so naturally," says Botchan. "His characters are delightfully nuanced and realized."
"This play has brought something into a very vivid light for me," remarks Pickup. "How scary a thing it is to actually say how you feel, tell truths, talk openly to the one you love the most, about the things you care about the most. Do we really know how to communicate our deepest feelings to our most loved ones? This play addresses that. It's amazing."
An O'Neill semifinalist in 2017, Quiet Electricity is a tense portrait of intimacy. Six months after tragedy has struck them, married couple Jodie and Dana now have little to say to one another. When the power in their Hoboken apartment building is temporarily shut off in the evenings for rewiring, they are forced to spend their nights together in the dark. A simple game of confessions unearths truths and hidden feelings, leading Jodie and Dana to epiphanies about love, sex and marriage.
"I've witnessed families going through terrible loss and there seems to be a chemical change, almost on a cellular level," claims director Anderson. "How can we manage to go on living with a person that has changed so drastically? At what point does grief take hold so tightly that we are unable find our way back to ourselves or our partner?"
"I've been accused of naval gazing when it comes to my plays," Raver says. "But to me, the microcosm of a relationship has a direct correlation with essentially any conflict on the macro level. The women in this play are suffering, not only from loss, but from a horrible case of dysfunctional communication. Their love never unravels but their connection does."
The play received a developmental workshop at The Bridge Street Theater in 2014 and since then has undergone significant rewrites, including a change in one character's gender.
"Electricity used to be cast with a man and a woman," Raver continues. "But it's remarkably better with two women. The play becomes more emotionally expensive and accomplishes more. There's a fierce tenderness that Rachel Pickup and Rachel Botchan both bring to the table. Melissa is a sublime director. She's firm but incredibly sensitive. I think she sees people well."
Quiet Electricity will feature performances from Rachel Pickup (Wonder Woman, The Globe Theatre's The Merchant of Venice) and Rachel Botchan (The Sorceress, A Taste of Honey). Stage directions will be read by Eden Eernissee.
2018 marks Emerging Artists Theatre's 25th anniversary. The New Work Series is a three-week developmental lab that provides artists of different disciplines the opportunity to present one night of a "work in progress" with audience feedback. Successful past works have gone on to FringeNYC, NYMF, Edinburgh Fringe, and Off-Broadway productions.
Emerging Artists Theatre's Annual New Work Series runs now through March 18th. The reading of Quiet Electricity will be on Tuesday, March 6th at 7pm at Tada Theatre in New York. Tickets are $10. The evening will also include a short performance of Ellen Oliver's Pants Becoming Kites.
To purchase tickets, visit www.brownpapertickets.com/event/3336306
Melissa Rain Anderson is a New York-based director, she has directed several readings and workshops of new works regionally and in New York. Melissa is an Affiliate Artist at Geva Theatre Center where she has directed In The Heights, Spamalot, A Funny Thing Happened on the Way to the Forum, The 25th Annual Putman County Spelling Bee, The Marvelous Wonderettes and Caps and Gowns. Other credits include A Christmas Carol at The Denver Center Theater Company '16, '17; The Marvelous Wonderettes at The Repertory Theater of St. Louis; The Cocoanuts at Utah Shakespeare Festival; Spamalot and The Little Mermaid at Arkansas Repertory Theatre; The Comedy of Errors, The Fantasticks and The Complete Works of William Shakespeare (abridged) at The Great River Shakespeare Festival. Upcoming projects include Big River at Utah Shakespeare Festival. Please visit melissarainanderson.com.
Raver's adaptation of The Picture of Dorian Gray was produced by Sonnet Repertory Theatre at the Signature Theatre Center in 2012, and a reading of his pre-WWII adaptation of Chekhov's The Seagull, featuring Judy Kaye, was presented by the Pearl Theatre Company. His play, Fire on Babylon, was nominated for The Robert Chesley/Victor Bumbalo Foundation Award for Playwriting, as well as being named a semifinalist for The O'Neill Conference in 2015. Babylon went on to receive two workshops in 2016, first at Great River Shakespeare Festival and then at The Fresh Fruit Festival in New York, where it went on to win Best Actor (Jeffrey Hayenga) and Best Director (Paul Mason Barnes) Awards from All Out Arts. His short play, Evening, was a two-time finalist for Red Bull's New Play Festival. Quiet Electricity was named a semifinalist at The O'Neill Conference in 2017. His work has been presented by The Pearl Theatre Company, Sonnet Repertory Theater, Orlando Shakespeare Theatre, The Martha Graham Company, Playhouse on Park and many others. He served as a judge for the Ferro-Grumley Award for LGBT Fiction for three years and regularly contributes cultural arts journalism for Classical TV, NYC Monthly, Hamptons Monthly, Playbill, Dance Magazine, CoolHunting.com, The Huffington Post, Art 511 Magazine, TheImagista.com and Nature's Post.