A CONNECTICUT CHRISTMAS CAROL, Starring Lenny Wolpe, Extends at Goodspeed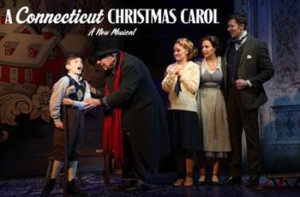 The new musical A CONNECTICUT CHRISTMAS CAROL has extended due to popular demand through December 30th at Goodspeed. This family classic has been given a fresh twist in Connecticut's own A Connecticut Christmas Carol by LJ Fecho and Michael O'Flaherty.
New Performances Added:
Tuesday, December 26 at 2:00 and 7:30
Wednesday, December 27 at 2:00
Thursday, December 28 at 7:30
Friday, December 29 at 8:00
Saturday, December 30 at 3:00 and 8:00
Tickets for all performances are on sale now at the Box Office 860.873.8668 or at www.goodspeed.org.
Some of the most beloved storytellers in Connecticut history come alive for a yuletide gathering you won't forget. Famed actor and local legend William Gillette leaves his castle on the Connecticut River to adapt Dickens' holiday classic in the 1920s. Local heroes Mark Twain, Harriet Beecher Stowe and P.T. Barnum make spirited appearances opposite Gillette's Scrooge in a highly theatrical twist on a family favorite. Custom-made for Goodspeed with all-original music, here's a tuneful, heartfelt confection spiced with enough Nutmeg State flavor to sweeten your season.
Scrooge/William Gillette is played by Lenny Wolpe. Bob Cratchit is played by Matt Gibson. The Ghosts are played by Michael Thomas Holmes. Making his Goodspeed debut as Tiny Tim is Connecticut native Robert Berson. The ensemble includes Samantha Bruce. Joining her will be Mark DiConzo, Patrick Graver, Lee Harrington, Celeste Rose, Jeff Sears, and Daisy Wright.
A Connecticut Christmas Carol features a book by LJ Fecho. Music and lyrics are by Goodspeed's own Michael O'Flaherty. A Connecticut Christmas Carol is directed by Hunter Foster. Choreography is by Lisa Shriver. Scenic design is by two-time Helen Hayes Award nominee Adam Koch. Costume design is by Nicole V. Moody. Lighting design is by Jennifer Schriever. Sound design is by Jay Hilton. Jay also serves as Goodspeed's Audio Supervisor. Wig and Hair design are by Mark Adam Rampmeyer. Music Director is Dan Pardo. Orchestrations are provided by Dan DeLange.
Visit goodspeed.org for tickets and more information.