7 SPLINTERS IN TIME Premieres in New York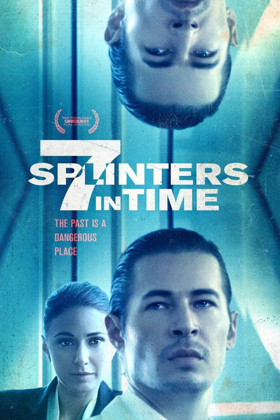 The red carpet New York City premier of the sci-fi neo-noir thriller 7 Splinters in Time, takes place on July, 9, 2018 at The Anthology Film Archives, 32 2nd Avenue, New York, NY 10003, 6:45pm to 9pm prior to its July 13th 3-city theatrical and VOD release.
Starring cast members, Edoardo Ballerini ("Boardwalk Empire," "The Sopranos," "Dinner Rush"), GREG BENNICK ("Flight from Death"), Austin Pendleton ("Amistad," "Finding Nemo," "Wall Street: Money Never Sleeps"), and Emmanuelle Chriqui ("Entourage," "Don't Mess with the Zohan"). Supporting cast includes LYNN COHEN ("Munich," "Sex in the City," "The Hunger Games: Catching Fire") and AL SAPIENZA ("House of Cards," "Margin Call"). Cameos by AKIVA SCHAFFER (of The Lonely Island, "Popstar") and Sarah Sokolovic ("Homeland," "Pretty Little Lies") will be in attendance.
Science fiction combines with film noir in the mind-bending innovative independent film, 7 Splinters in Time. Written, directed, and composed by Gabriel Judet-Weinshel, 7 Splinters in Time is an intricately constructed, visually arresting, graphically exotic and groundbreaking lo-fi sci-fi detective story that mashes up Phillip K. Dick and Raymond Chandler.
A detective investigates a murder, only to find that the victim's body is identical to his own. He soon discovers multiple versions of himself, not all of them friendly. As he dives into the harrowing case, haunting memories beset him, and he must find his other self before it finds him.
A filmmaker since age six, by his late teens Judet-Weinshel's work had garnered awards at AFI and the San Francisco International Film Festival. His films have since shown at festivals around the world, and his short The Heart is a Hidden Camera won the director's choice award at the Black Maria Film Festival.