BWW Interview: Dan Ware, Tim Crofton, Lew Hauser of SHAKESPEARE IN HOLLYWOOD at Adobe Theatre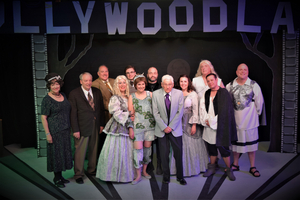 According to the director and members of the cast of Adobe Theatre's production of Shakespeare in Hollywood, it has been a labor of love bringing the show to the stage; a wonderful experience where the cast had a great time getting to know one another and become friends, as well as a chance for the audience to leave the theatre with a more interest in Shakespeare and the history surrounding the 1935 movie of A Midsummer Night's Dream.
Director Lew Hauser knew he had something special from the first complete run through. He could tell that the entire cast loved the show and one another, which helped to create a total ensemble from the beginning. In addition, Shakespeare in Hollywood allowed Hauser to see his vision on stage, in part due to the mutual respect between Hauser and the cast.
The fact that Shakespeare in Hollywood was based on a real-life incident and that they "most absurd things of all are true" was one of Hauser's main draws to working on the play. To him, this is where the comedy comes in. However, Hauser's knowledge of the subject matter and love of the Golden Age of Hollywood - from motion pictures becoming popular, the rise of gossip columnists and news magazines to the start of censorship - wasn't the only thing that made this such a wonderful experience. Knowing that he had the perfect cast to keep it going was what truly made the production shine.
Hauser did admit that he faced challenges, such as being able to create a staging of the play that would allow the audience to understand what is going on without necessarily knowing the source material. While the script of the play does this itself in many ways, buy "allowing the dialogue to flow between American verse and Shakespearean verse in an easy and accessible way", there were some aspects of staging and directing which helped as well. For example, when one of the characters fall in love with one another on stage they get dinged with a flower - a sound that was made live each time it happened. These were also scenes that got a large reaction from the audience each time it occurred.
One of Hauser's favorite things about being a part of the play is getting to see how it impacts the audience afterwards. He said he had many audience members asking about the movie, and the truth of what occurred behind the scenes of the filming of A Midsummer Night's Dream. To Hauser, this meant that the audience was paying attention and listening during the play.
Look for Hauser in Adobe Theatre's production of Harvey- from August 23rd- September 22nd- where he is making his Albuquerque acting debut! He will also be directing Ken Ludwig's Leading Ladies for Adobe Theatre's 2020 season.
Although Tim Crofton, who plays Oberon in Shakespeare in Hollywood, has only been performing in Albuquerque for approximately three years, he has found the experience so far to be a great one. In part, this is due to the abundance of roles and productions in the city. The constant sensation of what he refers to as multiple buses leaving, leads to less anxiety if he doesn't get a role. In addition, Albuquerque having a large amount of community theatre has reminded him of the sheer love and joy he has for doing theatre, as well as the act of a group of people coming together to put on something special.
Crofton was drawn to the production of Shakespeare in Hollywood in part due to his interest in what he referred to as a new genre that has been emerging in theatre - that of alluding to Shakespeare without doing a full play of the playwright's - is something that he has always found to be a rewarding experience. Being able to perform in a comedy is something he appreciates in its own right, as it allows him to get a sense of the relationship between the audience and the actors in a more immediate way. According to Crofton, this gives the audience a chance to be silly along with the rest of the cast. The social interaction between an audience and the actors on stage is something that Crofton finds remains addictive to him as a theatre person and keeps him coming back for more.
As a performer and a theatre teacher, Crofton believes that "great theatre can happen anywhere, but magic happens when you have great community in a cast." He found this to be the case with Shakespeare in Hollywood, as he found the cast and crew to be incredibly welcoming, friendly, and sweet, which was a nice atmosphere to be a part of. He elaborated that his fellow cast members did their best to make the production the best it could be rather than being focused purely on their own roles or the idea of self-promotion.
In addition to the wonderful cast, Crofton appreciated the script itself, and particularly that the world of Shakespeare is far more accessible in Ken Ludwig's play. It's presented in a way that those audience members who know Shakespeare and his works can appreciate it more, but those who don't know the first thing about them can still have a fun afternoon at the theatre. Crofton stated that he enjoys that in this play, Shakespeare's works are not elevated or difficult to access rather than speaking in a semi-dead language. Crofton appreciates the aspects of Shakespeare that are infused into the play as well, such as the large chunks of text that are directly lifted from some of Shakespeare's works. One of his favorite scenes was when he quotes lines from Shakespeare to Jennifer Benoit, who plays Olivia. This leads to one of his Crofton's punchlines and gags in the entire work.
While Shakespeare in Hollywood is what Crofton refers to as a wacky piece, there is a certain pathos at the end of the production regarding the relationship between Oberon and Olivia he found to be particularly rewarding. The lighthearted tone at the beginning of the production changes direction when Oberon says goodbye to the love of his life, bringing a depth of emotion. The play being set in the 1930's also gives the audience a feeling on nostalgia for the fun characters they have met along the way. These aspects of Ken Ludwig's show leave the audience impacted by the production long after they have left Adobe Theatre.
Crofton will continue to work in theatre in Albuquerque but is not cast in any upcoming shows as of yet.
Playing Jack Warner in Shakespeare in Hollywoodis Dan Ware's third production with Adobe Theatre. While Ware has acted for many years off and on, he has been performing in Albuquerque a few years, and feels he is still getting to know the theatre community team in the city. He states that this humongous wealth of talent in the city has helped him to learn to be a better actor by helping him to up his game. Ware has found the production of Shakespeare in Hollywood to be a joy to make, because the cast gets along very well and has had a great time getting to know each other.
While he did not know anything about the play prior to learning about the 2019 season, Ware immediately read up on the play and loved it. He found the script to be very funny and was left with a desire to be a part of the production in some fashion. The play offered an opportunity to stretch his acting ability as "you have to be on mark at every single moment on the stage for comedic timing."
Ware enjoyed the combination of comedy and more emotional scenes within the production, such as the scene where most of the cast is onstage and due to being under the influence of a magical flower, are at each other's throats. Shortly after that highly comedic scene, the play ends on a far more emotional note as there is a moving scene between Oberon and Olivia followed by a poignant monologue by director Max Reinhart discussing what he learned trying to get the film of A Midsummer Night's Dream made.
Ware also found an appreciation for the fact that a majority of the fictional events have a real-life base, including his own character of Jack Warner. Ware enjoyed getting a chance to tell his character's story and show the movement from a near villain trying to stop the movie from ever being made to having a revelation of sorts where Warner realizes that making A Midsummer's Night Dream would be good for the studio. This in turn makes Warner willing to do anything in order to get the movie made. Warner's character arc throughout Shakespeare in Hollywood lead to one of the more challenging aspects of the production for Ware - not letting the Warner become a one-dimensional villain or little more than a part of the scenery.
Ware stated that he would hope that the show would leave the audience with a better understanding of Shakespeare. He wants the audience to know that the playwright's works are not just for a certain segment of the population, but that anyone can appreciate them. He also hopes that the audience will leave the theatre "feeling good, entertained, and that last two hours were well-spent."
Ware has not yet been cast in any additional theatre roles in Albuquerque. However, he is looking forward to his next production.
Shakespeare in Hollywood runs from July 12th - August 4th at The Adobe Theatre. Performances are at 7:30 PM on Friday and Saturday evenings, with matinees Sundays at 2:00 PM. An additional PWYW performance will be held Thursday, August 1stat 7:30 PM. Tickets are $20 for General Admission, and a discounted rate of $17 for seniors, students, ATG/PBS members, military, and first responders. Tickets can be purchased at the door, by calling (505) 898-9222, or visiting Adobe Theatre's website at: https://www.adobetheater.org/tickets/.
Related Articles View More Albuquerque

Stories

Shows