BWW Review: PIPPIN at Music Theatre Wichita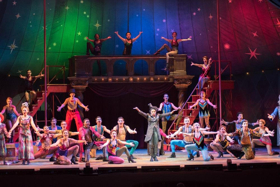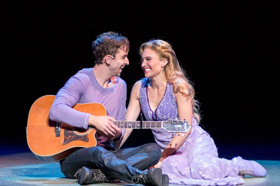 Everything old is new again. This iteration of Pippin, masterfully directed and choreographed by Al Blackstone, has one foot in the original 1972 Bob Fosse version and the other foot in the 2013 Diane Paulus "Cirque" Revival. Blackstone, well known for his work on So You Think You Can Dance, also creates his own works - dance narratives - which are full length works of dance that use the dancer's body and music to tell a story. In this show he uses his narratives well, using a combination of both ballet and Fosse vocabulary to take us on a journey so many of us have taken and will continue to take. Pippin, seeking to live an extraordinary life, finally finds fulfillment in life's unextraordinary, everyday moments.
I loved the orchestra tuning that slid right into beginning of show. The opening sequence, Magic to Do, sounds great, as does every ensemble number - clean, with an excellent blend. This ensemble is strong vocally, thanks to Thomas W. Douglas' strong vocal direction and David Muehl's sound design.
The circus tent and costumes are so, so colorful. The circus tent, sumptuously lit by David Neville in rich, saturated colors, seemed to come to life at times with a clever combination of moving lights using both color and pattern, footlights and fog to create a heightened sense of mystery and anticipation. The costumes, designed by Dominique Lemieux, an original designer for Cirque du Soleil, were incredibly detailed, right down to the amusing tiny top hats worn by the Leading Player and the Placard Girl. The clever set, designed by Scott Pask, is utilized well by Blackstone, and lends itself well to the surprise ending.
As Pippin, MTW favorite Skyler Adams sounds great in Corner of the Sky, particularly his soaring high notes. He's very natural, and really gets to show off his dancing ability. Debra M. Walton furnishes her Leading Player with a spritely quality that quickly turns dark should any of the players step out of line. Jeffrey Coon plays Charlemagne, Pippin's father, with a combination of great authority and dad-like weariness. Rounding out the male characters is Jake Smith, a senior at Elon University. Smith plays Pippin's all brawn but no brains stepbrother Lewis well, providing us with a humorous contrast with the sensitive, intellectual Pippin.
20 year MTW veteran Karen Robu takes a turn as Berthe, Pippin's grandmother, giving him some sage advice in No Time At All. She stopped the show with her trapeze skills, performing aerial moves with her partner Chris Clark.
Seasoned Broadway performer and OCU grad Kim Faure gives us a super satisfying performance as Pippin's conniving stepmother, Fastrada. Her delivery of Spread a Little Sunshine was scintillating, capturing the Fosse style the purist in me was yearning to see. Faure's acting chops are solid as well, and delivered an impeccably focused performance. Kristine Reese originated the role of Catherine, a widow with a young son and Pippin's love interest, on the First National Tour of the Broadway Revival of Pippin, and reprises the role here with great aplomb. Reese delivers Kind of Woman with verve, using every aspect of her voice, being at first soft and delicate, and ending with lots of power. Reese worked well with Adams, their voices complimenting each other, sounding sweet, simple, and tender on Love Song.
Last but not least, local actor Carson Kindle, an Andover Middle School student, enters his fourth season at MTW, playing the role of Theo, Catherine's son. He was extremely natural onstage, and had some outstanding moments at very ending of the show. I can't wait to see what Carson does next.
A few random observations:
This show is so seventies pop meets old school vaudeville, and even though it has been reconceptualized, you can still see Fosse's hand all over this show. Some standard elements, such as iconic dance sections - think Rich Man's Frug in Sweet Charity - appear here in With You, a simple love song that devolves into wild frolicking mayhem. Glory was excellent, replete with tap dancing bones, singing skulls, and a saturated blood red glow. Again the ensemble moved so well together as one unit, a great feat for such a short rehearsal period.
Who knew there was an Aerial Training School in Lawrence? Shika Ann Destroy with The Last Carnival created the aerial choreography and it was wonderful. Also, this is the first time I have seen the "Theo ending," which was not in the original Fosse production. It was created in 1998 by Mitch Sebastian, a British theatre director and choreographer. I was impressed by its effectiveness, reminding us of the universal search for meaning in one's life.
Pippin runs until Sunday, July 29th, with performances Friday and Saturday at 8pm, and Sunday at 7pm. There are Matinees on Saturday and Sunday at 2pm. Tickets can be purchased online at https://mtow-internet.choicecrm.net/templates/MTOW/?event#/events , by calling 316.265.3107, or by visiting the box office on the first floor of Century II. The last show of the season is Disney's The Little Mermaid, August 8-18. On Saturday, August 18th, at 10am & 11:30am, there will be Under The Sea Backstage Tours. Admission is $20, and tickets to see The Little Mermaid must be purchased separately. This activity is sponsored by the Independent School. There is also a Podcast - check Facebook and mtwichita.org for new episodes each Monday. Also, on Tuesday, August 14th, there is a College Audition Workshop at Century II by registration only, which is open to rising 8-12 grade students.

Related Articles View More Wichita

Stories

Shows
Paula is very excited to be a Contributing Editor for BroadwayWorld.com! Paula earned her Master's Degree in Theatre from Oklahoma State University, where she directed (read more...)