BWW Interview: Trevor Michael Schmidt Seizes the Day in NEWSIES at MTWichita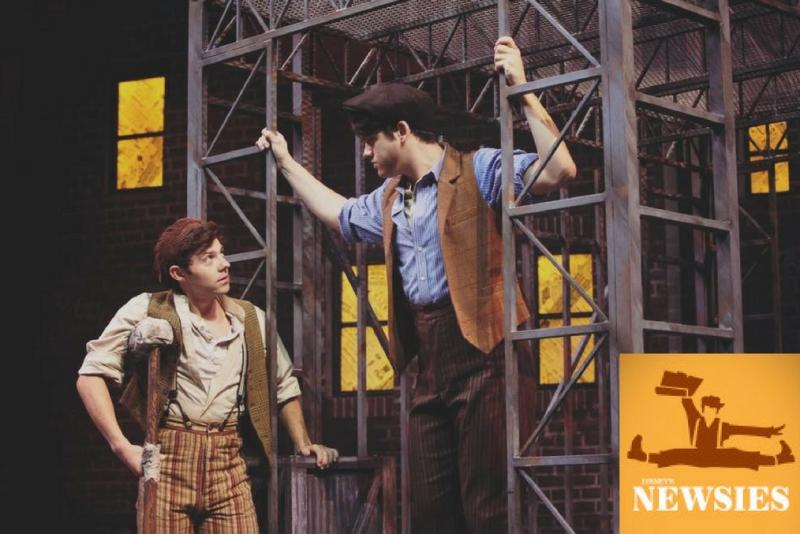 Recent graduate of Florida State University's Musical Theatre program, Trevor Michael Schmidt is currently seizing the day in Music Theatre Wichita's production of "Newsies" as "Crutchie" the sickly boy with a big heart. Schmidt has been a company member in MTWichita's whole summer season and is wrapping up his stay in Kansas by telling the Newsboy strike of 1899.
Why don't you tell us a little bit about yourself and where you went to school...
I was born in Illinois but I moved to South Florida when I was a little babe, so I don't really consider Illinois where I'm from [Laughs]. I grew up in South Florida on the beach and I went to a performing arts high school: North Fort Myers High School. That school was a really great thing for me to have, an awesome place to perform. I auditioned for Florida State, and I didn't get into the Musical Theatre program. But I still really wanted to go to Florida State, so I joke that I kinda weaseled my way into the program, talking to the faculty asking them what classes I could take as a non-major. I went up there for a summer session, and they told me 'We have a spot open, we want you to take it.' which was a crazy happenstance. I just had this feeling when I visited Florida State, that was like 'This is where I'm meant to be.' That was a decision I made on my own because my parents weren't really on board with me going to a school where I hadn't gotten into the Musical Theatre program, but there was something about it. So luckily I went to Florida State and had an incredible time. I couldn't say better things about the school. The football program is also really awesome, it was a nice mix between focusing on my craft and having those resources, but then also being able to be a real human and see a football game on a Saturday.
You were in all of the shows this summer at MTWichita: Millie, Seven Brides for Seven Brothers, Hairspray, Hunchback, and now Newsies. What was your favorite show to do?
Seven Brides was my favorite show to do this summer, just because, working with Peggy Hickey- she is a riot and a half. She's just so brilliant and that was such a pleasure. Also, the role that I played in Seven Brides was my favorite. That show is truly the hardest I've ever done, because you're either on stage the whole time or doing a quick change off-stage super fast or you're running from one side of the stage to the other to make a different entrance. So it was a test and a big learning experience for me because I had to figure out how to perform at my maximum ability while tossing girls in the air [Laughs], making sure my voice was okay all the time and stretch before the show. Seven Brides was my favorite, but Hunchback was also awesome because the music is so pretty.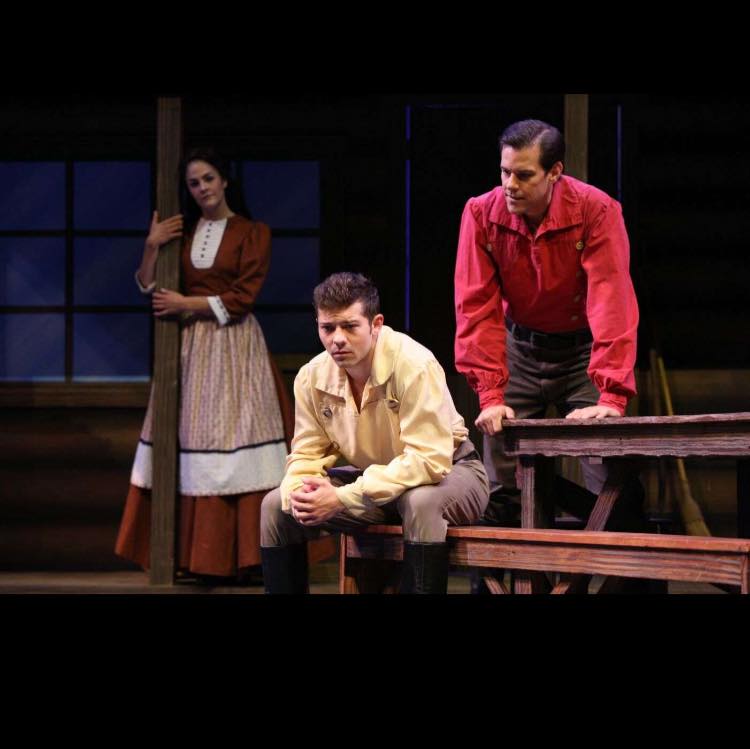 Schmidt as Gideon in Seven Brides for Seven Brothers
You mentioned working with Peggy Hickey, but was there any actor or creative that was your favorite to work with during the summer?
Hmmm. Well, I don't want to say favorite right now, but the first thing that comes to my mind when we did Hairspray, this is like a fan girl moment for me. Our Velma Von Tussle, her name is Gaelen Gilliland and she was in the original company of Legally Blonde on Broadway. She was "How bout a nice Berken Bag!" and "Take a picture!" on the recording! Somebody pointed that out to me on day three of rehearsal and I literally crapped my pants. I could not believe that I was working with "How bout a nice Berken Bag!" this summer. Truly iconic. But the person I learned the most from was Skyler Adams, he came in for Hunchback, he was our Quasimodo. Just watching him perform, his technique with his voice, I learned so much about myself as an actor and a singer. He was the most inspiring principal to come in this summer, for me.
Having worked with you before, I think you're a super strong dancer- is it hard not to be up there dancing/tapping with the rest of the guys in this show?
It's definitely been a challenge for me. Brian J. Marcum is doing our choreography for the show and his work is really incredible and so fun to watch. Really athletic and grounded, all the stuff that Trevor as a dancer eats up, so it's been difficult to not be up there dancing with them. But I've also been really trying to crack into Crutchie, and do a lot of work on him because he's actually a super complex character. So focusing on that has helped keep me sane. I'd rather focus on the opportunities I have than sit there and mope wishing I could dance with the other boys. Luckily, they're letting me ditch the crutch during bows so I can dance a little bit during the bows! [Laughs]
I definitely saw you dancing in that Hairspray music video you made, how did that come about?
MTWichita has a tradition of making music videos for their shows and I've always had an interest in filming/editing so I jumped at the chance when they were looking for a company member to do the video for Hairspray. I grew up listening to Michael Jackson's "Black or White" so I was feeling really inspired to do a killer job on the video and I think it was pretty successful!
What do you most identify with your character, Cruthie?
He has a very big fighter spirit. At the beginning of the show, it's just Jack and Crutchie on the fire escape and you get to see a very vulnerable side to him, and I think that's really nice to see at the top. When he's around the other boys throughout the story, you see him hold his own and not ask for help from anybody. I really admire that about him and try to incorporate that into my own life because I think there's something really inspiring about someone who has some kind of disability and has the outlook that he's just like everybody else. It really opened my eyes to those kinds of situations; made me more empathetic and realize my privilege for being so able bodied, how I'm able to be jumping around all day long. It really showed me how difficult it is, when I'm hobbling around on stage with my crutch, and reminded me how lucky I am to be doing what I'm doing and have the body that I have. Crutchie just has this fighter spirit, even in the refuge he sings this song to Jack, he really looks to the brighter sides of every situation.
You have a nice break during Act II right? I remember reading an interview of Andrew Keenan-Bolger, who originated the role, and he said he hung out and read a book during Act II.
Yeah, I've got a princess track in this show! [Laughs] At the beginning of the second act is "King of New York" and then I'm not back in until "Finale Part 2". But, fun fact about our show: they built our Newsies set at the beginning of the summer and then rented it at PCLO (Pittsburgh Civic Light Opera). The PCLO used all of our costumes and our sets before we used it and then sent it back for us to use, which I think is kinda funny.
Speaking of funny, the show is filled with a lot of comedic moments but also very heartfelt scenes. What does the story of Newsies mean to you?
It's really cool to watch this show and see how one voice can empower another and another and another thousand people will start standing up for the same cause. It shows the power of mob mentality, how it only takes one, you can keep growing and growing and make a change. That's a lot of what our cast has been talking about; how strong one voice can be and push everybody else to see a side that they hadn't seen before, instill a sense of confidence in others. Jack does that the whole show, he's a cheerleader for everybody and a ringleader. He keeps the action up, everybody focused on the cause. And I think it's a very relevant story during this time in our country when you have someone in power who thinks they can do and say whatever they want. To have an underdog stand up, say something, and have the support of his fellow man is really important. And have them be kids, nonetheless, these are newsboys who are ten years old and can make this change. While it was a long time ago, it's still super inspiring to see these boys stand up for themselves and make a change.
What's next for you?
Right after this, I'm going to go home. I have a nephew now, he's my pride and joy. He is so freaken cute! I'm very lucky that I grew up in South Florida, so that when I go home to decompress it's like a vacation; I can go to the beach, go out on the kayaks, and spend some time with my family, which I'm very excited about. Then I'll be moving to New York City on September 1st, starting that audition grind, and start getting my face out there. See who I can meet, what things I can audition for, what fun things I can do, I'm super excited!
---
Disney's Newsies concludes MTWichita's season running August 11-20th, directed by Wayne Bryan with choreography by Brian J. Marcum, and featuring scenic design by Bruce Brockman and costumes by Dixon Reynolds. Trevor McChristian stars as Jack Kelly, with Melissa Steadman Hart (Newsies National Tour) as Katherine Plummer, Trevor Michael Schmidt as Crutchie, HAl Davis (Titanic) as Joseph Pulitzer, AnnEliza Canning-Skinner as Medda Larkin, Alec Cohen as Davey, and Lily Kaufmann as Hannah.
Get your tickets now to see Schmidt 'carry the banner' in Newsies at MTWichita. Now playing through August 20th.