Unique Rediscovery Of Classic Refugee Drama at Finborough Theatre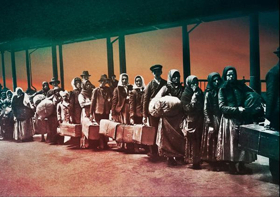 "God's Crucible, the great Melting Pot where all the races of Europe are melting and reforming!"
In a rediscovery commissioned by the Finborough Theatre, The Melting Pot by Israel Zangwill runs at the Finborough Theatre, playing Sunday and Monday evenings and Tuesday matinees fromSunday, 3 December 2017.
The classic story of a young Russian immigrant fighting to uphold his dream of a new life in a new country.
After his family are massacred in a pogrom, Jewish composer David Quixano escapes to New York City, in search of a new life. There he falls in love with Vera, a beautiful Russian Christian.
Inspired by the multitude of ethnicities in his new home, David's exuberance bursts forth in his composition - an "American Symphony". But, as characters from his past begin to reappear, David is confronted with the terrifying realisation that his "melting pot" burns the good with the bad.
Can vicious divisions of race, religion and class ever really be left behind? Or is the idea of a cauldron of nations, free of ethnic divisions and hatred, an impossible dream?
Originally performed in Washington DC in 1908, The Melting Pot received its UK premiere at The Royal Court Theatre in 1914 and transferred to two West End theatres. Unseen in the UK since 1938, the play popularised the phrase "melting pot", and remains a determined celebration of multiculturalism.
British novelist, essayist and playwright Israel Zangwill (1864-1926) was born in London into a family of Jewish immigrants from the Russian Empire. He spent his life championing cultural Zionism, territorialism, pacifism and women's suffrage. He strongly advocated the erasure of racialized language, the assimilation of immigrants to the United States, and the development of America as an amalgamation of migrant cultures. In 1892, Zangwill's first novel, Children of the Ghetto was published, earning him the nickname 'the Dickens of the Ghetto'. He followed this with four similarly themed novels over the turn of the century: Grandchildren of the Ghetto, Dreamers of the Ghetto,Ghetto Tragedies and Ghetto Comedies. Zangwill is also known for pioneering the 'locked room' mystery subgenre through his novel The Big Bow Mystery. In 1899, Zangwill's own dramatization ofChildren of the Ghetto appeared on Broadway. His other plays includeThe Serio-Comic Governess,Nurse Marjorie and Merely Mary Ann.
Director Max Elton is a writer and director. Direction includes The End of Hope (Orange Tree Theatre, Richmond, and Soho Theatre), Big Brother Blitzkrieg (King's Head Theatre), Leftovers(Tristan Bates Theatre), Trevor's House (Tabard Theatre), Distraction (Pint Sized Theatre, The Bunker). Assistant Direction includes assisting Paul Miller on Sheppey (Orange Tree Theatre, Richmond), Jez Bond on Madame Rubinstein (Park Theatre) and The Drunken City (Tabard Theatre). He trained on the Theatre Directing MA at the Orange Tree Theatre in association with St Mary's University.
Commentators on The Melting Pot
"That's a great play, Mr. Zangwill!...That particular play I shall always count among the very strong and real influences upon my thought and my life." President Theodore Roosevelt
"A play you will remember all your life." Evening American 1908
"The United States never received on the stage a more worthy or glorious characterization than in this play." Chicago Unity 1908
"Zangwill's work played a crucial role in the remaking of both British and American attitude...toward immigrants and hence toward the social and national project of each country." Jonathan Freedman, University of Michigan
Finborough Theatre, 118 Finborough Road, London SW10 9ED
Box Office 0844 847 1652 Book online at www.finboroughtheatre.co.uk
Sundays, Mondays and Tuesdays, 3, 4, 5, 10, 11, 12, 17, 18, 19 December 2017
Sunday and Monday evenings at 7.30pm. Tuesday matinees at 2.00pm.
Tickets £18, £16 concessions. (Group Bookings - 1 free ticket for every 10 tickets booked.)
Performance Length: Approximately 2 hours and 15 minutes including a 15 minute interval.