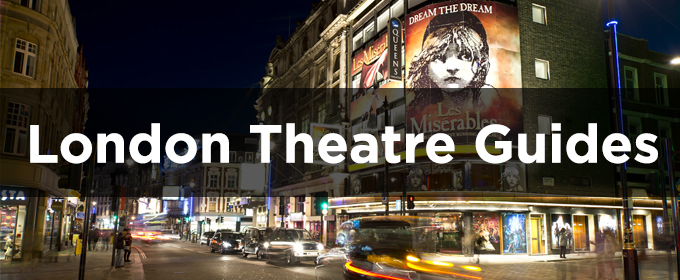 Click Here for More London Theatre Guides
The Bridge Theatre: What You Need To Know
Opened in 2017 and founded by Nicholas Hytner and Nick Starr, who both departed the National Theatre after 12 years, the Bridge Theatre is a 900-seat adaptable auditorium, capable of utilising end-on, thrust and promenade staging.
Productions so far include Hytner's immersive Julius Caesar, Alan Bennett's Allelujah!, and one-woman plays starring Maggie Smith and Laura Linney. Coming up this Christmas is Sally Cookson's take on The Lion, the Witch and the Wardrobe.
Here is everything you need to know if you're visiting - from food and drink to transport, ticket deals and accessibility.
Where to eat
Bridge Theatre
The Bridge works closely with iconic London restaurant St. John. In addition to pastries and cakes, which change throughout the day, snacks and light meals are available. These include Welsh rarebit, soup, terrines and a selection of sandwiches.
The Ivy Tower Bridge
Situated immediately next to the theatre is The Ivy Tower Bridge. Boasting panoramic views of the river, the Tower of London and of course the bridge itself, this sophisticated yet relaxed restaurant offers a varied menu and exceptional service.
Staples such as the Ivy burger, fish and chips, and of course the classic Shepherd's pie sit alongside monkfish and prawn curry, and blackened cod baked in a banana leaf. A set menu is also available between 11:30am and 6:30pm; £17.50 will get you two courses, and for just £21 you can have dessert as well! Booking is advisable.
The Wright Brothers
The rustic setting and bustling atmosphere combined with the delectable dishes on offer makes this a London institution. Located in nearby Borough Market, the original flagship Wright Brothers restaurant is a seafood lover's dream. There are a number of ever-changing specials, depending on what fresh fish and seafood is available that day. Dishes such as smoked mackerel pate, Brixham fish soup, St Austell Bay mussels and the signature fish pie are constant fixtures. Book ahead.
thewrightbrothers.co.uk/restaurant/borough-market
The Coal Shed
Offering coal-roasted, rare-breed meat and South Coast seafood, The Coal Shed also has a pre-theatre menu: for £20 you can enjoy two courses with starters, and an extra £4 will also get you pudding. The main menu consists of dishes such as seaweed cured salmon and grilled tiger prawns, lamb loin, wood-fired cod and steak. For attentive service and a great atmosphere, this is an ideal pre- or post-theatre dining spot, though book is advisable.
www.coalshed-restaurantlondon.co.uk
Where to drink
TwoRuba Bar
TwoRuba specialises in cocktails and offers stunning views of The Shard. Located within the Hilton Tower Bridge hotel, this relaxed yet stylish and sophisticated bar offers a touch of elegance.
The Swan at Shakespeare's Globe
What could be more suited to theatre-lovers than The Swan at Shakespeare's Globe? It's a bit of a walk from the theatre, however you're presented with the incredible surrounding scenery of the Thames and London skyline. Set over two floors with phenomenal river views.
The Kings Arms
Suiting those in search of a cosy pub and a pint, plus The Kings Arms also has an impressive wine list. Lively, atmospheric and a little quirky, but always warm and inviting, the pub is within easy walking distance of the Bridge.
The Vault
This intimate bar is something of a hidden gem. With unique views of Tower Bridge, the Tower of London and the City, as well as Canary Wharf, it also has on display photographs depicting the history of Tower Bridge from its construction. A variety of beers, wines and classic cocktails are available.
Ticket offers
Ticket offers can be accessed by becoming a member. There are several membership options available:
Priority Membership
For £50 per year (£35 for those 35 and under), you will have priority booking ahead of Advance Members and the general public with access to the best seats for both productions and special events. There are also no phone booking fees and you even have a dedicated booking line.
Advance Membership
For just £15 per year you will be able to book tickets for productions, although not special events, 24 hours before they go on sale to the public.
Young Bridge
This is a free scheme for those between the ages of 16 and 25, and gains you access to an exclusive allocation of £15 tickets for each performance, as well as offers for other discounted seats.
Location and Transport
By Tube
London Bridge (Northern and Jubilee) is around a ten-minute walk from the theatre. Take the Tooley Street exit and follow the signs towards Tower Bridge.
The Circle and District lines run to Tower Hill, which entails a 15-minute walk across Tower Bridge in order to get to the theatre.
By bus
You can also take the following buses from London Bridge Station: 47, 343 or 381 or from Tower Hill Station: 42 or 78 and alight at stop 'Tower Bridge/City Hall'.
Bus routes 47, 343 and 381 stop on Tooley Street - get off at stop 'City Hall' - and bus routes 42, 78 and 188 stop on Druid Street. Both stops are a five-minute walk to the theatre.
By bike
Tooley Street has a number of bicycle racks and two Santander Cycle docking stations.
By car
If arriving by car or taxi, you can find up-to-date information on roadworks and closures on the TfL website. The Bridge Theatre is located just within the boundaries of the congestion charge zone. Drop-offs can be made on Potters Fields, where there is level access to the entrance of the theatre. A map of the local area with disabled bays can be found on the Southwark Council Website.
Bridge Theatre audience members can receive a 20% discount on parking at Q-Park, a five-minute walk to the theatre and just outside of the congestion charge zone. You need to prebook 24 hours in advance using the discount code BRIDGE20.
Visitors to the Bridge Theatre can also receive a 10% parking discount on nearby parking by redeeming the code BRIDGE10 on YourParkingSpace.
Accommodation
Premier Inn, London Tower Bridge offers rooms from as little as £49 per night provided you book well enough in advance.
There is also a Travelodge based at Tower Bridge, again offering competitive prices.
www.travelodge.co.uk/hotels/391/London-Central-Tower-Bridge-hotel
The LaLit Hotel provides five-star accommodation and houses a 24/7 state-of-the-art gym and spa. The hotel is also the home of pan-Indian dining destination Baluchi. Executive Chef Santosh Sha pairs the best of international culinary concepts with the complex and innovative flavours of India. Each dish is rich with history and authenticity. This makes for a memorable dining experience with a difference.
www.thelalit.com/the-lalit-london
Access
There is level access to the foyer and wheelchair spaces are available in Gallery 2.
A platform lift provides access to Gallery 1 and the stalls. There is no lift access to Gallery 3.
Bridge Theatre can loan wheelchairs for use during your visit. You can email the box office (boxoffice@bridgetheatre.co.uk) or call 0333 320 0051 to arrange. These are subject to availability.
Toilets
There are three unisex accessible toilets, located on the same level as the Stalls and on Gallery 2 (street level).
Access Facilities
Hearing aids can be collected from the cloakroom before the show.
Audio description is a live commentary offered by trained describers that's interspersed with the actor's dialogue. The Bridge also offers a 'programme notes' description, starting 15 minutes before the production. This helps the audience member capture the atmosphere, costumes, characters and action before and during the course of the performance.
The device required for this can be collected from the cloakroom or even downloaded onto your own device.
Touch tours
The theatre also provides touch tours for every audio-described production, usually before an audio-described matinee. This allows audience members to visit the set and feel the props. The tour is free and lasts for roughly half an hour.
The theatre aims to offer a touch tour for every audio-described production, usually before an audio-described matinee. It's a chance to visit the set, feel the props, and enhance your enjoyment of the show. The tour is free and lasts about half an hour.
If you wish to attend a touch tour, email access@bridgetheatre.co.uk or call 0333 320 0050 for more information.
Hearing enhancement & headsets
The Bridge has an innovative digital radio frequency system for assisted listening and audio description. Their Sennheiser radio receivers give you access to assisted listening and, at certain performances, audio description.
Devices are available to be collected from the theatre cloakroom with headphones or induction neck loops. You may also use your own headphones.
Guide Dogs
Assistance dogs are welcome in all spaces of the Bridge Theatre. Alternatively, you can leave your dog in the care of the hospitality team.
While you're there...
Borough Market
Borough Market has been around in one form or another for somewhere in the region of 1,000 years. This iconic London landmark is a haven for foodies and well worthy of a visit if you have the time before walking to the Bridge, which takes around 15 minutes.
Fish and seafood, fresh fruit and vegetables, cured meats, confectionery, cheese, olives and antipasti...the list goes on. Whatever culinary delight you're searching for, you'll be sure to find it in this bustling market, and simply having a meander is a lovely way to spend an hour or two. With street food, cafes, bars and restaurants, it also makes the perfect pit stop on your way to the Bridge.

The market is open between 10am and 5pm (6pm on Friday) with limited stalls on Monday and Tuesday. Borough Market is closed on Sundays apart from during extended Christmas opening hours in December.
Sky Garden
Over the other side of the river, near to Monument, stands 20 Fenchurch Street, colloquially known as the 'walkie-talkie building'. At the top of this skyscraper you'll find the sky garden. With panoramic views of London, bars and restaurants, this is a place to either show off our wonderful city to visitors or simply take a moment to enjoy it ourselves. Best of all, the Sky Garden is free to enter, but you do need to book around three weeks in advance.
Tower Bridge
While you're there it makes sense to explore Tower Bridge itself, if you haven't before. With access to the engine rooms and a high-level glass floored walkway, there are also various 'behind the scenes' tours and family-friendly events and activities on offer.
And if you're making a day of it, there is of course the Tower of London.
www.hrp.org.uk/tower-of-london
Another hugely popular attraction is the Tate Modern, which is about a 25-minute walk from the theatre.
www.tate.org.uk/visit/tate-modern
If time permits, you can walk from either Embankment Tube or Waterloo over to the South Bank and then make your way to the Bridge along the river. With book markets, numerous pop-ups, street food and an array of famous landmarks along the way, this is a walk that even the most seasoned Londoner never tires of taking.
Contact details
Bridge Theatre
3 Potters Fields Park
London, SE1 2SG
Box office:
Email: boxoffice@bridgetheatre.co.uk
Call: 0333 320 0051
Related Articles