Royal Court Theatre Will Celebrate Sam Shepard in November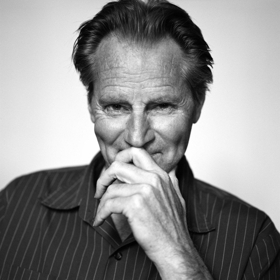 Lloyd Hutchinson, Nancy Meckler and Stephen Rea will curate an afternoon to celebrate the great American playwright and actor Sam Shepard who passed away in July last year. The event will take place on Monday 12 November at 3pm in the Jerwood Theatre Downstairs.
To celebrate his life and work there will be performances of scenes and poetry spanning his career. Performers include Ronke Adekoluejo, Kenneth Cranham, Marty Cruickshank, O-Lan Jones, Toby Jones, Kate Fleetwood, Lloyd Hutchinson, Joe Penhall, Stephen Rea, Judith Roddy, Indira Varma, Jason Watkins, with more to be announced.
Sam Shephard's plays were first performed in New York, with Cowboys and The Rock Garden produced in 1964, but he has had an association with London and the Royal Court since 1968 when Red Cross, found in a collection of new American plays in the bookshop, was one of a series of late-night readings put on to test the potential of the rehearsal room at the top of the theatre as a performance space.
His play La Turista was one of the first full productions in the Jerwood Theatre Upstairs in 1969 and he went on to stage a number of his plays at the Court including The Unseen Hand (1973), Geography of a Horse Dreamer (1974), Tooth of Crime (1974), Action (1974), Curse of the Starving Class(1977), A Lie of the Mind (1987). His plays True West, Fool For Love, Buried Child, The Late Henry Moss enjoyed successful runs at the National Theatre, Hampstead Theatre, Almeida Theatre and West End.
Sam moved to London from the US in 1971 and is said to have "credited the highly disciplined English theatre with ridding him of bad habits picked up in the Greenwich Village avant-garde." (The Guardian, 1991) Although he left London three years later, he'd become established as one of the leading writers in that creatively feverish period of the early to mid-seventies. His strong friendship with Stephen Rea lasted until his death and produced his last play A Particle of Dread: Oedipus Variations, which Field Day Theatre Company commissioned for Derry City of Culture Celebrations in 2013, transferring to the Signature Theater in New York City in 2014.
Sam won multiple awards including eleven Obies, and a Pulitzer Prize. He was also an actor of note appearing in, amongst other films, Terence Malick's Day of Heaven and Philip Kaufman's The Right Stuff, his performance as Chuck Yeagar in the latter garnering him an Oscar Nomination in 1984. His screenplay For Paris, Texas was BAFTA nominated in 1985. He was inducted into the American Academy of Arts and Letters and received the Gold Medal for Drama from the Academy. His final works of prose, The One Inside and Spy of the First Person, were published in 2017, the year of his death.
Tickets are on sale can be booked here https://royalcourttheatre.com/whats-on/sam-shepard-celebration/
Any proceeds from this event will go towards supporting emerging playwrights at the Royal Court in memory of Sam.