Review Roundup: Were Critics Charmed by FIDDLER ON THE ROOF?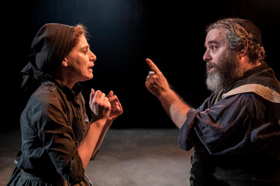 Direct from its sold-out run at the Menier Chocolate Factory, Tony and Olivier award-winning director Trevor Nunn's revival of the classic Broadway musical Fiddler on the Roof transfers to the West End for a strictly limited run.
Andy Nyman (Tevye) and Judy Kuhn (Golde) lead the West End company, joined by Nicola Brown (Chava), Harriet Bunton (Hodel), Dermot Canavan (Lazar Wolf), Stewart Clarke (Perchik), Joshua Gannon (Motel), Matthew Hawksley(Fyedka), Louise Gold (Yente), and Molly Osborne (Tzeitel), as well as Miles Barrow, Sofia Bennett, Philip Bertioli, Lottie Casserley, Elena Cervesi, Lia Cohen, Talia Etherington, Shoshana Ezequiel, Isabella Foat, Fenton Gray, James Hameed, Adam Linstead, Adam Margilewski, Robert Maskell, Benny Maslov, Robyn McIntyre, Gaynor Miles, Ellie Mullane, Tania Newton, Craig Pinder, Valentina Theodoulou and Ed Wade.
The production transfers to the reconfigured Playhouse Theatre from 21 March for a limited run - with over 25,000 tickets at £20 or less across the run. The production opened on 27 March and is booking until 15 June.
Let's see what the critics had to say...
---
Sam Marlowe, The Times: The show has remained immensely popular since opening on Broadway in 1964, and Trevor Nunn's revival - a transfer from the Menier Chocolate Factory in London - amply demonstrates why. It's a resonant slice of history - especially in the present climate of resurging antisemitism - and a warm, absorbing folk tale that strikes unerringly at the heart with the timeless simplicity of its themes: home, family, love.
Rachel Halliburton, The Arts Desk: Nunn's co-ordination of the cast is beautifully echoed by musical director Paul Bogaev conducting of the orchestra. In both the predominant enjoyment is in the sense of vigorous defiance embodied by the ensemble, though this does not stop the solos ringing out with a combination of plangency and humour. As the evening progresses, gradually each individual starts to score themselves on our hearts, whether it's Joshua Gannon's self-deprecating tailor, Motel, Judy Kuhn's long-suffering Golde, or Molly Osbourne's Tzeitel, terrified of being married off to an old rich butcher. As one of the least sympathetic though most comedic characters, Yente the Matchmaker, Louise Gold puts in a sterling performance as a gossipy hypocrite whose miserable former marriage does not stop her from wanting to subject others to similar miseries.
Fiona Mountford, Evening Standard: As is Andy Nyman who - as the ­irrepressible dairyman Tevye - anchors this superb show with a charismatic lead performance. The rather cramped Playhouse space has been skilfully transformed by designer Robert Jones into a bustling shtetl, with a central walkway snaking through the stalls to make us feel very involved in the goings-on in the small, tradition-bound village of Anatevka.
Natasha Tripney, The Stage: Jerome Robbins' choreography, recreated by Matt Cole, feels particularly thrilling in this small space; the scene in which the villagers end up in a whirling, wary, but eventually celebratory dance with the Russian cossacks is an energetic highlight.
Photo Credit: Johan Persson
Related Articles