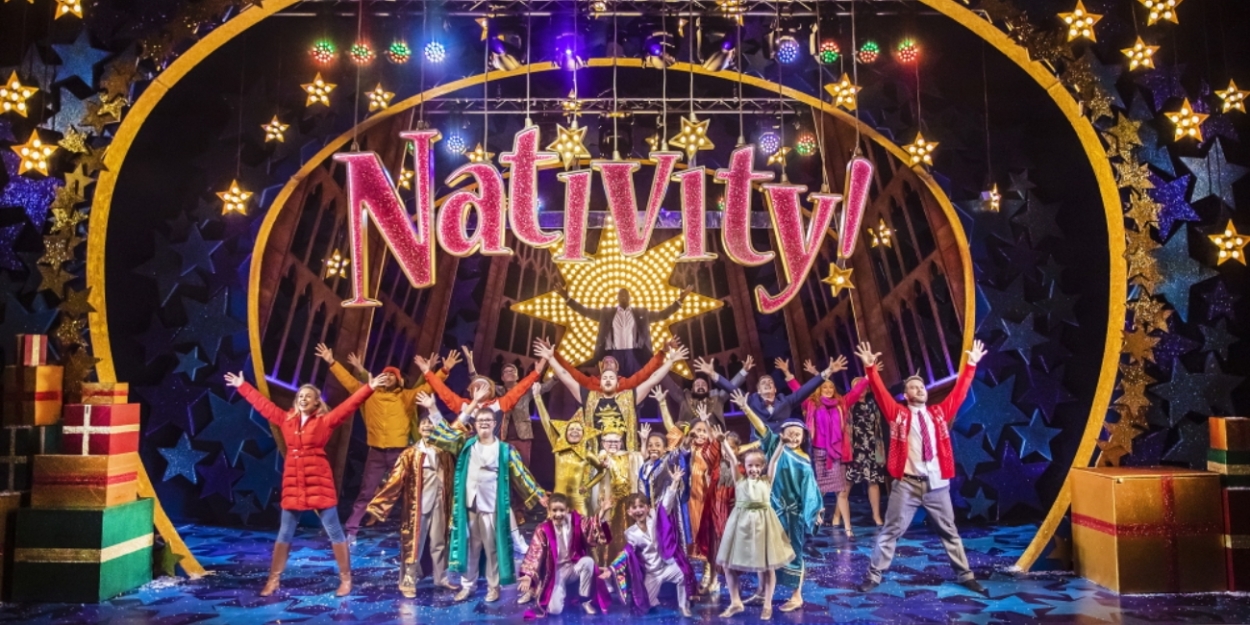 Review: NATIVITY! THE MUSICAL, Birmingham Rep
Sparkling festive entertainment for the whole family

Since it was released in 2009, the warm-hearted movie comedy Nativity! has been on many families' essential Christmas viewing lists. This festive season, the stage version of the film returns to Birmingham Rep, where it received its world premiere in 2017. Written, directed and composed by Debbie Isitt, who also wrote and directed the movie, this production is a joy from start to finish. Postponed twice due the pandemic, it was definitely worth the wait.
It's clear from the start that the show is taking its mission statement of "Sparkle and Shine" seriously. The stage is surrounded by huge, glittering presents that transform into everything from a school headmistress' desk to a hiding place for seemingly endless amounts of children, and Tim Mitchell's effervescent lighting design gives us twinkling stars aplenty in almost every scene.
Billy Roberts is a sympathetic presence throughout as Mr Maddens, the schoolteacher who's lost his belief in Christmas and in the children he teaches, and who finds himself caught up in a snowballing lie when he tells his private school nemesis Mr Shakespeare (a gloriously over-the-top Matthew Rowland) that a Hollywood producer is coming to see their nativity play. Ben Lancaster is a perfect foil as the energetic and idealistic Mr Poppy, Maddens' new teaching assistant who causes chaos, and Jemma Churchill is completely believable as the put-upon headmistress.
It's the schoolkids, though, played by local children, that steal the show. Whether it's the plucky underdogs of St Bernadette's or their snobbish Oakmoor rivals, every child is note-perfect and utterly charming, both in the high-energy numbers and the poignant ballads like "Dear Father Christmas". Speaking of the songs, all your favourites from the film are here, as well as a host of original numbers, mostly fast-paced and full of smart lyrics. The script, too, is packed with jokes which will have every audience member laughing, with up-to-date references to everything from Frozen to Matt Hancock's ill-advised stint in the I'm a Celeb jungle.
The production isn't perfect, of course, but then Nativity! was never about perfection. The first act hurtles along at a breathless rate without much light and shade, and Tom Marshall's slightly unbalanced sound design means some of the lyrics, particularly from the children, get lost. This latter issue, though, is minimised by the fact that every performance is captioned.
By the time the show reaches its climax at a beautifully-recreated Coventry cathedral, it's impossible not to be rooting for the children in their attempts to put on the best show ever, as well as for the love story between Mr Maddens and his ex-girlfriend, and the friendship between Maddens and Mr Poppy. This is a heartwarming and beautifully produced show filled with young talent that will have you smiling all the way through, and maybe even tearing up a little.
Oh, and if all that isn't enough to convince you? There's also a really, really cute dog.
Nativity! The Musical at Birmingham Rep until 7 Jan 2023
Photo Credit: Pamela Raith