Photo Flash: THE 39 STEPS at the Criterion Theatre
Patrick Barlow's adaptation of The 39 Steps, directed by Maria Aitken, will celebrate its second birthday this month as over 140,000 tickets are released for a new booking period, until September 6, 2009.  On October 13, 2008, Tessa Churchard will join current cast members Jo Stone-Fewings, Alan Perrin and Nigel Betts at the Criterion Theatre to play the three female roles - Annabella Schmidt, Pamela and Margaret – in this hilarious 100 minute whodunnit.
Maria Aitken
's multi award-winning production contains every single legendary scene from the award-winning 1935 classic Hitchcock movie thriller -  including the chase on the Flying Scotsman, the escape on the Forth Bridge, the first theatrical bi-plane crash ever staged and the sensational death-defying finale in the London Palladium, as well as the memorable and controversial 'stockings and suspenders' scene!
Tessa Churchard
's stage credits include
Blithe Spirit
for Watford Palace Theatre, Lady of Leisure, Astonished Heart, Still Life and Point of Death for Liverpool Playhouse, As You Desire Me for
The Playhouse
Theatre, Gallileo's Daughter, Don Juan, Man and Superman for Bath Theatre Royal, Noises Off at the Piccadilly and Comedy Theatres and Remember This for
The
National Theatre
.  Her television credits include Doctors, Family Affairs and Jeeves and Wooster. Barlow's adaptation of
The 39 Steps
has been playing to sell-out houses at the Criterion Theatre since its transfer from the
Tricycle Theatre
in September 2006.  Subsequently a Broadway production has opened to great acclaim, winning two Tony Awards as well as two Drama Desk Awards. 
The 39 Steps
has also embarked on a UK tour and is licensed to 15 countries world-wide.  In August this year productions opened in Sydney and Korea and next month the show opens in Hong Kong.
The 39 Steps
has designs by
Peter McKintosh
, lighting design is by Ian Scott, sound design by
Mic Pool
, and movement by
Toby Sedgwick
.  
The 39 Steps
is presented by Edward Snape for Fiery Angel Ltd and Tricycle London Productions Ltd in association with the
West Yorkshire Playhouse
.   THE 39 STEPS will be performed at the Criterion Theatre, Piccadilly Circus, London SW1, booking until September 6, 2009. Tickets are £12.50 - £50 plus concessions. Performances are Mon – Sat at 8pm, Matinees Tues at 3pm & Sat at 4pm. For tickets, call the Box Office at 0844 8471778. CHRISTMAS PERFORMANCE SCHEDULE

Monday 22 December, 8pm
Tuesday 23 December, 3 pm, 8pm
Wednesday 24 December, 3pm
Thursday 25 December, Off
Friday 26 December, 8pm
Saturday 27 December, 4pm, 8pm
Monday 29 December, 8pm
Tuesday 30 December, 3pm, 8pm
Wednesday 31 December, 3pm, 8pm
Thursday 1 January, 8pm
Friday 2 January, 8pm
Saturday 3 January, 4pm, 8pm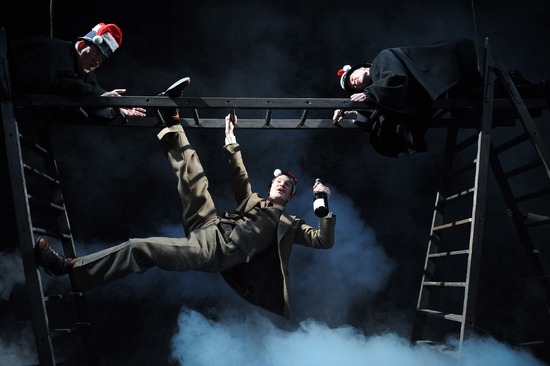 Nigel Betts, Jo Stone-Fewings and Alan Perrin

Alan Perrin, Tessa Churchard, Nigel Betts and Jo Stone-Fewings

Phot credit: Tristram Kenton