Photo Flash: Carole King Surprises West End Production of BEAUTIFUL- THE CAROLE KING MUSICAL
Last night (6 March 2017) in front of a sell-out performance, Carole King surprised the cast and audience when she made her second visit to see the West End production of Beautiful - The Carole King Musical. King was greeted with a standing ovation at the Aldwych Theatre as she took to the stage at the curtain call to congratulate the cast. Following her surprise appearance, she continued on stage by singing her classic hit You've Got A Friend in front of a thrilled crowd. King said: "I was so excited to surprise the cast, they genuinely had no idea, nobody knew! CJ (Cassidy Janson who plays King in the musical) literally brought me to tears this evening with her performance of Natural Woman. She was who I was, she felt what I felt. She was me!"
Check out photos of the surprise below!
To coincide with the show's second birthday in London on Wednesday this week (8 March 2017) a further 130,000 tickets will go on sale taking booking at the Aldwych Theatre to 4 November 2017.
The Olivier, Tony and Grammy award-winning show opened in the West End in February 2015 when Carole King attended the Gala opening. Last month on 9 February 2017 celebrations took place at the Aldwych Theatre to mark both Carole King's birthday and the production's second birthday in the West End. In addition to the West End production, an extensive UK tour of Beautiful - The Carole King Musical will begin in September. In January 2014Beautiful - The Carole King Musical received its Broadway premiere at the Stephen Sondheim Theatre. A US tour began in September 2015 and an Australian production will open in Sydney in September this year.
Beautiful - The Carole King Musical is the untold story of her journey from school girl to superstar; from her relationship with husband and song-writing partner Gerry Goffin, their close friendship and playful rivalry with fellow song-writing duo Barry Mann and Cynthia Weil, to her remarkable rise to stardom. Along the way, she became one of the most successful solo acts in music history, and wrote the soundtrack to a generation.
The West End cast comprises Cassidy Janson in the title role, Matthew Seadon-Young as King's husband and song-writing partner Gerry Goffin,Lorna Want as song-writer Cynthia Weil, a role for which she won the 2015 Olivier for Best Actress in a Supporting Role in a Musical, Ian McIntosh as song-writer Barry Mann, Joseph Prouse as music publisher and producer Donnie Kirshner and Barbara Drennan as King's mother Genie Klein.
They are joined by Gavin Alex, Georgie Ashford, Koko Basigara, Tsemaye Bob-Egbe, Ashford Campbell, Treyc Cohen, Natasha Cottriall, Michael Duke, Matthew Gonsalves, Jammy Kasongo, Leigh Lothian and Earl R. Perkins who play iconic musical performers and band members of the era and swings Derek Aidoo, Rosie Heath, Dominic Hodson, Emma Louise Jones, Jessica Joslin, Vicki Manser, David O'Mahony and Jaime Tait.
Beautiful - The Carole King Musical is based on the early life and career of legendary singer/ songwriter Carole King. Book is by Douglas McGrathwith words and music by Gerry Goffin, Carole King, Barry Mann and Cynthia Weil. The production is directed by Marc Bruni with choreography is by Josh Prince, set designs by Derek McLane, costume designs by Alejo Vietti, lighting by Peter Kaczorowski and sound by Brian Ronan. Orchestrations and Music Arrangements are by Steve Sidwell.
Photo credit: Craig Sudgen

Carole King
surprises West End cast of BEAUTIFUL - THE
Carole King
MUSICAL
Carole King
surprises West End cast of BEAUTIFUL - THE
Carole King
MUSICAL
Carole King
surprises West End cast of BEAUTIFUL - THE
Carole King
MUSICAL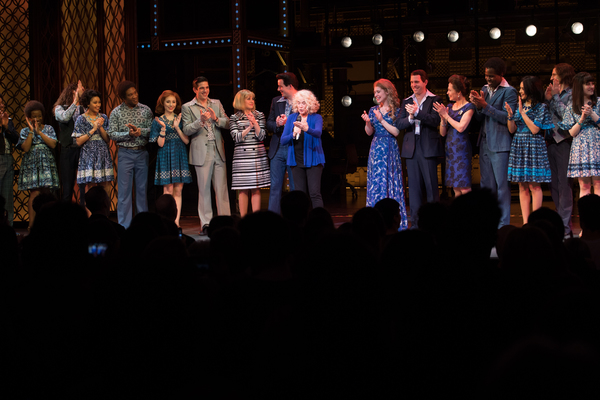 Carole King
surprises West End cast of BEAUTIFUL - THE
Carole King
MUSICAL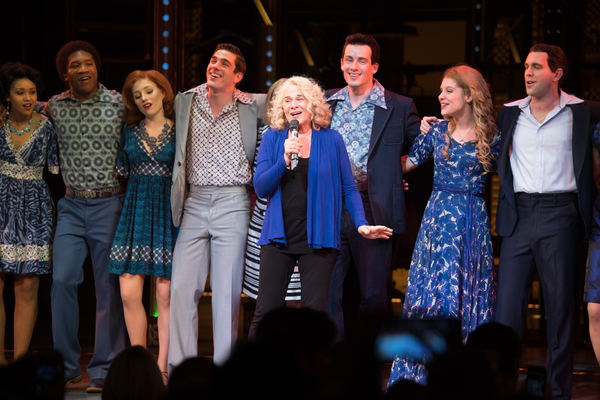 Carole King
surprises West End cast of BEAUTIFUL - THE
Carole King
MUSICAL
Carole King
surprises West End cast of BEAUTIFUL - THE
Carole King
MUSICAL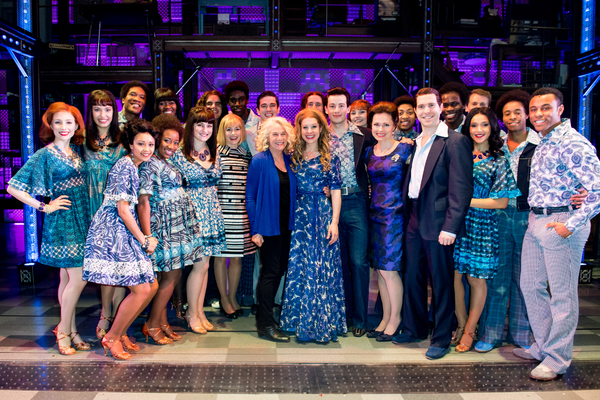 Carole King
and West End cast of BEAUTIFUL - THE
Carole King
MUSICAL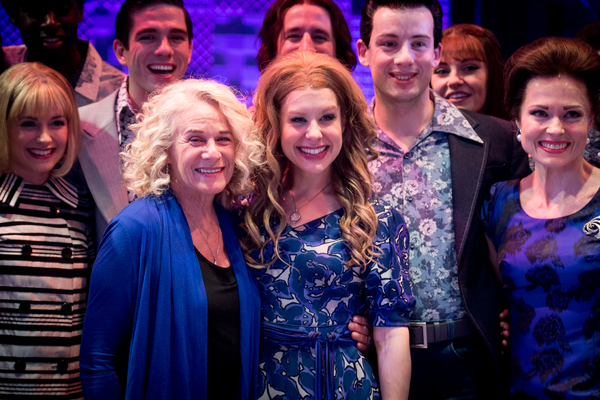 Carole King
and
Cassidy Janson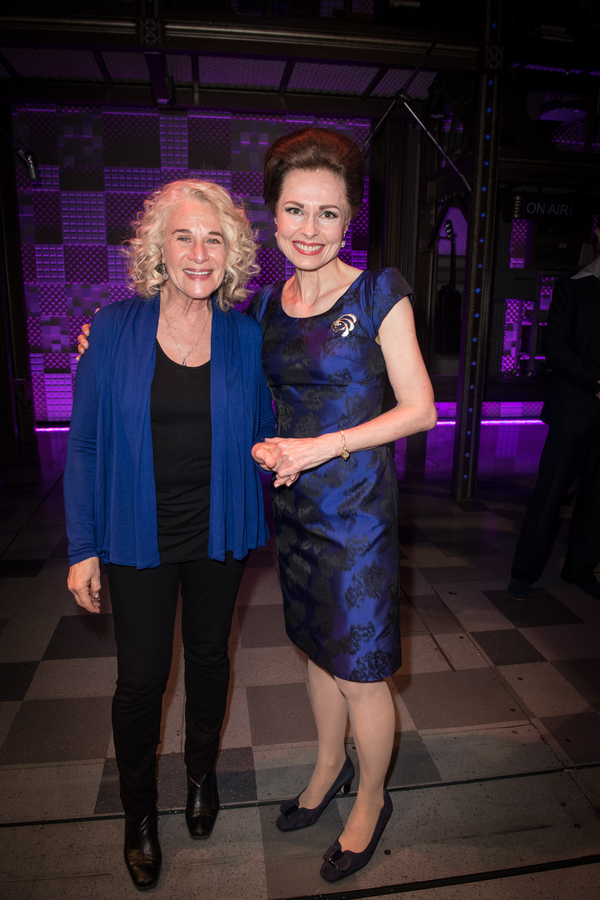 Carole King
and
Barbara Drennan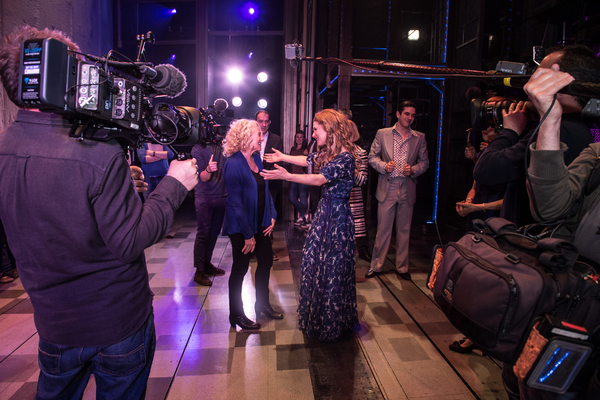 Carole King
and
Cassidy Janson
Carole King
and
Cassidy Janson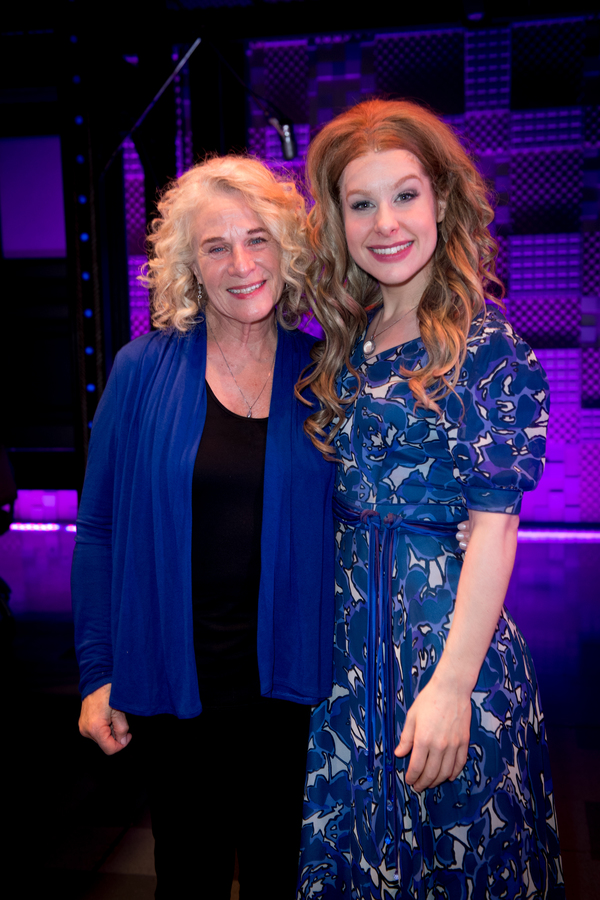 Carole King
and
Cassidy Janson
Carole King
and
Lorna Want
Lorna Want
,
Ian McIntosh
,
Carole King
,
Cassidy Janson
,
Matthew Seadon
-Young,
Barbara Drennan
, and
Joseph Prouse
Lorna Want
,
Ian McIntosh
,
Carole King
,
Cassidy Janson
,
Matthew Seadon
-Young,
Barbara Drennan
, and
Joseph Prouse