From Page to Stage to Have One of the Largest Companies in the West End this Summer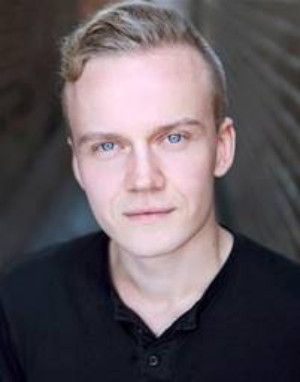 Aria Entertainment's From Page To Stage (FPTS) will have one of the largest companies in the West End this summer: a Cast of 56, working alongside 18 Creatives, plus Musicians and over 50 Composers and Writers presenting new musicals! From fully staged main house productions, readings, workshops to concerts and showcases, the International Summer Festival runs for three weeks at The Other Palace from MONDAY 14 AUGUST to SUNDAY 3 SEPTEMBER 2017.
The opening Song Writers Showcase (Monday 14 Aug) highlights the global reach of FPTS, showcasing songs from musicals from around the world including: Panama (Panama: The Musical - 1927, the Panama Canal), Germany, France, UK and US - directed by Kolja Schallenberg (German/Swedish).
Playing the lead role in XY (15-17 Aug) is Finnish actor Miiko Toiviainen in his UK professional debut. Portuguese director Tania Azevedo brings to life the extraordinary story of Chris who can't shake Christine - she's with him everywhere.... The story of the psychologically harmful consequences of non-consensual corrective surgeries, performed on intersex infants.
Miiko Toiviainen says: "There's a real need for positive representations of trans, non-binary and intersex characters on our stages. I'm a trans guy myself. The character of Chris is intersex, so although his background is different from mine, there's still the strong connection of being raised in the wrong gender role. As an actor I find the topic crucially important and current; so getting to breathe life into a show like XY is incredibly thrilling for me - and a first through musical theatre." Miiko graduates from Mountview at the end of July 2017.
The cast of XY also includes: Gemma Sutton (Strictly Ballroom - WYP, The Go-Between - West End), Miranda Wilford (Thriller - West End), Matilda Shapland (Matilda & Les Miserables - West End) and young Christine played by Max Reader - currently playing Gavroche in Les Miserables - West End. With book, music & lyrics by Oliver Houser, developed with Hunter Bird.
In a first for the Festival and the West End, FPTS will have a Repertory Company of actors who will perform across the four Showcase musicals: One Way by Ben Bonnema & Christopher Staskel; The Edinburgh 7 by Christina Tweeddale, Catherine Myers, the Kielty Brothers & Jordanna O'Neill; The Girls Of Downey Hall by Chris Burgess and Cult! by Tasha Taylor Johnson & Phil Cornwell (24-26 Aug), with Director Amy Anders Corcoran and MD Tamara Saringer.
And a Repertory Company for the Family shows Chicken Little by Jake Brunger & Pippa Cleary; and Dinostory by Luke Di Somma, Mark Anderson & Erin Carter (28-30 Aug), with Director Samuel Harjanne and MD Oli Rew) with a cast including: John Jack, Francesca Ellis, Gloria Onitiri, Laura Mansell, Lauren Allan, Louise Young, Josie Kemp, Michael Storrs, Alex Spinney, Martin Dickinson, Kate Hume, Callum Scott Howells, Chloe Carrington, Lizzie Bea, Daniel Bailey, Richard Carson and Tim Oxbrow. Plus Dick King-Smith's delightfully funny children's book The Queen's Nose by Charles Miller and Tim Sanders (31 Aug-02 Sept), with Director Bronagh Lagan, Musical Supervisor Kate Young and MD Alex Bellamy) - the coming of age new family musical cast: Katie Hartland, Georgie Ashford, Dudley Rogers, Julie Teal, Neil Stewart, Will Hawksworth, Natalie Day and Penelope Woodman.
Rebel Song by Christopher Dickins, Tom Wright and additional music Jacquelyn Hynes (21-23 Aug), with Director Bronagh Lagan and MD Mike Turnbull - a topical love story adapted from the award-winning novel At Swim, Two Boys, will star Rob Houchen (Les Miserables - West End), Barry Keenan (A Christmas Carol), Clodagh Long (The Commitments - West End), Gemma Maclean (High Society - Mill at Sonning), Sandy Walsh (Art Sung - Wiltons), Cornelius Clarke (Guys and Dolls - West End), Dominic Brewer (Dracula - Europe), Alan McHale (Pirates Of Penzance - UK.)
Casting for headline musical Burt Bacharach and Steven Sater's Some Lovers and the concerts TBC.
Andrew Lloyd Webber, owner of The Other Palace says: "I am thrilled that Katy Lipson is bringing From Page to Stage to The Other Palace, in August. It buoys my hope that The Other Palace will become a breeding ground for new musicals and a genuine hub for anyone interested in musical theatre."
FPTS would like to thank their sponsors with out whom this summer festival would not have happened: AKA, RnH, Anthony Field Associates, Theatrical Rights Worldwide, Really Useful Group and Grant For The Arts, Arts Council England
Aria Entertainment's From Page To Stage - a ground breaking International Summer Musical Festival for new musicals that will be heard by the musical industry names and public audiences, at the start of their musical theatre life.
FPTS - From Page to Stage Summer Festival: Monday 14 August - Sunday 3 September 2017
The Other Palace - 12 Palace Street, Westminster, London SW1E 5JA.
Dropbox link: cast/composers/writers, FPTS logo & concept production photography: HERE OR GO TO PDF RELEASE ATTACHED AND USE LINK THERE
Ticket prices from £7.50 - £20.
Box Office: theotherpalace.co.uk / 020 7087 7900
FPTS twitter: @FromPage2Stage
Related Articles View More UK / West End

Stories

Shows
More Hot Stories For You