Cate Blanchett and Stephen Dillane Will Perform In World Premiere By Martin Crimp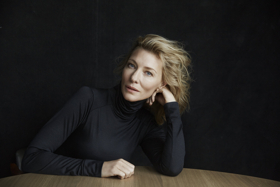 A new play by Martin Crimp (Attempts on Her Life, In the Republic of Happiness). Directed by Katie Mitchell (Waves, Cleansed) with a cast including Cate Blanchett, who makes her National Theatre debut alongside Stephen Dillane returning to the National Theatre for the first time since The Coast of Utopia in 2002.
Martin Crimp's play breaks through the surface of contemporary debate to explore the messy, often violent nature of desire, and the fluid, complicated roles that men and women play.
Using Richardson's novel as a provocation, five characters act out a dangerous game of sexual domination and resistance.
"Go on then: lock the doors and see what happens. Show me how much power you really have."
Katie Mitchell returns to the National Theatre following a sold out production of Cleansed in 2016, Katie said: "It's great to be working with Martin again on this powerful new text and to continue my special collaboration with Stephen Dillane. At the same time I'm delighted to welcome Cate Blanchett to the National, and look forward to developing a new working relationship with this extraordinary actor."
More information will be announced in autumn 2018 when tickets will go on sale.
Cate Blanchett is a two-time Academy Award winner (The Aviator, Blue Jasmine), Blanchett's first major stage role was in 1992 in David Mamet's Oleanna for the Sydney Theatre Company, where she later served as Co-Artistic Director. Numerous stage appearances in London and New York include Plenty (1999), Hedda Gabler (2006), A Streetcar Named Desire (2009), Gross und Klein (2012), Uncle Vanya (2012) The Maids (2014) and The Present (2017), for which she received her first Tony Award nomination. Her film roles include Carol, Truth, Cinderella, The Monuments Men, Blue Jasmine, Ocean's 8, Where'd You Go Bernadette, The House with a Clock in Its Walls, The Hobbit: An Unexpected Journey, Hanna, Robin Hood, The Curious Case of Benjamin Button, Indiana Jones and the Kingdom of the Crystal Skull, I'm Not There, Elizabeth: The Golden Age, The Good German, Notes on a Scandal, Babel, Little Fish, The Life Aquatic with Steve Zissou, The Aviator, Coffee and Cigarettes, The Missing, The Lord of the Rings trilogy, Veronica Guerin, Heaven, The Shipping News, Charlotte Gray, Bandits, The Gift, The Talented Mr Ripley, Pushing Tin, Elizabeth, Oscar and Lucinda.Theatre awards: Four Helpmann Awards for Best Female Actor in a Play (The Maids, Gross und Klein, Uncle Vanya, Hedda Gabler), two Sydney Theatre Awards for Best Actress in a Lead Role (Gross und Klein, A Streetcar Named Desire), two Helen Hayes Awards for Outstanding Lead Actress in a Non-Resident Production (Uncle Vanya, A Streetcar Named Desire). Film awards: Three Best Actress BAFTAs (Blue Jasmine, Elizabeth, The Aviator), three AFI Awards (Little Fish, Thank God He Met Lizzie, Oscar and Lucinda), three SAG Awards (Blue Jasmine, The Aviator, The Lord of the Rings: The Return of the King), three Golden Globe Awards (Blue Jasmine, Elizabeth, I'm Not There), and the Venice Film Festival's Volpi Cup for Best Actress (I'm Not There).
Stephen Dillane has worked with Katie Mitchell in London on Samuel Beckett's 'Endgame', Anton Chekhov's 'Uncle Vanya', DH Lawrence's 'The Widowing of Mrs Holroyd' and 'Four Quartets' by TS Eliot. He's worked in American theatre on Tom Stoppard's 'The Real Thing', which started at The Donmar Warehouse and on a one-man version of 'Macbeth' directed by Travis Preston which also played in London and Australia. His most recent work in London was in Brian Friel's 'Faith Healer' and Samuel Beckett's 'How It Is'( also in Ireland). Also a collaboration on two films by artist Tacita Dean. He has won awards for theatre and TV work including for 'The Tunnel', 'The Shooting of Thomas Hurndall' and 'Kings in Grass Castles'. He was in 'Game of Thrones' for three seasons as Stannis Baratheon. His films include 'Welcome to Sarajevo', 'The Hours' and, most recently, 'The Darkest Hour' and 'Outlaw King' which is released in November 2018.
At the National Theatre, we make world-class theatre that is entertaining, challenging and inspiring, and we make it for everyone. In 2016-2017, the NT staged 26 productions and gave 2,585 performances at our home on the South Bank. The NT's award-winning programme had a UK paying audience of 1.8 million, 400,000 of which were NT Live audiences.
The work the National Theatre produces appeals to the widest possible audiences with new plays, musicals, re-imagined classics and new work for young audiences. The NT's work is seen in the West End, on tour throughout the UK and internationally, and in collaborations and co-productions with partners across the country. Through NT Live, we broadcast some of the best of British theatre to over 2,500 venues in 60 countries around the world.
Our extensive Learning programme offers talks, events and workshops for people of all ages, and reaches nationwide through programmes such as Connections, our annual festival of new plays for schools and youth theatres. In 2016-2017 there were 196,826 participations through the NT Learning events programme. Over 3,000 schools have signed up to the free streaming service, On Demand. In Schools, since its launch in September 2015.
The National Theatre is an Arts Council England National Portfolio Organisation.
Photo Credit: Steven Chee
More Hot Stories For You