BWW Review: TRIAL BY LAUGHTER, Richmond Theatre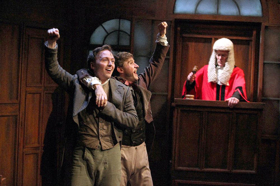 As Editor and Lead Cartoonist of Private Eye, Ian Hislop and Nick Newman are certainly not immune to the issue of libel. In Trial By Laughter they expand what was a Radio 4 afternoon drama to a full length play, focusing on the trials of satirist and forgotten hero of free speech, William Hone, in 1817.
Accused of seditious libel and blasphemy against the Prince Regent and government, Hone used parody to attack the inflated egos and excesses of his targets along with his friend, the cartoonist George Cruikshank. In a remarkable turn of events, Hone was subjected to three trials in three days. Without the means for his own legal counsel, he used his own wit and subsequently charmed and amused the jury enough for them to give him three acquittals.
Joseph Prowen is immediately likeable as Hone, seeming to become pale to the point of transparency as he ploughs on through his ordeal. As a poverty-stricken father of eight, Prowen shows the pressure on Hone to vindicate himself becoming more urgent as the time goes on. He shows a naïve belief that he will triumph, as he sees he has done nothing wrong. He believes that parody is not libel and will become a showman to prove it.
Peter Losasso is an amiable sidekick as cartoonist Cruikshank and Jeremy Lloyd is wonderfully excessive as the baffoonish Prince Regent; drunken, bawdy and portly. He obviously has great fun in the role, but also plays up the character to the point of satire.
The production reunites the director, designer and sound designer from Hislop and Newman's 2016 play The Wipers Times. Dora Schweitzer's set is elegant and switches cleverly from the Regency courtroom to royal palace to London pub deftly, using sliding doors and hidden units to transform the set.
Steve Mayo's sound design has recording of frequent murmurings and outbursts from the imaginary public gallery of the court, with a few well-placed hecklers in the theatre audience itself. However,the production is very reliant on reacting to laughter and the recorded laughter is not always followed by laughter from the actual audience.
Hone's story is all the more incredible due to the fact it is true. However, as a theatre production it lacks some dramatic spark. Much of the script comes from Hone's own writing and court records and so some of the dialogue suffers a sense of heaviness and needs to be sharper.
The themes of the need for free speech and press freedom remain as relevant as ever and the timing of the production is prescient in these days where so many in power seek to undermine the press. Willian Hone's story warrants more recognition and this production laudably tries to give him the exposure he deserves.
Trial By Laughter is at Richmond Theatre until 23 February, then touring
Photo Credit: Philip Tull

Related Articles View More UK / West End

Stories

Shows