BWW Review: THE GRÖNHOLM METHOD, Menier Chocolate Factory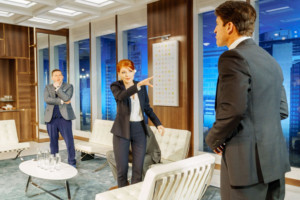 How far would you go to get the thing you so desperately want in life? That's the main question asked in Jordi Galceran's intense and twisted tale of four big-city hotshots who fight hard to win big. Translated by Anne Garcia-Romero and Mark St. Germain, the adaptors set the story in New York City, today.
The four individuals are trying to bag a senior position in a high-profile company, but in order to prove they have what it takes, they must undergo a series of games devised by the tricksters on top. Starting initially playful, the room's calm atmosphere quickly descends into chaos; the air reeks of tension and a lack of trust starts to build amongst the group.
Every interviewee has the necessary experience to do the job well, but each also possesses dark secrets that could potentially discredit their candidacy and decrease their chance of success. And each task set reveals more and more about their individual personalities and what really makes them tick.
BT McNicholl's production works hard to keep the audience on their toes. You're never sure who's 'winning' in this process, nor are you aware of the curveball that'll arrive next. And it's because of this constant topsy-turvy nature that the play never really loses its momentum.
The pace maintains its electric zing, and the insults, sarcasm and paranoia fly left, right and centre. The cast are acutely in tune with one another's sensibilities and collaboratively create a real sense of authenticity in performance. Each gives a standout performance, working hard to be absurdly over the top and overtly expressive in their delivery. It's a smart choice to play it this way.
Watching the piece it's clear that everybody knows these types of people; chances are we've worked alongside them or been beaten to the post by them in the past. But as much as we loathe their cutthroat attitude, we admire their tenacity, and probably also share a lot of similar traits.
We all desire something in life; the question still stands - how far would you go to get it?
The Grönholm Method runs at Menier Choocolate Factory until 7 July
Photo credit: Manuel Harlan
Related Articles View More UK / West End

Stories

Shows