BWW Review: SIX, Arts Theatre

"Who lives, who dies, who tells your story?"
Well, quite...
Everyone knows about the wives of the fat guy in the ruff - but who knows them really? Unlike the other subject of the game to play when you've had a few drinks and, no matter how many times you go through the list, you always miss one out, more people know more about Doc and his half-dozen little friends than the women caught up in what was a Political Patriarchy with the most capital Ps possible.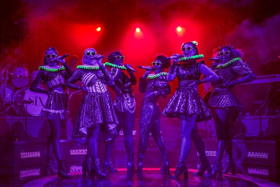 (As an aside, it's remarkable to note that, just over a decade after Henry VIII's demise, Elizabeth I ascended to the throne where she reigned for 44 years, indisputably the most powerful woman ever to have drawn breath - to date...)
That's a lot of history to start a review for a peppy, poppy, sexy, sassy show isn't it? It is, but it's that context that gives the show a real heft and relevance. These glittery, glamourpuss gorgeouses reclaim their narratives, define themselves not glimpsed at in the shade of their husband, but as women in their own right.
And, in an age when life was often nasty, brutal and short and women barely had any opportunity beyond childbearing to carve out a place in society, it's exciting and necessary to do so. There's more than a few lessons for today slid in with the Tudor terror for good measure.
If Toby Marlow and Lucy Moss can be applauded for the intention, none of it would matter were the songs not hits teeming with wit delivered by a supercharged sextet of swoony singers, backed by Robert Palmer's "Addicted to Love" band (grown up and actually able to play this time).
A competition for our approval is the framing device that sees each Queen seeking to impress us with their not so much regality, more their queenness in the divaish sense of the word. En route, the person is put back into the glib "Divorced, Beheaded, Died, Divorced, Beheaded, Survived" that describes their fates but not their lives.
All have the swagger and the voices required for a score that runs from Stock, Aitken, Waterman like 80s pop to R 'n' B, soul, disco, and a tour de force number set in the "House" (geddit?) of Holbein. The writers' ears for a catchy hook and a razor sharp lyric portend a great future in musical theatre.
You can, of course, play along and select your own favourite queen, but all the performers bring it (as I understand the young people say) with a vivacious élan and a mean comic timing (Millie O'Connell very (Becky) sharp as Anne Boleyn). The standout voice, the one who takes it to 11, is Maiya Quansah-Breed, whose singing is surely destined for commercial or theatrical success beyond even this show's rave reviews.
Who am I to argue about the format adopted - there's a nod to the Spice Girls, inevitably - but the characters were so compelling, the songs so strong and the tales so riveting and relevant, that it felt less like a scaled-up gig and more like a scaled-down musical.
I can't be alone in believing that there's much more to come from these queens, a riposte to Wolf Hall's testosterone-fuelled realpolitiking from those given such wonderful voice, in every sense, by this splendid show.
Six is at the Arts Theatre until 6 October and then on tour.
Photo by Idil Sukan