BWW Review: MY MOTHER SAID I NEVER SHOULD, Richmond Theatre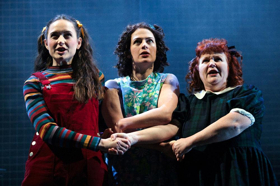 Written in 1985 and first performed in 1987, Charlotte Keatley's sensitive drama My Mother Said I Never Should is a warm and understated show about the complex relationships between mothers and daughters. The show examines the lives of four generations of women as they live through the changes of the twentieth century and in their own lives.
Shuttling between 1923 and 1987, the play starts during the Second World War, where Doris encourages her daughter Margaret to work hard and speak properly. Margaret grows up to marry an American serviceman and moves to London. Years later, when her daughter Jackie becomes pregnant at 18, her baby Rosie is handed over to Margaret to raise as her own child. An action that has consequences for all of them.
Ordinariness is celebrated here; there are no hysterics or high drama. This is the story of a normal family undergoing the difficulties of normal life, that will resonate with much of the audience. Michael Cabot's gentle direction allows the audience to absorb the overlapping stories as they are presented, with the 1920s shown at the end rather than the beginning.
The play covers many themes, including love, loss, and a mothers' desire for higher achievement for her daughter, even if that means concealing the truth from her. Judith Paris is excellent as the stoic Doris, who veers into snobbery in her quest for Margaret to behave 'appropriately'.
Margaret is played with resigned formality by Lisa Burrows, frequently clashing with her rebellious daughter Jackie, a very convincing Kathryn Richie. Rosie is played with youthful animations by Rebecca Birch.
It is always challenging when an actor has to play their character as a child; overall this works in the play, but it is notable how overly petulant both Jackie and Rosie are as young children, which is a little jarring.
Keatley's writing is subtle, demonstrating the never-ending expectations for women to balance work, children and home life and do everything perfectly. Men are entirely absent from the stage but are often referenced in less than flattering terms. Doris endures a loveless and sterile marriage, Margaret's husband abandons her, Jackie has a stream of unsuitable boyfriends and Rosie lacks a father at all.
What Keatley is doing, rather than simply man-bashing, is to make fallible characters out of the women as well. The relationships are fascinating to watch; Doris is strict to the point of snappiness with Margaret and yet displays the warmth and indulgence towards Jackie that so many grandmothers have for their grandchildren. Jackie is cold and puts distance between herself, her mother and ultimately her own daughter. One criticism would be the length of the play, which is a little slow to start and could be sharper in places.
Bek Palmer's set is a wasteland where the children play; there are lovely design touches with abandoned old prams and a fallen fence panel that doubles up as a piano. A little more definition in the changing scenes would have been welcome; for example, Doris's garden could do with more than a sheet on the ground as a picnic blanket.
There is a feeling of cosy domesticity to the play, which sits alongside its darker heart. A fine piece of theatre, albeit a little too long.
My Mother Said I Never Should is at Richmond Theatre until 2 March, then touring
Photo Credit: Sheila Burnett
Related Articles View More UK / West End

Stories

Shows