BWW Review: MARY STUART, Duke of York's Theatre

"Heads." One word, and one coin toss, decides which roles Juliet Stevenson and Lia Williams will play on the night: Mary Queen of Scots, or her rival Elizabeth I. Last night Williams took the latter - the company immediately bowing to her. It was a comic moment that underlined a key theme: fortune is fickle, and power is a mirage.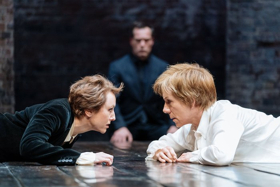 Robert Icke's modern-dress version of Friedrich Schiller's play had an acclaimed run at the Almeida in 2016. Now in the West End, the political context has shifted around it, but this complex, intricate study of leadership - specifically female leadership - in a fractiously divided nation remains exceedingly resonant.
The coin toss is far from theatrical gimmick, instead making it very clear how easily history might have shifted in the other direction, and how slippery the language of legitimacy and illegitimacy is: who defines monarch and pretender, refugee and traitor, royal and bastard, sister and enemy, true believer and blasphemer.
The Catholic Mary relies on that bond to save her: "You think a queen would kill a queen?" Yet her very similarity to Protestant Elizabeth, her insistence on equality of status and right to rule, is what makes her such a lethal threat.
Williams and Stevenson begin dressed identically, in androgynous black velvet suits; when the coin lands, the latter is stripped of her jacket, but the link remains. As Mary notes, "outward trappings" do not make a queen; her imprisonment and loss of possessions aren't enough to deny her claim, nurtured through a very different upbringing to Elizabeth's.
Icke's adaptation emphasises the performative qualities of monarchy and of femininity. Stevenson's Mary - seemingly a dedicated, thoughtful public servant driven to despair by being deprived of her mission - subtly switches (male-constructed) guises in order to influence those around her: damsel, lover, ruler, mother, martyr. The men of court fear women's weapons: beauty, "crocodile tears". They should fear their shrewd calculation as well.
It's most striking while in the court of Williams' sardonic, self-aware Elizabeth. Though she has a masculine swagger to her movement - the contemptuous flick of a cigarette, the pally physicality with her lads - she understands her role when keeping the French ambassador on the hook during cagey marriage talk, and releases a simmering sensuality in her interactions with Leicester.
Leicester is another mask-wearer: playing different roles with each queen. So, too, is the undercover agent Mortimer, and there's strong work from both John Light and Rudi Dharmalingam in making their convictions (whether real or constructed) appropriately persuasive, as well as a great black-comic beat when one sells out the other.
There's sterling support, too, from Elliot Levey as the wry, omniscient Burleigh, who creates the political smokescreen for "justice" to be served, Michael Byrne as the passionate Talbot, and David Jonsson Fray as the hapless Davison, tasked with interpreting a monarch's ambivalence.
Though perhaps overemphasised, it's fascinating to see how not just one but both queens are imprisoned: one literally held against her will in Fotheringhay Castle, but the other trapped by social and courtly constraints, by dangerously changeable public opinion, and by a cage of solitude.
In a stunning climactic sequence - gorgeously accompanied by an original Laura Marling song - Elizabeth is stuffed into her royal dress: the bodice that constrains like a straitjacket, the voluminous skirts and sleeves that bury movement, the white mask hiding her real face. She is a woman trapped inside a doll, a person sacrificed to the crown. Which queen does the screech of the axe really liberate, and which does it doom?
Hildegard Bechtler's stone-walled set is brilliantly evocative: a castle and a dungeon, and the boxing ring in which the two challengers finally meet. The central revolve emphasises the turn of history, so easily changed by one person or one moment.
If occasionally overwrought, Icke has wrested a vital modern thriller out of Schiller's 1800 play: one teeming with spies and assassins, breathless twists, moral and political quandaries, and all-too-contemporary issues.
Mary Stuart at Duke of York's Theatre until 31 March
Read our interview with Rudi Dharmalingam
Photo credit: Manuel Harlan
Related Articles