Review: MAMMA MIA!, Birmingham Hippodrome
The 20th Anniversary Tour of the feel-good ABBA musical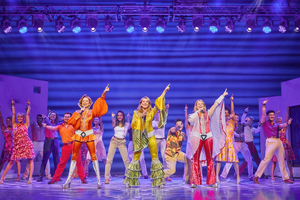 There aren't many places in the UK where you can experience the charms and sunshine of a Greek island, but the Mamma Mia! tour is one of them.
The sixth-longest running show in West End history, and the inspiration for two wildly successful movies, Mamma Mia! is an international success by any standard. Created by Judy Craymer and featuring music and lyrics by Benny Andersson and Björn Ulvaeus, the jukebox musical uses the much-loved songs of ABBA to tell a sweet tale of love, family and friendship. This production is directed by Phyllida Lloyd, and is very much a case of 'if you enjoyed the movie, you'll enjoy the show'.
The story follows 20-year-old Sophie Sheridan, who is desperate to know who her father is before she gets married. After reading her mother Donna's diary, she invites three possible dads to her wedding, and their arrival causes mild chaos. The plot may be flimsy, but it's entertaining, and Catherine Johnson's book manages to fit in plenty of humour amongst the songs.
Relative newcomer Jena Pandya shines as Sophie, with a wide-eyed, hopeful enthusiasm permeating all her scenes, and charming the audience. Her potential fathers, Bill (Phil Corbitt), Harry (Daniel Crowder) and Sam (Richard Standing) are all well-drawn, likable characters with their own distinct personalities, and Standing's Sam is particularly charismatic. Seeing Sophie's relationship with each man develop is touching, though we are left wanting more of this.
The heart of the show, though, should be Donna, the strong, independent matriarch, and unfortunately Sara Poyzer's performance is a little underpowered, resulting in her getting slightly lost in group numbers and when paired with her hilarious friends Tanya (Helen Anker) and Rosie (Nicky Swift). Her and Pandya's mother-daughter chemistry isn't quite on point, which lessens the impact of songs such as "Slipping Through My Fingers". Poyzer does, however, deliver a knock-out version of "The Winner Takes It All" towards the end of the show.
Mark Thompson's simple white and blue sets and Howard Harrison's warm lighting transport us straight to the Mediterranean and put us in a holiday mood from the start. However, the show's pacing is a little patchy. Act One starts strong, and Sophie and her two friends' performance of "Honey, Honey" is hilarious. The act rattles along to a strong ending with "Voulez-Vous", but in the first two thirds of Act Two the energy and momentum flags, with too many static songs. This is only lifted by the wonderful "Does Your Mother Know", where Anker effortlessly commands the stage, and James Willoughby Moore has the audience in hysterics as the lovestruck Pepper.
Fortunately the show picks up again by the rousing finale, and the three-song encore gives the audience a chance to get up on their feet and join in. This is a show which knows its target market and delivers on its promises of fun and frothy entertainment. It's an evening of sun-drenched escapism, and although it's not without its weaknesses, it will still leave you smiling, and probably dancing your way out of the theatre.
Mamma Mia! at Birmingham Hippodrome until 14 May, then touring
Photo credit: Brinkhoff/Mögenburg