BWW Review: COMMITTEE... (A New Musical), Donmar Warehouse

The line between the dramatic world on stage and the real world off stage can seem very thin. Shows written hundreds of years ago speak to today; others hit even closer to home, depicting actual events happening right now. The latest offering from the Donmar Warehouse speaks to the latter. Setting the high drama of the Kids Company scandal against an operatic score, Committee... (A New Musical) is a bold endeavour but one which doesn't quite hit the right notes.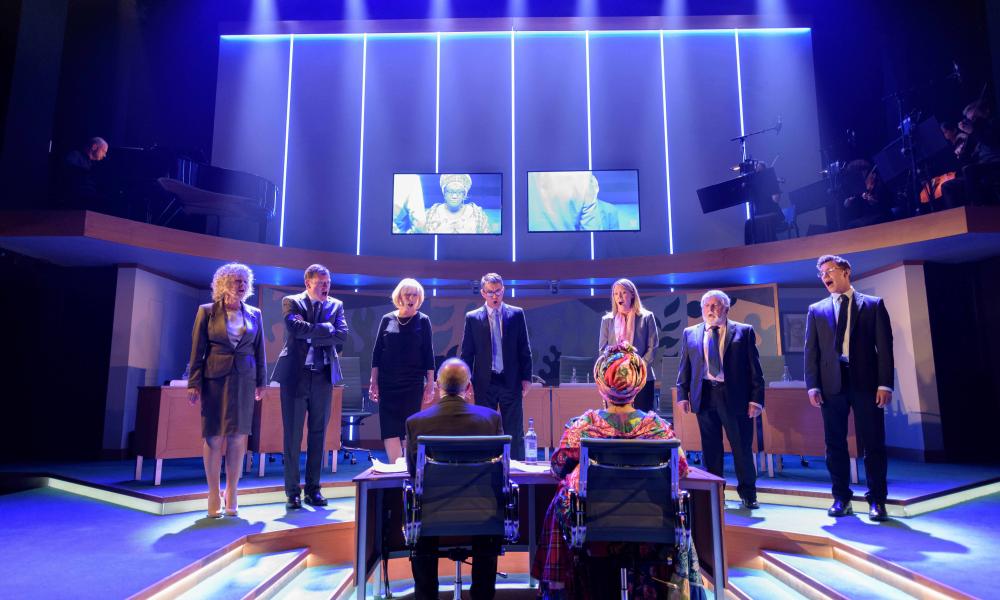 Founded in 1996, Kids Company was a charity created to support vulnerable children living in London. Despite fundraising by the Chief Executive Camila Batmanghelidjh and repeated investments from the government, the charity succumbed to financial difficulties and closed in 2015. The events leading up to its collapse came under intense scrutiny, including the revelation of a last minute £3 million government grant.
Tasked with examining Whitehall's relationship with Kids Company, the Public Administration and Constitutional Affairs Committee (PACAC) questioned Batmanghelidjh and Chairman Alan Yentob. The oral evidence given at that very hearing forms the basis of this production, reworked and retold through music by Tom Deering with lyrics by Hadley Fraser and Josie Rourke.
The stage is set for a hearing: the audience sits in a public gallery as they would be in Portcullis House, close enough that you could throw a custard pie. Watching as Yentob rebuffs and rebukes questioning, a foreboding strain is heard on the violin. Characters and revelations are underscored with such themes, alerting the audience that all is not well. It's an accepted and classic staple of films and television today. And this incidental music is not accidental. It serves to retell the actual events, and make us re-evaluate our perception.
Adam Penford's production continually plays with storytelling, blurring the line between reality and drama. The mundane is made high fantastical: actors break out into harmonies, handshakes are choreographed into dance numbers. Decrying the spending of £150 on a pair of shoes, the ensemble pull shoes out of nowhere. I wonder if we have strayed into Kinky Boots. It's an interesting juxtaposition: fact with falsetto. However, it is not one I am convinced works here.
There is no denying Tom Deering's score is impressive. But the soundscape feels incomplete. Witness accounts are spoken, evidence asked for and given in song. The juxtaposition between speech and song is sometimes jarring, between Fraser and Rourke's text and lyrics. The idea of a wholly operatic version intrigues me much more; in its current form, this feels unfinished and unjustified.
Yentob and Batmanghelidjh are already larger than life characters offstage. Onstage, Omar Ebrahim and Sandra Marvin heighten these even more. Marvin's portrayal is sympathetic and believable, as the devoted charity figure. Ebrahim's Yentob is suitably self-aggrandizing. In what is already a strong ensemble piece, JoAnna Kirkland and David Albury stand out as points of contact for the audience.
In a show which looks for answers, I couldn't help but leave with questions. Is this a story which needed to be told? Yes, but it already has been. The original hearing was open to the public, and all transcripts are readily available. Is this is a story which needed to be told in this medium? No. As the final refrain of "We Want to Learn" rings out at the end, we as an audience have learned very little. Save that arias and affairs of the constitution do not always mix.
Committee... (A New Musical) at Donmar Warehouse until 12 August
Watch our video: In Rehearsals with Committee... (A New Musical)
Picture Credit: Manuel Harlan
Related Articles