BWW Interview: Forbes Masson Talks SUMMER AND SMOKE
Last week, we spoke to Patsy Ferran about the West End transfer of Tennessee Williams' Summer and Smoke, playing at the Duke of York's Theatre.
Rebecca Frecknall's production places music very much at the heart of the play. Giving us an insight into how that world is created onstage, actor Forbes Masson also shares how that music continues offstage with a certain cast tradition...
What was your earliest experience of theatre?
It's a bit like what I was doing today weirdly, playing Santa Claus at my son's primary school. That's why my voice is all husky, I've been shouting "Ho Ho Ho!" at kids! When I was wee, a performing troop came and built a wooden stage in our school. I just remember going, "What is this? It's amazing!"
Also, my Mum and Dad were both involved in amateur dramatics and so that was always there. I always knew I wanted to do it. But a lot of people tried to make me not want to.
Really?
I think because they thought it was a precarious profession, acting.
That reminds me. There was a recent thing with Ofsted, the chief of Ofsted said all that stuff about not doing arts courses. That really pissed me off. Because I remember sitting in secondary school and a careers advisor saying, "What do you want to do?" I said, "I want to be an actor". And he just laughed.
So I did a year of accountancy and then realised I did want to go to drama school. And I got in and went back to get my headmaster to sign it off. His face dropped. He just signed it, that was it. There was no congratulations.
So I think we should be supportive of those paths and young people wanting to get involved. Like my son Ramsay, he's just been in Fun Home at the Young Vic this summer. And we didn't push him to do that, he just heard the songs and loved them and wanted to audition. And he got it.
For me though, it always felt a bit like maybe I shouldn't be doing this...maybe I've felt that for my entire career! "Oh, I'll be found out this time!" But low and behold, thirty odd years later, I'm still cracking on.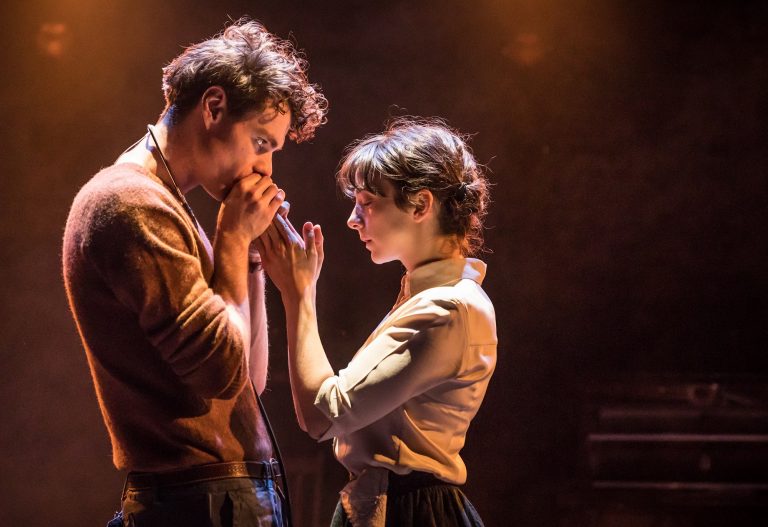 And in those thirty odd years, you've worked across such a wide variety of mediums. Even the last year or so: a classic with Summer and Smoke, a musical with Little Shop of Horrors, and new writes like Boudica.
Yes. And doing all that variety, it's sort of been my career.
Growing up in Scotland, working at places like the Tron Theatre in Glasgow with Michael Boyd. There's a style of Scottish theatre where you had to do everything. Because it's a small pool, in order to keep working up there, you had to turn your hand to everything.
Also at drama school, I didn't do an acting course. I did a degree course and got a bit of acting and a bit of directing. That's when I met Alan Cumming and we were in the same class, and someone pointed us in the same direction and said you should do something together.
We would always try to do something different, like the cabaret with Victor and Barry. And that allowed us to have the money to experiment in other, more serious dramatic pursuits. It was a real thing of wanting to challenge yourself all the time.
So what is it that attracts you to projects then?
The main thing for me from early on was wanting to work with good directors. So I was spoiled, getting to work with Michael Boyd twice: first at the Tron and then the RSC.
So with Summer and Smoke, I'd worked with Rebecca [Frecknall] a few times before. First, when she was the Assistant to the Assistant Director in Rupert Goold's The Lion, The Witch and The Wardrobe. Then when she was Michael Fentiman's Assistant Director, when I did The Taming of the Shrew at the RSC (the cross-gender one).
And that someone I know is getting the opportunity to shine like this now, it's wonderful.
On Summer and Smoke, had you done any Tennessee Williams before?
You know what? I knew his work, but I'd never been in one of his plays.
It was so interesting reading about him in rehearsals. Actually, Patsy said something on the first day and I remember being quite blown away by it. She'd visited Clarksdale where he grew up and she came in with pictures...
Yes! She told us a bit about her "Tennessee Williams Pilgrimage"!
It was amazing! Then we did the reading and afterwards she went, "It's like he's here". And I agree. There's something about it. Because it's one of his best remembered plays, but something has just been unleashed in this production.
There's this whole bit in his autobiography, saying he was trying to create a different form of theatre, and directors didn't know what he was talking about. They just weren't getting it. And I think perhaps previous productions have been crippled by naturalism, and the beauty of Rebecca's vision (together with Tom Scutt's expressionistic design) is it's just set free.
There is a real energy, even from the music which you all play. Did you know how musical that world would be?
A bit. I mean, luckily everyone was capable keyboard players. And the music was coming in dribs and drabs in rehearsals, which was great because we weren't suddenly going, "Oh God!" and being overwhelmed by it.
I didn't, however, know about the singing in my death sequence. So when we got to that in rehearsals and I went, "What are we going to do about that?" Rebecca said, "I think you might sing". So when Angus MacRae's beautiful song came in I just went, "I just get this. This is great."
It's such a beautiful moment...and your voice is so high!
Yes! People are always surprised by my range! I mean I always knew I had quite a wide range, from the songs I'd write for pantomimes for the Tron and musicals in Scotland and writing silly songs with Alan.
But it wasn't until I did Feste in Twelfth Night, which Michael directed. They wanted a sort of jazzy, Chet Baker feel to the music. And Chet's got this amazing, high voice so John Woolf threw some of these songs into it and discovered I had this really high range.
So Rebecca knew I had this "angelic" sort of voice! And it's a great moment. Although there was a point at the Almeida, when our set had so much dirt and it got really dry and my voice just went. So we had to cut the song for a couple of weeks.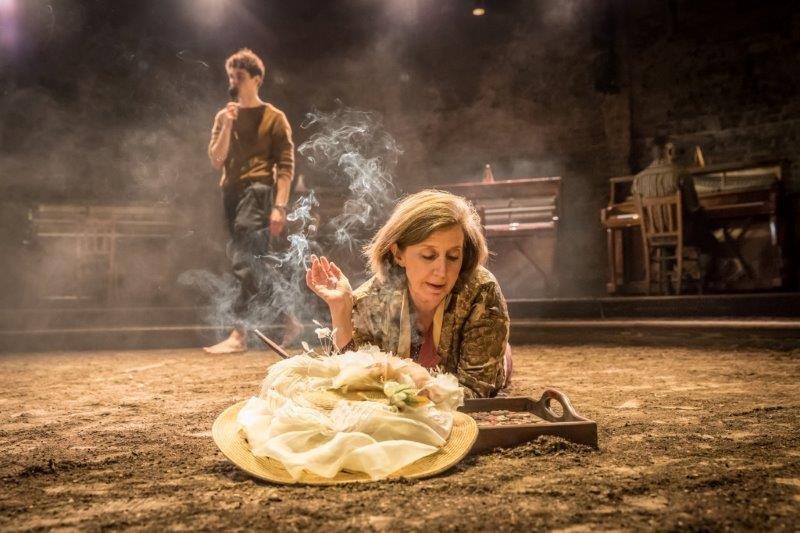 Oh no!
Someone saw it here the other night and said, "I saw this at the Almeida...I don't remember you singing!" And that's probably because I had no voice!
And as we sit here, I can hear some vocal warmups and pianos tuning...
You should've come on a matinee! Every matinee day, one of us has to pick a song to play to the other cast. Graham Michael, our Stage Manager sets it up for us and it's usually after we've all woken up from our post-show nap!
This actually is a bit about stars aligning again. My turn came and I didn't know what to do. And I remembered that there was a song I really liked called 'If I Didn't Care' by The Ink Spots. So I looked it up and I discovered it was one of Tennessee Williams' favourite songs!
No way!
Right? It gets even more strange. So the other night I thought I would play that and I wondered where it is. And I came across Tennessee Williams on Desert Island Discs. And I started listening to that and I went, "This is too weird..." Hearing his voice and then being on stage, listening to Patsy [Ferran] and Matt [Needham] and going, "Oh my God, I can hear him. He's here."
That's what amazing about doing plays like this: the voice is still there. Tennessee Williams' voice still speaks to us, it's still as relevant as ever.
Finally, congratulations on the transfer to the Duke of York's.
Thanks very much! And this is my second time here, I did Jamie Lloyd's Doctor Faustus a couple of years ago.
It's great that Sonia Friedman had the faith in us to produce this. It's nice coming to West End theatres. You can sometimes think, "Oh they're just shells. Shows come in and go". But they're not, because there's teams of people here. They're always very welcoming, particularly here.
And we discovered the other day we've played to 20,000 people so far here alone. We're bringing it to a much wider audience than would normally see it. And I'm one of them, I get to watch it from onstage every night too!
Front row seats!
Exactly, I've basically got free seats every night!
And you know, going back to what we were talking about earlier about acting being a precarious profession. I think it's not really a career; it's more of a vocation. Now that I think about it, it's like a study.
Because even now, watching Patsy and Matt and Nancy [Crane] and Eric [MacLennan] and Tok [Stephen], Seb [Carrington] and Anjana [Vasan], watching them perform and learning from them is brilliant. I'm very lucky to be able to get to do that (and I'm sure they learn a bit from me too!)
So I think it's probably a good thing my careers advisor went, "You're not an actor" way back when. Because it's made me think I'm not really an actor. Honestly, I'm very insecure and always think I'm not good enough. But it makes me try harder to be better and want to learn even more.
Summer and Smoke at the Duke of York's Theatre until 19 January, 2019
Check out our interviews with Patsy Ferran and Matthew Needham from the first few weeks of rehearsals,
Photo credit: Marc Brenner