Click Here for More Articles on JULIUS CAESAR - London
BWW Interview: Bunny Christie and Tony Grech-Smith On the JULIUS CAESAR NT Live Broadcast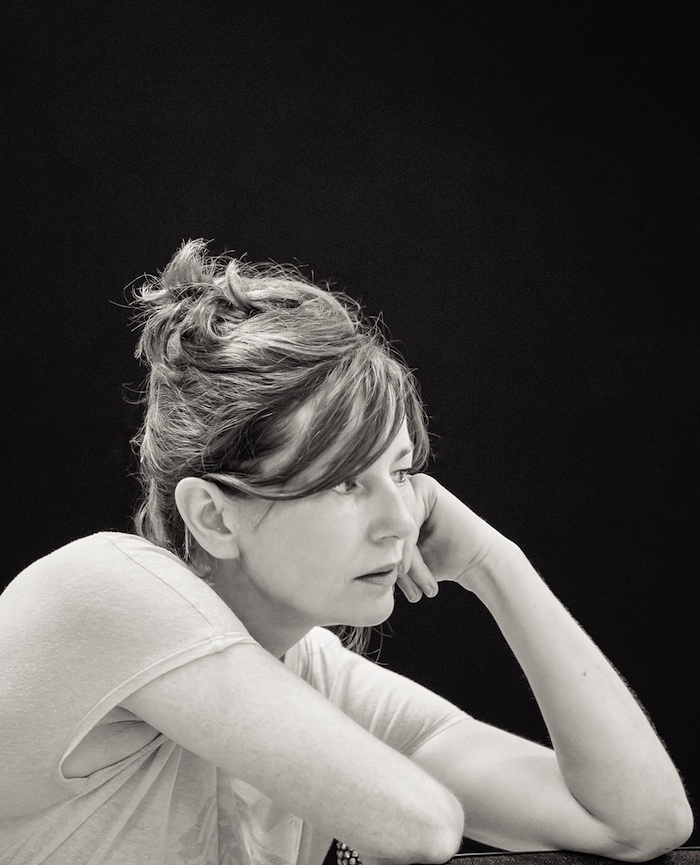 On 22 March, the Bridge Theatre's production of Julius Caesar - directed by Nicholas Hytner and starring Ben Whishaw, David Morrissey, David Calder and Michelle Fairley - will be broadcast via NT Live. Bunny Christie and Tony Grech-Smith discuss, respectively, designing the show and translating it to screen.
BUNNY CHRISTIE, JULIUS CAESAR DESIGNER
Was the promenade staging, with the audience in the pit, something you and Nick Hytner discussed early on?
Yes, it was. Nick was really interested in looking at the possibilities of the space and what would be workable. That was hugely exciting to me, as a designer. It's really fun, on only their second show, to completely reimagine their space with this promenade staging, and the standing audience moving around with the action.
How did you work out the practicalities?
The first step was taking the idea from Nick and seeing if it was feasible - how many people we could get in, how we'd move them around, make it feel inclusive. I also designed the new onstage seating bank that fits into the auditorium.
The theatre was still being built then - that was exciting for me as well, seeing the space in its very early stages, as a concrete shell, right through to performance, and every time I went there would be a massive change.
So we did the first calculations as a computer-generated model, thinking about how much space one person might take up and then how many would fit. But we weren't sure until the dress rehearsal, when we got a bunch of students in to physically test it out.
The team are so good at moving the audience around without it being too intrusive
Hetty, the stage manager, and her team are really great at that - she's taught them how to do it so you don't feel bossed around. I've been to a few things at the Globe and been a groundling; that's slightly different, as you're quite passive - you find your spot and stand there. With this, the action is moving around you, so it's more immersive.
The raised platforms are a great solution to possible sightline issues
We were very aware that people needed to be able to see! It's annoying if you're struggling to find the action. So having those lifts is a good way of making sure everything is very visible.
We had a few ideas on the optimum height for them. They weren't part of the original Bridge kit - they're specific to this production. I was nervous about how noisy they'd be, how quick or slow. It's really important that nothing holds the action up. So all of that was a bit of an adventure.
Nick's very keen to explore - he's hands on and practical. And he's great at working things out very precisely in rehearsal. Things change in the space, but he's got a really firm blueprint - that's great for the technical team, because you have a base and then you can add ideas on top.
Did you change much once you saw how it worked with an audience?
We did have some minor things - once we saw how quickly things were moving, there was some slightly adapted choreography. Sometimes we've got something happening in a crowd or someone passing through the space as we're changing a room to a bus shelter or similar, and that just helps to keep the action going, and gives people a threaded-through excitement.
Speed is the key in Shakespeare. Certainly in this - it's a fast-paced, straight-through show and you just want to keep it going. Then you have room for scenes that settle in quietly, like Ben's very interesting political discussions, and the audience can really listen to that.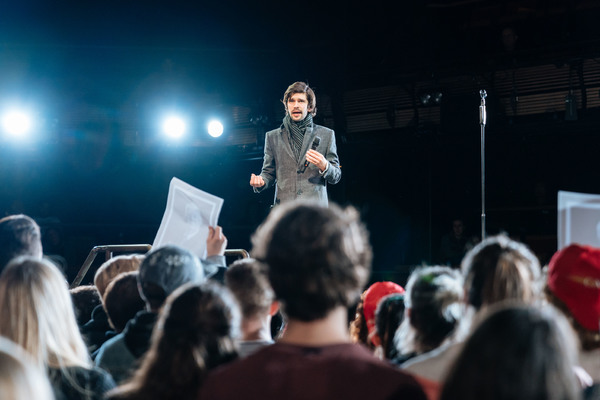 Is it challenging to make sure all the audience can follow the speech?
Audibility is really crucial, and the clarity of the actors speaking. We've got radio mics on, which really helps, but obviously if someone faces away from you it's harder to really key into the exact nuances of what they're saying. So that's something we were very sensitive to.
We built computer models to test the experience for both those seated and those on the ground. I've found it's very exciting to watch from right up top too, but it's great that being in the crowd is probably the best experience, and that's open to lots of people.
Did Nick give you any specific design reference points, like Trump?
We didn't talk about Trump very much actually. A lot of our research was Eastern European - like watching the documentary Winter on Fire, about the Ukrainian revolution. There's an obvious link to Trump, but initially we were much more interested in people's revolutions in that Eastern European world.
And having the audience as the crowd is so effective
Obviously in Julius Caesar there's a whole thing about the mob, the plebeian, how easily swayed we are, and the duplicity of leadership in how skilful they are at manipulating what we think and feel. It's so interesting to see and experience that first-hand.
If that was your first experience of Shakespeare, it would be a great place to start. It shows how incredibly pertinent his writing is - this piece just has so many lines and ideas that feel very modern.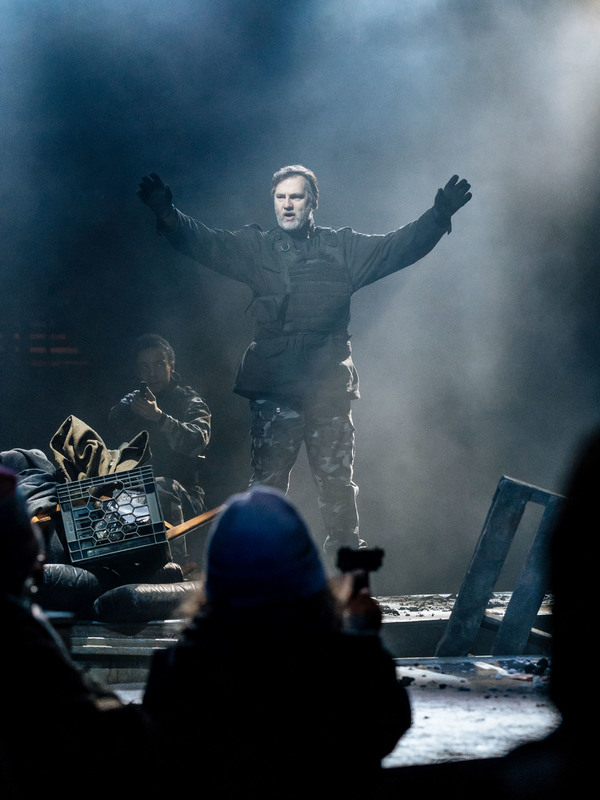 I also loved your approach to the battle scenes
The idea we had there was that the battles are civil war battles. It's in the city, not out on some field. So one side is the army all tooled up, and on the other it's more the people's army.
There's something much more relatable to us about that imagery - we've seen on TV all sorts of people's revolutions going on in the past 10 years: people in amongst the buildings and city squares, smoke bombs going off, armies shooting on crowds. It feels more real to us as civilians.
And in terms of political rallies, even in central London we've got experience of that feeling. It can be exciting, too - the adrenaline rush, that feeling of "We might change something here".
Has the audience response surprised you at all?
When we first did the moment in the Senate, after the murder of Caesar, where we call for everybody to get down, the whole audience did exactly as they were told! It was almost as if they did it before they heard the command. That was really funny - and slightly alarming, how biddable people are when someone in authority gives an instruction.
Do you factor in the NT Live broadcast in your design?
Not really - you can't think ahead of time. It's very much a theatre production. But I love how the broadcasts are done now. They're much freer at getting the essence of the production, and I'm really excited now to see how this particular audience experience is put across.
TONY GRECH-SMITH, NT LIVE BROADCAST DIRECTOR
How did you get into NT Live?
I'm a multi-camera entertainment director, so I've done studio shows and outside broadcasts. In 2015, I got invited in for a meeting at the Donmar and asked about filming a live play for General Election night, The Vote. It was a real challenge - no one had done anything like it before. I'd always wanted to get involved with NT Live, and thankfully Emma Keith then got in touch and asked me to do Les Liaisons Dangereuses.
How long do you have to prep for a broadcast?
About a month to six weeks. It's a fascinating process. First I tend to go buy the play and read it, so I understand the text. With Julius Caesar, I watched the 1953 film with James Mason as well, because I wanted to get a range of ideas.
When I went to the dress rehearsal, I didn't know what to expect - it was quite overwhelming, just a fantastic show. But I have to watch it not as a regular theatregoer; I'm constantly thinking geography, language, "How am I going to convey that?". Like when someone arrives, you're aware with a glance or just in your peripheral vision in the theatre, but I have to get that across to a cinema audience.
How do you decide where to place cameras?
So I watch it twice in the theatre from two different angels. The first time I get an idea of where to put the cameras, then the second time I make sure that works. I also get a scratch tape - a high, wide shot of the theatre - and watch that recording. That's what I script from - so I put marks against the script, like 'I want X camera to give me a close-up here'.
I then watch the tape with my crew and explain each scripted shot. We go into the theatre a day later and shoot it completely cold. That version gets taken to the screening room, with all the heads of department. It's a bit mortifying as a director, because your first rehearsal is being scrutinised and you can see what's not right! But everyone's very forgiving.
Out of that comes specific notes. Like on this one, Nick said things like "I can see you stayed on a group shot here because you wanted us to see the room, but I'd be braver - go closer". So then I rescript it.
Who's on your crew?
There's the camera operators and also a lighting designer who works alongside the theatrical lighting designer. Because our eyes are sensitive, we can handle low light in the theatre, but the cameras can't. So I'll create screengrabs of scenes where I need more light.
Is this promenade production a particular filming challenge?
There's a lot going on here: one moment there's a band, then it's a living room, then an apartment, then a barricade. Plus the audience moving around. And you have to be careful when you're shooting not to cross the line. Audiences are so sophisticated - they understand the language of watching pictures.
With this production, sometimes the play favours one side of the room, or the scene changes from side to side, so I have to keep changing the geography of the shots to make sure it translates on screen.
How many cameras do you use?
The NT Live budget usually allows for at least five or six cameras. We'll have up to eight on this - we're using them quite cleverly. On the two long sides of the auditorium, in the first row of the seated gallery, I've got two X track cameras. They're remote, so we don't have a camera operator taking up more seats. And those cameras give me flexibility - if someone is suddenly blocked by another actor, I can just track left a bit.
Do people move around a lot on the night?
Well, with Saint Joan, the rotating set was on a remote, and it never hit the same mark twice! With this it's a bit easier, because of the hydraulic lifts - that means the cast has to be quite precise about where they stand. There are eight blocks that rise at different times, and you can see the lines of them on the floor, so that saves putting marks down.
How will you capture the pit experience?
We have a wireless handheld camera in the pit. I had a great conversation with Nick beforehand, and he said he was going to break all the rules in the sense that there would be a band in the auditorium when you came in, and straightaway you'll know it's not a conventional take. We talked about capturing the feeling of a political rally - and when you see one on the news, there's usually a camera in the crowd bobbing around. So I've got the chance to be a bit creative there.
The Bridge is a lovely space to work in - they've put a lot of thought into it. Obviously Nick's so experienced, he knows what he wants, and it's great to have the flexibility to take out seats and change up the space.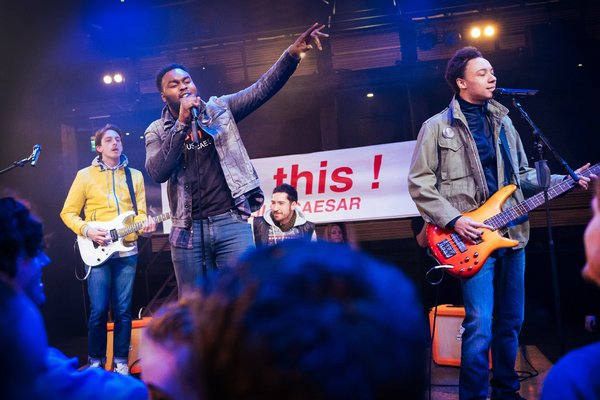 Do directors sometimes struggle to hand over control to you? You're making crucial choices like what to show and how
I've worked with three directors, and the approach with each one is different, but they've all been great. And I'm sympathetic anyway. I want the cinema audience to enjoy the theatrical performance - I'm not trying to make a movie. I'm very careful that the energy and pace of my cuts is invisible.
Sometimes there's an element of judgement - like clearly he's talking to her, and she's listening intently, so I probably want to see her reaction. But then on the big screen you realise actually no, I want to stay on him, so I keep the rhythm of it. Sometimes you need a reaction shot, sometimes you don't. The great thing with NT Live is they understand we need this whole process to capture all the tiny moments.
Is it nerve-wracking on the night?
All being well, the planning's done and the cameras know where they need to be, so I can just sit there and ease them in - just craft it. Sometimes things don't go to plan, like in one play a key transition was meant to happen, and I'd set the shot and it just didn't! It was a dropped technical cue.
But I had a fallback - a high, wide shot of the stage, via camera 1 - the easiest button to find! So it's OK to cut wide and just take stock for a few seconds. I'm a very calm director. I know if I'm calm, my team will be calm.
One thing I've noticed is that show might run a bit faster on a broadcast night, just because there's that extra adrenaline. The cast is wound up and off they go! But they're all pros, and my team, we've done shows like Strictly going out live to millions, so you just have to have confidence that it'll be all right.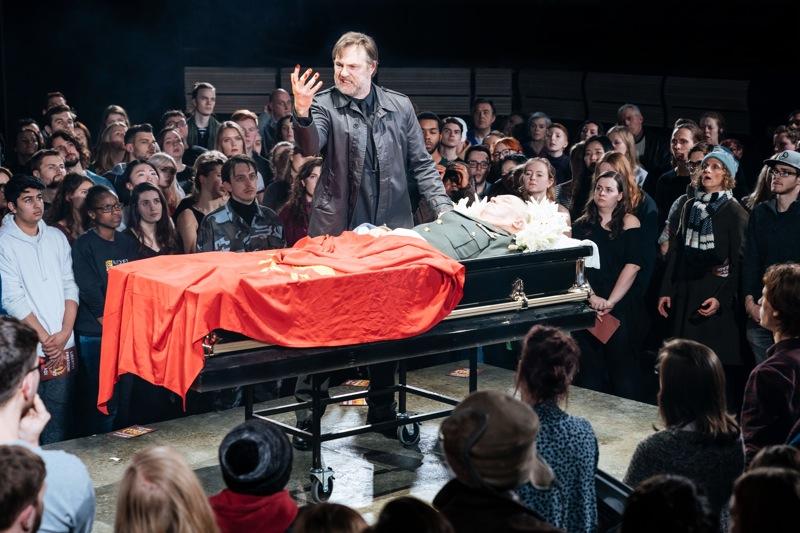 Is there extra pressure that it's on a big screen?
Well, I love my job and I always strive for perfection working for TV, but you do know it's a box in the corner of the room and people are looking at their phones or chatting, so if something goes wrong it's not the end of the world. With NT Live, the picture's so big and they're watching intently!
What sort of comments have you had from viewers?
I had a lot of positive feedback from Yerma. The best was from a producer friend who said "I got completely lost in the performance". That means I'm doing my job properly.
It's really nice hearing not just from friends living in London, but "Oh, my mum saw it as well", out in her hometown. It surprised me just how much the work does get seen, and talked about, all over the place. I remember at the end of Yerma looking at Instagram comments from Russia! That was mad.
Would you like to do more in future?
Absolutely, I'd love to. There's always something else great coming along. I can't wait to see how Julius Caesar goes down - it's such an engaging story, so current, and it's just really fun to be a part of. Certain lines in the play get this amazed titter because it rings so true for today. It's a really exciting piece to share with a wider audience.
Julius Caesar continues at the Bridge Theatre until 15 April, and is broadcast by NT Live on 22 March
Photo credit: Manuel Harlan, Johan Persson
Watch a trailer below!
Related Articles