Interview: Ashley Gilmour Talks MISS SAIGON Tour
Ashley Gilmour's previous work includes Link Larkin in Hairspray and the ensemble of the original revival cast of Miss Saigon. Now, he's graduated to playing Chris in the UK and Ireland tour of Boublil and Schönberg's legendary musical, which begins at Curve Leicester on 1 July.
What was the first musical you saw?
I think watching the film Singin' in the Rain with Gene Kelly was a massive inspiration - that's the first musical I ever saw. Then I went to see Billy Elliot in the West End, when I was 11 or 12, and I thought it was absolutely incredible. I remember saying to my Mum "I want to be on that stage, I don't want to be sat in the audience".
When did you realise you wanted to act professionally?
In primary school, I was part of the Christmas plays and things like that and I really enjoyed it so I joined a youth theatre company in Witchford, near where I went to school, and another one in Soham. From there I did two musicals every year. My Mum and Dad started saving money for college, and when I was about 16 or 17 I thought about doing it professionally.
Where did you train?
I trained at Arts Ed, which was the best three years ever. They've got fantastic teachers, and the way the course is structured I found personally to be the best.
What was your first professional acting job?
Well, I did a pantomime in my second year at college at the King's Lynn Corn Exchange, and then my first job out of college was Bare: A Pop Opera at the Greenwich Theatre, and I played Jason for the last week of the run - that was really cool. Then my first big West End job was Miss Saigon at the Prince Edward.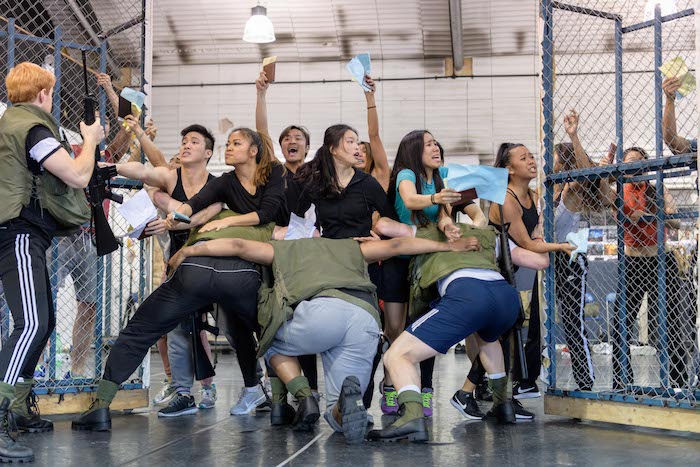 How do you approach coming into long-running shows?
Once you've rehearsed the show and set it up, it's a lot about stamina. That's one thing I learned at Arts Ed; you go into Arts Ed being able to sing and dance, and then you learn techniques that allow you to do eight shows a week, which is very important. In terms of character, I think it's important to be in the moment. You don't need to be a robot and do it the same every night. You can change it up, try new little things - you have to keep it real for the audience.
When did you first see Miss Saigon, and what was your response?
I actually didn't know that much about Miss Saigon before I was in the original West End revival cast, and I hadn't seen it until towards the end of my year in the show when I got to do a 'show watch'. I think I cried a little bit!
I couldn't believe this was the show I was part of - the story and music are incredible. The set, the lightning, everything. There are so many different aspects of the show that when you watch it as a whole it takes your breath away. I remember going backstage and everyone laughing at me a bit because I was a mess, so proud!
How did you become involved with the show?
I auditioned for the revival cast in London. I'd been in a final for Les Mis, and things like that, and I went into the audition for this hoping it would be my first big job - and it was! I think it was good to be in the ensemble as I was still quite young and it was a really good first show for me.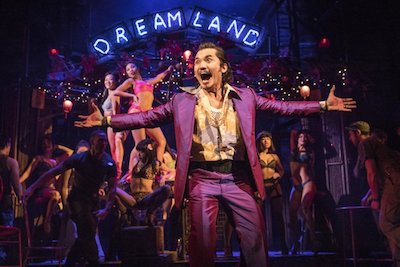 What was it like putting together the 25th anniversary recording and cinema broadcast?
The 25th anniversary was absolutely incredible! I've never really done anything like that before. We did the show and then Lea Salonga walked out on stage and the audience went crazy and everyone had their cameras out, taking pictures with them flashing and stuff like that. It was the closest thing to being in a concert that I've ever experienced.
What was incredible was working with people who were in the show originally, and some of them I know, some of them have taught me - it's funny how the industry interconnects. Obviously, Jon Jon [Briones] was in the original cast and that was amazing for him to stand with his original cast members and his cast members for the revival - it must have been a great journey to go through. It was an incredible night, definitely one of my top nights I've ever had.
Did you learn a lot from working with the original cast?
Yes! It was my first big job, so I learned a hell of a lot. Watching Jon Jon, who is one of the best actors I have ever seen. I used to sit side of stage and just watch what he does, and how he is on stage and I learned so much from him. He's so real and so fresh every single night. It's never "This is where I'm supposed to stand, this is what I'm supposed to say", it feels like it's just coming out of him for the first time. I think that's such an impressive quality and what makes an incredible actor. He's amazing, he's absolutely amazing!
Tell us about your take on Chris - are there particular ways you relate to the character and his journey?
It's interesting, I feel like if I had been a cover or played Chris when I was first in the show in London I wouldn't have been able to pull it off. I think I needed to go away, experience life a little bit, grow up and become more mature. I think that's what I've done - I've come back to the show now and I've experienced a few more things in life and I can relate to him.
Chris holds a lot of emotion in; he can find it very hard to open up and tell people what he's feeling. He finds it easier to walk away and bury his head in the sand - I can really relate to that, that's something that I've done in the past and still do! I'm learning not to do that, but that's something I can really relate to. He's a very interesting character, and at the start of the show you've got to find that balance between him being a thoughtful, relaxed GI, but still a GI after all. I'm really enjoying playing him - he's got fantastic songs and it's a great part.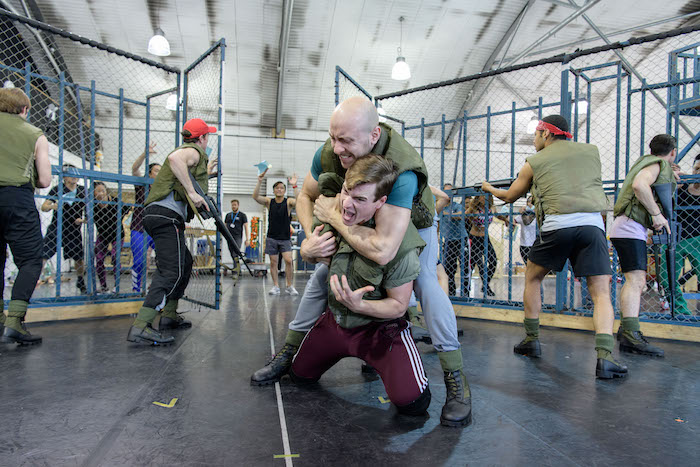 Did you do much research into the period?
Yes, we watched some videos and there are two really interesting ones, one called Hearts and Minds and one called Last Days in Vietnam. They're really, really interesting documentaries and about the exact period the show is set in - the two weeks before the Americans left Vietnam and then obviously three years after they left.
I also read some books and watched Full Metal Jacket and stuff like that - it's good to try and get a sense of what they went through. Full Metal Jacket was really good because you see the training, how they've been trained and what they've been through before they even got to the war. I think it's important to do that - you need to invest time into the research because if you've done that and you know who you are, where you are, then telling the story is a lot easier. It pays off!
Which number are you most excited about performing?
I really love "Last Night of the World" - I think it's absolutely beautiful and it really builds up. It starts off with me trying to reassure her that everything's going to be fine, we've got to celebrate and live in the now, and then it builds and builds and builds. It's beautiful, really passionate and I love it!
I'm not in it, but I also love "American Dream". Watching Red Concepcion do the first little section before all of the ensemble come in is amazing. He's very clever with his choices and although I'm not performing that number I'm really excited to watch it.
What are the most enjoyable and most challenging things about touring?
It's been a massive challenge, stepping up to playing this part. Coming from Link Larkin to Chris is a massive change and is something I needed, to really push myself and become a bit more of a man and more mature. It's a massive challenge but I'm absolutely loving it!
It's going to be nice touring and staying in venues for longer periods of time. When we did Hairspray we did a week at a time, so it will be nice to be in a city for a few weeks. I think the most challenging thing is staying fit and healthy - got to keep on top of it all!
Any future dream roles?
I would love to play Elder Price in The Book of Mormon, that would be really, really cool, and I'd love to play Don Lockwood in Singin' in the Rain - I can tap, but I would have to have a few tap lessons before I auditioned for that! I played it as a kid in youth theatre and I'd love to do it again.
Finally, why do you think the show is still so beloved, and what resonance does it have today?
I think the show is so important today because everything that happened then - war, families being torn apart, refugees and people scared, fleeing their homes - that is happening now, today, and it will happen tomorrow and in years to come because unfortunately we never learn. We never learn to love everyone.
It's as relevant today as it has ever been because all of that's still going on. I think it's important people see that in all of that violence and death there can be this beautiful love story. It's just so relevant to what's happening today.
This show particularly people should see because it's a West End-quality show in cities around the UK, which is something Cameron [Mackintosh] is passionate about. When he takes a show on tour he doesn't cut corners or make things less impressive, and I think it's important it's a top-quality show.
Find full tour dates and book tickets for Miss Saigon
Photo credit: Matthew Murphy, Manuel Harlan