A Night with the Stars at the OLIVIER AWARDS 2019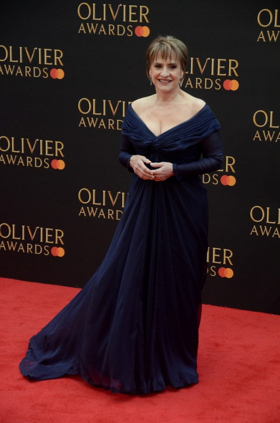 A chilly, grey April afternoon: not the most auspicious weather for an occasion such as the Olivier Awards. Before the nominees and guests arrived it looked set to be another rain-soaked affair, as fans and members of the press were subjected to a bit of a drenching.
But with the arrival of the stars came a dry spell - and a chance for us to chat with a selection of excited (and nervous) artists on their way into the Royal Albert Hall.
Though for a while before that, the Mamma Mia! girls (Sara Poyzer, Kate Graham and Ricky Butt) were gamely roaming the red carpet in full Dynamos get-up, there to present a couple of awards later on and celebrate the show's 20th birthday. Describing it as "love, forgiveness, friendship, glitter and joy", they believe it's down to the "honest story" that the show has managed to stand the test of time.
Fellow presenters Kevin and Joanne Clifton have both made the move from BBC's Strictly Come Dancing into musical theatre, with Kevin about to begin Burn the Floor before returning to Rock of Ages, and Joanne currently touring The Rocky Horror Show.
They were honoured to be there to present the Best Theatre Choreographer award, but that didn't mean the nerves weren't creeping in - Joanne said she was concentrating on "not falling over" onstage!
Current Everybody's Talking About Jamie star Layton Williams was also on presenting duty, and added, "I do feel a bit anxious, but excited at the same time".
One of the big nominees of the night was, of course, Company ("Isn't it wild?!" was Patti LuPone's response); director Marianne Elliott kept tight-lipped over a potential Broadway transfer for the show ("Fingers crossed!"), while producer Chris Harper praised her as "the real genius" behind the reinvented version of the show.
"The queens are taking over, baby!" The sheer joy that radiated from the principal cast of Six, as well as its writers Toby Marlow and Lucy Moss, plus the three alternate queens ("We're going to party regardless!") is an element that events like this need. It was clear that they were all thrilled at the attention the show was getting, and wanted to make the most of every moment of it.
Later on, in the warmth of the press room, excitement and nerves turned into shock and disbelief from the parade of winners that started to file through. "It's absolutely insane!" said The Lieutenant of Inishmore's Chris Walley. "I was just so happy to be going on the West End."
Patsy Ferran was a popular winner amongst the assembled press, picking up Best Actress for her performance as Alma in Summer and Smoke - "I'm still processing it. It's all good things though!". Initially, she'd been unsure about taking on the role, but meeting director Rebecca Frecknall convinced her: "I realise how lucky I am to have been chosen to play that part."
The winners were quick to pay tribute to their colleagues, with Monica Dolan (All About Eve) saying that she loves the cast, so "it seems a bit unfair that I got an award", and Sharon D. Clarke (Caroline, or Change) later said: "This is not just for me, it's for the whole cast; it's an ensemble piece."
Kobna Holdbrook-Smith (Tina: The Tina Turner Musical) seemed genuinely overcome by his win. "I can't quite understand how this has happened, and I'm so elated that it has! Adrienne is a sensation and she inspires me every day."
One of the big winners of the night was The Inheritance, which transferred to the West End following a run at the Young Vic last year. "All I wanted to do was get the play out," explained writer Matthew Lopez. "We stayed very much in the present."
Later in the evening, Kyle Soller saw off stiff competition to take home Best Actor - "I'm really humbled right now." He was also full of praise for Lopez's work ("I read the script in 24 hours") and was glad to be part of a piece of theatre that was so important for the LGBT community and beyond: "We can make more of these stories and push them out."
Come From Away also fared well, and their producers paid tribute to everyone who's been involved in the show: "A huge thank you to all the companies, bands, and casts who have brought us to this point."
Kelly Devine (Best Theatre Choreographer) was keen to point out the trust shown in her by the London cast, and noted the differences between the companies that she's worked with. "This cast, they have a different energy. The way they feel the music - they really present every moment."
We were also fortunate enough to have a quick word with Dear Evan Hansen composers Pasek and Paul, who were there to present the Outstanding Achievement in Music Award and "soaking up every minute".
With the influx of Broadway shows over the past year, they were enjoying the chance to catch up with some familiar faces ("it's exciting to hug your friends!") and confirmed that this is the final week of auditions for the West End production, so they will soon know who the London Evan is...
Sir Matthew Bourne had a long wait before he could pick up the Special Award, recognising the immense contribution to theatre that he has made throughout his career. "I've got eight of these now, I don't know what to do with it!"
He doesn't often make new shows, preferring to bring back previous ones and tweaking them - for example, The Red Shoes makes its return towards the end of this year. "I love reviving work, I love recreating pieces - it's a pleasure for me."
One thing we wanted to know was what plans the winners had to celebrate - and there were some interesting responses! "Assuming my wife doesn't kill me", said Come From Away sound designer Gareth Owen, who had forgotten to thank her in his speech, "I'm going to get drunk!".
Affiliate Theatre winners Flesh and Bone had a similar idea, with Elliot Warren suggesting "shots and canapés" - though co-writer/director Olivia Brady remembered, "I need to call my mum!". I think Company's Marianne Elliott and Chris Harper had the most fun idea though: "We're going to dance around this Olivier Award until they throw us out of the party!".
This year's awards had been quite difficult to predict, with a smattering of household names amongst the nominees and a lot of quality productions all vying for the same prizes - this made it a pretty interesting watch, ending up with very worthy winners.
Risks taken by some creatives were rewarded richly, and memorable performances given the accolades they deserve. The set of awards themselves are perhaps in need of a refresh, to more accurately reflect the advances in theatre-making, but this was a night of joy that will live long in the memory of all involved.
Picture credit: Phillip Cowndley
Related Articles View More UK / West End

Stories

Shows