Photo Flash: First Look at Adult Drama OTHER DESERT CITIES at the Old Opera House
Other Desert Cities runs now through February 12, 2017 at the Old Opera House in Charles Town. BroadwayWorld has a first look at the cast in action below!
Brooke Wyeth returns home to Palm Springs after a six-year absence to celebrate Christmas with her parents, her brother, and her aunt. Brooke announces that she is about to publish a memoir dredging up a pivotal and tragic event in the family's history-a wound they don't want reopened. In effect, she draws a line in the sand and dares them all to cross it. Other Desert Cities was a finalist for the 2012 Pulitzer Prize for Drama.
The cast includes Melissa Powell, Christine Brewer, Charles Boyce, Amy Hebb and John Glymph.
Be sure to reserve the best seating by calling the Old Opera House Box Office at #304.725.4420 or purchase your tickets ONLINE. Performances/Prices: Fridays & Saturdays @ 8pm | $22.00 Adults; Sunday matinees @ 2:30pm | $22.00 Adults; Youth (up to 17): $15.00 | Seniors 65+ & Students (18-25): $19.00.
*Other Desert Cities is staged by arrangement with Dramatists Play Service, Inc.

Christine Brewer
as Polly Wyeth gets a kiss from her son, Trip played by John Glymph
Brooke Wyeth (Melissa Powell) and Trip Wyeth (John Glymph) have a conversation between brother and sister
Amy Hebb as Silda Grauman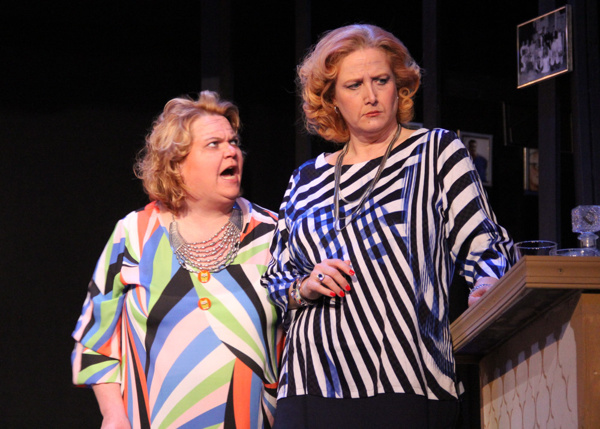 Amy Hebb as Silda Grauman and
Christine Brewer
as Polly Wyeth as the heat rises
A tender moment between father (Lyman Wyeth played by Charles Boyce) and his daughter (Brooke Wyeth played by Melissa Powell)