Photo Flash: Toby's 'La Cage': Oo La La Part II
Chase away the winter blues at La Cage aux Folles, the sizzling hot nightclub on the French Riviera... and now appearing live through March 9 at Toby's Dinner Theatre of Baltimore!  Join your host, Georges, his world-famous Les Cagelles, and the incomparable Zsa Zsa for splashy musical numbers, lavish sets and dazzling costumes, PLUS a tender love story, a hilarious comedy and enough tunes that you can hum for days after!  Winner of seven Tony Awards, including Best Musical, this old fashioned (with a twist) show features a script by multi-Tony Winners Harvey Fierstein (Hairspray) and the legendary Jerry Herman (Hello, Dolly!, Mame).  Together, they fashioned one of the most hilarious and touching stories about family in decades.  Below is The La Cage aux Folles Family Album.  As you can see, they redefined "family!" 
Toby has assembled 22 of Baltimore's most multi-talented and sought after actors/singers and dances, and has attached feathers, beads and sequins to anything that moves, and created lavish sets unseen in Baltimore in years.  Leading the company is Jason Fulmer as Georges and Lawrence B. Munsey as Albin, aka "Zsa Zsa."  (Darren McDonnell stars as Georges until Mr. Fulmer returns to the show.)  Also starring in La Cage are some of the area's most popular and talented performers, including: Sam Ludwig (Titanic)as Jean-Michel, Becca Vourvoulas (Footloose)as Anne, Lynne Sigler (Fiddler on the Roof ) as Jacqueline, Daniel L. McDonald (The Full Monty)as Messieur Dindon, and, in her Toby's debut, Liz Boyer-Hunnicutt as Madame Dindon.  Plus!  10 of the prettiest, sexiest and gender-bending singers/dancers in Charm City as Les Cagelles!  You won't want to miss the event of the season...
And you won't have to miss any of the glitz, glamour, guys or gals AND you can save a bundle, too!  Join your fellow BroadwayWorld readers at Toby's Baltimore on Saturday evening, February 9 for the full salad bar/dinner/dessert buffet AND a performance of La Cage aux Folles for just $25.75 per person!  That's half price!  CLICK on "Toby's Night II" above, right, for details.  Make your reservation today!
Can't make it on the 9th?  Toby's still has a deal for all of you! Go to www.tobysdinnertheatre.com, click on "Baltimore" and see what all the fuss is about!  And BroadwayWorld readers get an extra bonus - 25% off each ticket purchased for Thursday or Sunday Evenings through February 24!  That's a savings of $12 per ticket!
And now, the La Cage aux Folles "Family Album"!
Photos courtesy of Toby's Dinner Theatre Baltimore, by Kirstine Christiansen
 

The Family at La Cage: Georges, Our Emcee (Jason Fulmer)...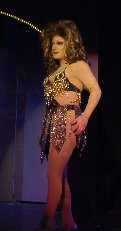 The Dangerous Phaedra (Jonathan Jackson) ...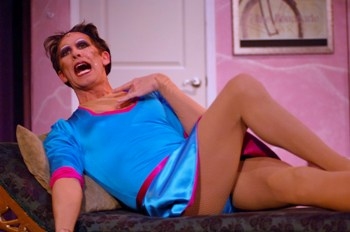 The Bewitching Mercedes (Darren McDonnell) ...

The Notorious Les Cagelles...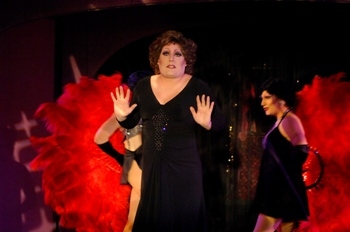 ...and The Fabulous Zsa Zsa (Larry Munsey) !!

The Family at Home: Jacob, the maid (Stephen Galloway, Jr.), and Jean-Michel, the son (Sam Ludwig).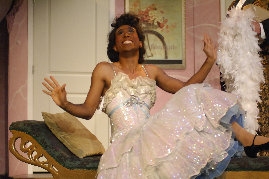 Jacob dreams of one day becoming a Cagelles!

Two Dads: Albin and Georges.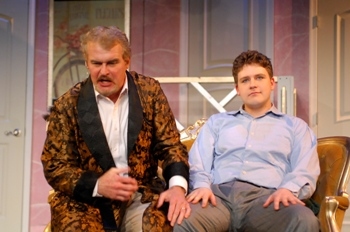 A Father/Son Moment: Georges and Jean-Michel.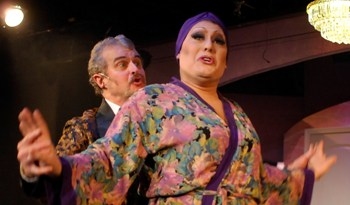 "Life is a celebration with you on my arm..."

Jean-Michel's marriage proposal causes Georges some problems...

... Albin can't go on as Zsa Zsa...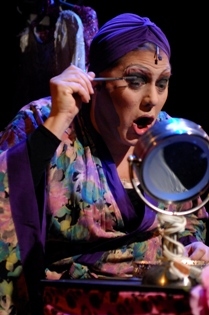 ...but the show must go on!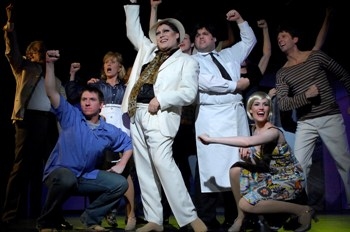 All of St. Tropez comes to the rescue...

...including a crafty Jacqueline (Lynne Zigler).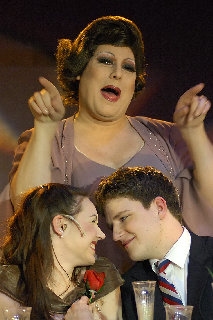 Zsa Zsa approves! Anne (Becca Vourvoulas) and Jean-Michel are to be wed!

And we have a happy ending!