Ford's Theatre Society Renews Partnership With TodayTix To Continue Free First Preview Ticket Initiative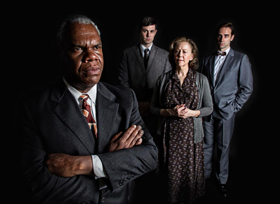 Ford's Theatre Society announced it will continue the popular Free First Preview initiative, through which free tickets are given away to the first preview performance of all Ford's Theatre productions, in partnership with TodayTix. The TodayTix mobile lottery will launch one week before the first preview of each mainstage production in the 2017-2018 season.
This season's Free First Preview performances are:
- "Death of a Salesman": September 22, 2017, at 7:30 p.m.
- "A Christmas Carol": November 16, 2017, at 7:30 p.m.
- "Jefferson's Garden": January 19, 2018, at 7:30 p.m.
- "The Wiz": March 9, 2018, at 7:30 p.m.
The Free First Preview initiative began in fall 2016 in an effort to broaden access to Ford's Theatre programming by removing price barriers and inviting those who live and work in the Washington-area to consider participation in the arts. More than 1,600 free tickets were distributed to Ford's Theatre productions during the 2016-2017 season. Eighty-five percent of Free First Preview tickets were reserved by new-to-Ford's patrons.
"Because of our unique status as both a historic site and a Working Theatre, Ford's Theatre attracts a large number of first-time theatregoers in addition to loyal supporters. We are committed to offering affordable tickets in order to encourage people to make that leap into attending performances, and this collaboration with TodayTix helps make that possible. I look forward to introducing patrons to this season's thought-provoking and imaginative productions," said Ford's Theatre Director Paul R. Tetreault.
"After the success of the inaugural Free First Preview season, we are thrilled to partner with Ford's Theatre on the continuation of this valuable program and to help even more patrons discover and experience Ford's vital contributions to the DC theater scene," said Brian Fenty, CEO and co-founder at TodayTix. "In broadening access to Ford's productions through Free First Preview lotteries, TodayTix is proud to join the effort to increase diversity and engagement among D.C. audiences."
To enter the mobile lottery, patrons must download the TodayTix app (available in Apple App Store, the Google Play or Amazon AppStore), open it and select "TodayTix Free First Previews" with Ford's Theatre. Winners will be notified by email and push notification between 10 a.m. ET and 2:00 p.m. ET on the day of the first preview. Winners must confirm their winning tickets (up to two) in the TodayTix app within one hour of being notified.
In addition, a limited number of partial view tickets and any unclaimed mobile lottery tickets will be distributed through an in-person standby list at the Ford's Theatre Box Office on the day of the Free First Preview. Beginning at 5:00 p.m., patrons may sign up for up to two tickets per person. An email address is required for waiting list entry. The box office will distribute all available tickets according to the waiting list order starting at 7:00 p.m.
Promotional support for Free First Preview is provided by DCist.
For more information on the Ford's Theatre 2017-2018 season, visit www.fords.org.
Ford's Theatre Society
One of the most visited sites in the nation's capital, Ford's Theatre reopened its doors in 1968, more than a hundred years after the assassination of President Abraham Lincoln. Operated through a partnership between Ford's Theatre Society and the National Park Service, Ford's Theatre is the premier destination in the nation's capital to explore and celebrate Abraham Lincoln's ideals and leadership principles: courage, integrity, tolerance, equality and creative expression.
The Ford's Theatre Society was founded under the guidance of executive producer Frankie Hewitt, who, during her 35-year tenure, established Ford's as a living, Working Theatre producing performances that highlighted the diversity of the American experience. Since the arrival of Paul R. Tetreault as Director, critics and the theatregoing public have recognized Ford's for the superior quality of its artistic programming. With works from the nationally acclaimed "Big River" to the world premieres of "Meet John Doe," "The Heavens Are Hung In Black," "LiberTy Smith," "Necessary Sacrifices," "The Widow Lincoln" and "The Guard," Ford's Theatre is making its mark on the American theatre landscape. In the last decade, the mission of Ford's Theatre Society expanded to include education as a central pillar. This expansion led to the creation and construction of the Center for Education and Leadership, which opened in February 2012. Currently, under the leadership of Board of Trustees Chairman Eric A. Spiegel, Ford's enters a second phase of strategic planning to ensure the organization's place as a national destination for exploring Lincoln's legacy and the American experience through the intersection of history, performance and education.

Related Articles View More Washington, DC

Stories

Shows
More Hot Stories For You