Cast, Creatives Complete for DEATH OF A SALESMAN at Ford's Theatre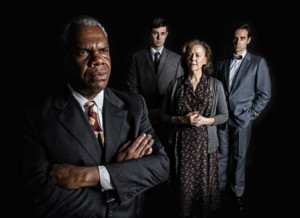 Ford's Theatre Society announced full casting and the design team for Arthur Miller's "Death of a Salesman," directed by Stephen Rayne. The production features Craig Wallace as Willy Loman and Kimberly Schraf as Linda, with Danny Gavigan as Happy and Thomas Keegan as Biff. "Death of a Salesman" plays September 22 to October 22, 2017, at historic Ford's Theatre.
Willy Loman's career is over. During a pivotal 24 hours, he reflects on his life as a father, husband and traveling salesman. Truth and lies intermingle as Willy tries to reconcile the optimism of his youth with his unfulfilled dreams. As the full force of reality crashes down on him, he places his last hope of success in his two sons. Arthur Miller's Pulitzer Prize-winning classic challenges us to consider what it means to succeed and the cost of chasing the American Dream.
"With Death of a Salesman, Arthur Miller wanted to write a play that transcended time and place and was universal in its appeal," said production director Stephen Rayne. "In the 70 years since the play opened, Willy Loman's fervent emphasis on the importance of being 'well liked' and our compulsion to measure someone's worth by the size of their paycheck seems to have become more pronounced in American culture. I look forward to exploring this play about the American Dream with Craig Wallace and our wonderful cast."
Wallace, Schraf, Gavigan and Keegan are joined in the cast by Nora Achrati (Waiter), Aakhu TuahNera Freeman (Jenny), Jennifer Gerdts (The Woman), Joe Mallon (Stanley), Brandon McCoy (Bernard), Lynette Rathnam (Letta), KenYatta Rogers (Howard Wagner), Michael Russotto (Charley), Frederick Strother (Uncle Ben), Kathryn Tkel (Miss Forsythe) and JaBen Early (understudy).
Scenic Designer Tim Mackabee's skyscraping wall of windows tower above the Loman's modest 1949 Brooklyn living room. Costume Designer Wade Laboissonniere's post-war fashions emphasize men's broad shoulders with double-breasted suit jackets, peaked lapels and handsome hats. The women are attired in flattering day dresses with darted details and cinched waists.
The "Death of a Salesman" design team also includes Lighting Design by Pat Collins ("The Widow Lincoln," "Elmer Gantry," "I'm Not Rappaport," others), Sound Design and Original Music by John Gromada ("The Glass Menagerie," "Laramie Project," "Fly," others), and Dialects and Voice Director Lynn Watson.
The production team also includes Production Stage Manager Brandon Prendergast and Assistant Stage Manager Julia Singer.
Tickets for "Death of a Salesman" are now on sale and range from $20-$64. Discounts are available for groups, senior citizens, military personnel and those ages 35 and younger. Note: "Death of a Salesman" is recommended for ages 13 and older. Each performance is 3 hours and includes one intermission. Visit www.fords.org.
SPECIAL PERFORMANCES AND EVENTS:
Audio-described performances of "Death of a Salesman" are October 3, at 7:30 p.m. and October 14, at 2 p.m. A sign-interpreted performance is October 12, at 7:30 p.m. A captioned performance is scheduled for October 21, at 2 p.m.
Free First Preview: September 22 at 7:30 p.m.
Ford's Theatre Partners with TodayTix to give out free tickets for the first performance of each mainstage production in our theatrical season. Six-hundred free tickets are available through a TodayTix mobile lottery for the 7:30 p.m. performance of "Death of a Salesman" on September 22. The lottery opens in the TodayTix app. at 10:00 a.m. ET on Sept. 15, 2017, and closes Sept. 22, 2017. Visit www.fords.org/free for full lottery entry details.
"Death of a Salesman" Under 35 Night: October 6 following the 7:30 p.m. performance
Patrons ages 21 to 35 can purchase discounted tickets to the 7:30 p.m. performance of "Death of a Salesman" and enjoy a complimentary glass of beer or wine after the show. Hang out with young arts fans, meet new people and see Ford's Theatre in a brand new light. Tickets may be purchased in advance at www.fords.org. Use promo code UNDER3518. You must show ID at the Box Office once arriving at the theatre. Limit of six per person.
"Death of a Salesman" Meet and Mingle: October 15 following 2:00 p.m. performance
Following the matinee of Death of a Salesman on October 15, talk theatre with fellow audience and cast members at a nearby restaurant. This event is free. Cash bar available. Performance tickets are sold separately at www.fords.org.
One of the most visited sites in the nation's capital, Ford's Theatre reopened its doors in 1968, more than a hundred years after the assassination of President Abraham Lincoln. Operated through a partnership between Ford's Theatre Society and the National Park Service, Ford's Theatre is the premier destination in the nation's capital to explore and celebrate Abraham Lincoln's ideals and leadership principles: courage, integrity, tolerance, equality and creative expression.
The Ford's Theatre Society was founded under the guidance of executive producer Frankie Hewitt, who, during her 35-year tenure, established Ford's as a living, Working Theatre producing performances that highlighted the diversity of the American experience. Since the arrival of Paul R. Tetreault as Director, critics and the theatregoing public have recognized Ford's for the superior quality of its artistic programming. With works from the Tony-nominated "Come From Away" and nationally acclaimed "Big River" to the world premieres of "Meet John Doe," "The Heavens Are Hung In Black," "LiberTy Smith," "Necessary Sacrifices," "The Widow Lincoln" and "The Guard," Ford's Theatre is making its mark on the American theatre landscape. In the last decade, the mission of Ford's Theatre Society expanded to include education as a central pillar. This expansion led to the creation and construction of the Center for Education and Leadership, which opened in February 2012. Currently, under the leadership of Board of Trustees Chairman Eric A. Spiegel, Ford's enters a second phase of strategic planning to ensure the organization's place as a national destination for exploring Lincoln's legacy and the American experience through the intersection of history, performance and education.
Pictured: Craig Wallace, Thomas Keegan, Kimberly Schraf and Danny Gavigan. Photo by Scott Suchman.