BWW Review: The Lady Has Her Day at Creative Cauldron's LADY DAY AT EMERSON'S BAR AND GRILL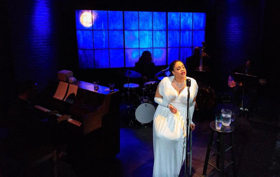 If Creative Cauldron is not on your theatre radar, it should be. And if their production of Lady Day at Emerson's Bar and Grill is not on your "Too See" list between now and March 4th, it must be! It is wrong to keep a lady waiting, and in this case, a mistake to miss her altogether.
The setup in Lanie Robertson's play is itself rather formulaic - a once great star returns to an old haunt to give what we know will be a final performance. In Lady Day at Emerson's Bar and Grill that performer is none other than Lady Day herself, Ms. Billie Holiday. Playwright Peter Quilter used a similar setup for his 2005 play End of the Rainbow about Judy Garland. And like End of the Rainbow, we see a beloved singer worn down by decades of drug and alcohol abuse as she struggles with a stage she once commanded.
For a play like Lady Day it requires an actress and singer with incredible stamina and vocal chops, enter Iyona Blake. Now, I don't envy any actress who has to perform a role once played by the great Audra McDonald, but wow, Blake sure makes it look easy.
Blake gives a mesmerizing performance as Holiday. Calling it an imitation would be a major disservice. For her Holiday, Emerson's Bar and Grill is more than just a last shot, it is a capitulation and testament to her survival from bad marriages, drug addiction, racism and sexual assault. Vocally, Holiday's songs seem a perfect fit for her range. She treats each song like a nugget, an insight into the troubled singer's life, and the successful interpretation makes her performance and the play all the more richer.
With Lady Day at Emerson's Bar and Grill, Robertson's astute script uses the play's setup to establish itself beyond that of a tribute show by giving the evening two focuses. The first is Holiday's struggle to perform, manifested by her bouts with alcohol, heroin addiction and depression. The second is the journey, which led her to Emerson's Bar and Grill and the meaning behind each song choice. Both require Blake to dive deep emotionally and she does so fearlessly.
Robertson though deserves credit for using the script to channel Holiday's volatile personality. For example, her 1939 protest song "Strange Fruit" is in the play. However, the lead-up to the song is quite surprising in that you really don't see it coming. So as a result, you are hooked on Blake's every word because you never know what is going to come next.
Joining Blake onstage is a four piece jazz band led by the incomparable Mark Meadows. He's not only the evening's conductor, but plays Holiday's manager Jimmy Powers. Despite a history of abusive relationships, Powers seems truly interested in helping Holiday rather than in advancing himself - a point frequently lost on Holiday. Robertson provides Meadows and the band with several chances to shine and their intro "Gimme A Pigfoot" gets Creative Cauldron jumping.
Margie Jervis has successfully transformed the tiny theatre into a Philadelphia dive bar. Cabaret tables fill the first few rows, and you'd be smart to book these seats if they haven't already sold out. Jimmy Englekemier's Lighting Design is something quite special for its ability to channel the mood of every song. It feels as if all of Emerson's is in tune with Holiday's feelings, and more importantly, her soul.
If I have any qualms with the show it is that Lady Day did not sing "Body and Soul", my favorite Holiday number. Then again, that only makes me want to venture out to Falls Church again, to Emerson's Bar and Grill, to see Lady Day herself in hopes that she'll sing it. I hope to see you there!
Runtime is one hour and 30 minutes with no intermission
Lady Day at Emerson's Bar and Grill runs thru March 4th at Creative Cauldron - 410 S Maple Ave, Falls Church, VA 22046. For tickets please call (703) 436-9948 or click here.
Photo: Iyona Blake. Credit: Keith Waters/Kx Photography.