Click Here for More Articles on REGIONAL - WASHINGTON, DC
BWW Review: TREY PARKER'S CANNIBAL! THE MUSICAL presented by HalfMad Theatre at Capital Fringe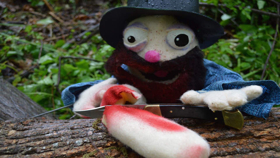 A couple of things intrigued me about HalfMad Theatre's entry into this year's Capital Fringe. First off, the name Trey Parker was attached to it. After all, he created the totally non-politically correct TV show South Park and the mega- hit Broadway musical The Book of Mormon so it seemed interesting that a company would present the piece that started Parker on his meteoric rise to fame while in college. Second, the show is primarily performed with puppets with a few human characters. That just seemed like my kind of show. The show is the wonderful and slightly off-color extravaganza, Trey Parker's Cannibal the Musical!
Trey Parker's story is based on actual events. A gentleman named Alfred Packer goes on an expedition looking for gold in the late 1800's. Along the way, he encounters a ridiculous turn of events. His horse Liane run offs. He comes in contact with a trapper named Frenchy and is helped by an Indian chief from the Ute tribe. Of course, in a fight to survive in the harsh Colorado Mountains during the winter, he also ends up in jail for cannibalism. Sounds like a Trey Parker project, doesn't it?
Parker's songs, co- written with The New Cannibal Society, are equally absurd and clever as the plot. My personal favorite is the song Packer sings about his missing horse entitled "When I Was on Top of You." Other musical highlights include the rousing production number " Hang the Bastard."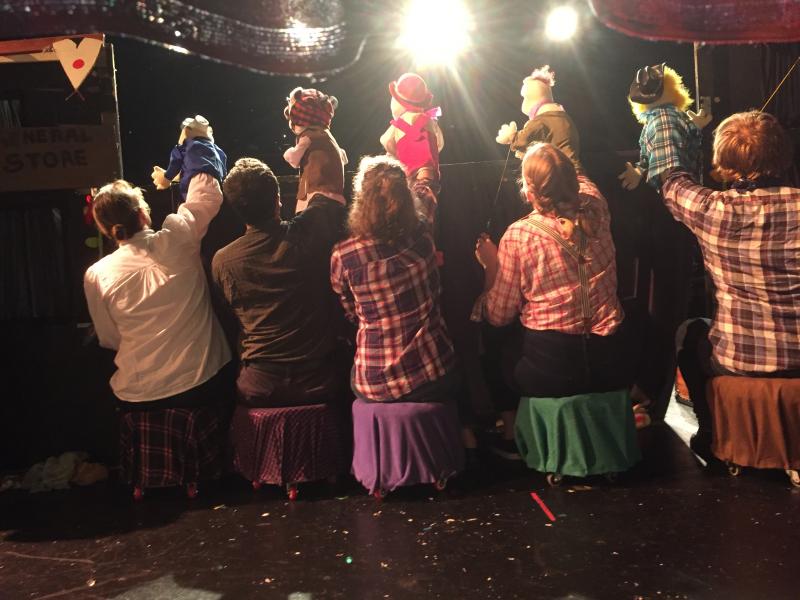 Performance-wise the humans hold their own against their pint-sized, handheld counterparts. Ben Ribler, as Alfred Packer, carries the show on his shoulders (and hands) just like a good leading man should do. His characterization of a guy put in an impossible situation and ultimately doing what he had to do is just terrific.
Other standouts include Alison Daniels as Polly Pry, the reporter who tries to get the truth out of Packer about what really happened up in the mountains. She ultimately ends up helping him in the end.
I particularly enjoyed the oh-so-innocent-sounding Genna Beth Davidson as one of the gold seekers, Israel Swan. Her "HEY YOU GUYS" prompted an instant attraction to the character. I wanted her and the other characters to find the gold and make it to Breckenridge.
Perhaps, the biggest hero in this production though is the director, puppet builder, set builder, and show's visionary Elizabeth Dapo. She built all of the around 60 puppets herself and created some pretty darn snazzy looking drops as well. Maybe she is Half Mad like her company name to do all of that herself, but what's a little insanity for a genius like Dapo really?
A special shout out goes to Stage Manager/Blood Wizard Caitlyn Fitzgerald for maximum puppet gore just when you need it most.
Here is your chance to see how it all began for Trey Parker. You will see an incredibly well put together show. It might be one of the true highlights of this year's Capital Fringe. Have a "Shpadoinkle Day" and enjoy HalfMad Theatre's production of Trey Parker's Cannibal the Musical. There are puppets, and everything is better with puppets."That's All We're Asking For."
Running Time: 90 minutes with no intermission.
Trey Parker's Cannibal the Musical plays through July 22, 2017 at the Atlas Performing Arts Center, which is located at 1333 H St NE in Washington, DC. For tickets, click here.

Related Articles