Click Here for More Articles on REGIONAL - DC Metro Area Virginia
BWW Review: MASTERPIECES OF THE ORAL AND INTANGIBLE HERITAGE OF HUMANITY at Signature Theatre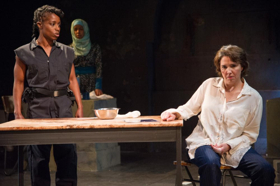 Sometimes a particular genre of theater isn't necessarily popular with a general audience. Theater of the Absurd might be the biggest example of this. Playwrights like Eugene Ionesco and others have left audiences scratching their heads for years as to what they were trying to say within their plays.
Signature Theatre's current attraction Masterpieces of the Oral and Intangible Heritage of Humanity is a world premiere play by Heather McDonald and while it is by no means as "out there" as Rhinoceros or The Chairs it definitely has absurdist elements attached to it. The big difference with McDonald's piece is that the audience won't be left wondering what she was getting at and will more than likely come out saying "Wow, that was something else!" Let's face it with a trio of dynamic acting talent (Holly Twyford, Felicia Curry, and Yesenia Iglesias) and a physical production designed by James Kronzer that turns the ARK into an immersive bombed out museum Masterpieces of the Oral and Intangible Heritage of Humanity is possibly one of the best plays you will see all season at a local theater.
Upon entering you are greeted audibly by a grating undertone designed by James Bigbee Garver. An art restorer named Layla (Holly Twyford) addresses us much like a conference keynote speaker would. She instructs us - the meeting attendees - to write down what we consider to be a masterpiece on the piece of paper handed to us at entry. The museum where she is working (and where the event is being held) is located in an unnamed location affected by one hundred years of war that continues to rage on. Layla does not have the opportunity to read the little scraps of paper the audience members provide because she is taken hostage by a rebel named Mitra (Felicia Curry). Layla gets her hand broken after a confrontation with Mitra and is tended to by a nurse (or so it seems anyhow) named Nadia (Yesenia Iglesias). As the play progresses things become more and more intense and - without spoiling too much - things ultimately go differently than you might expect. Mitra wants Layla to help restore a damaged Rembrandt painting, which is hard to do with only one good hand and, as for Nadia's story, I'll leave for you to see live to fully appreciate.
Director Nadia Tass guides her trio of actresses through McDonald's tightly written opus while keeping the material accessible at all times for the audience. Under Tass' direction even a first-time theater attendee to this kind of show will be taken in.
As many of you know Holly Twyford is indeed DC theater royalty and her performance is always one to remember no matter the show. At my performance she actually got entrance applause before she even opened her mouth. As Layla, Twyford commands every moment of McDonald's script. Here is a skilled art expert put in an impossible situation with supposedly no way out. Even in the face of despair you can root for Layla to overcome every obstacle because Twyford's performance is that good. All Hail!
Felicia Curry matches Twyford in intensity and theatrical greatness as the rebel Mitra. It is quite remarkable to watch her character transform throughout the play from heartless rebel to something more unexpected.
Yesenia Iglesias, as Nadia, rounds out the trio with a performance full of heart and pathos. There is an air of genuine wanting in her performance that is sure to pull on your heartstrings.
This production is full of stage fights. The trio flat out gets beaten to a pulp within the course of the performance. Someone has to be in charge of all of the fights to make sure the performers don't get injured for real. Robb Hunter's work on this show is so realistic I was left wondering how the actresses survive an eight show a week schedule after being bloodied and gauged at nightly.
Lighting designer Sherrice Mojgani incorporates florescent lightbulbs, bare bulbs and other unorthodox lighting instruments into her design to light the world scenic designer James Kronzer has given us.
James Bigbee Garver's sound design and original music is definitely an audible plus as it provides an appropriately eerie undertone to the piece.
Zachary G. Borovay's projections - while a little hard to read sometimes due to the short projector throw in the Ark - definitely enhance Tass' overall production concept.
Masterpieces of the Oral and Intangible Heritage of Humanity is semi-absurdist theater for a mainstream audience. Holly Twyford, Felicia Curry, and Yesenia Iglesias' performances, as directed by Nadia Tass, bring McDonlad's script to full theatrical life. Look out for a Rhino running amuck and get on over to Signature for a theatrical experience that is thought-provoking and downright wonderful.
Running Time: 95 minutes with no intermission.
Masterpieces of the Oral and Intangible Heritage of Humanity runs through April 7, 2019 in the ARK theater space at Signature Theatre, which is located at 4200 Campbell Ave in Arlington, VA. For tickets, click here.